For the first time in SFCCA's 35-year-long history, a hybrid (physical + virtual) Annual General Meeting (AGM) was held on 12th September 2020, with close to 120 member associations' representatives in attendance. Amongst the 16th Council members at the physical AGM were SFCCA President Mr Tan Aik Hock, Secretary-General Mr Perng Peck Seng, Treasurer Mr Ng Siew Quan, Deputy Secretary-General Mr Phua Kiah Mai, and Deputy Secretary-General Mr Pok Cheng Chong.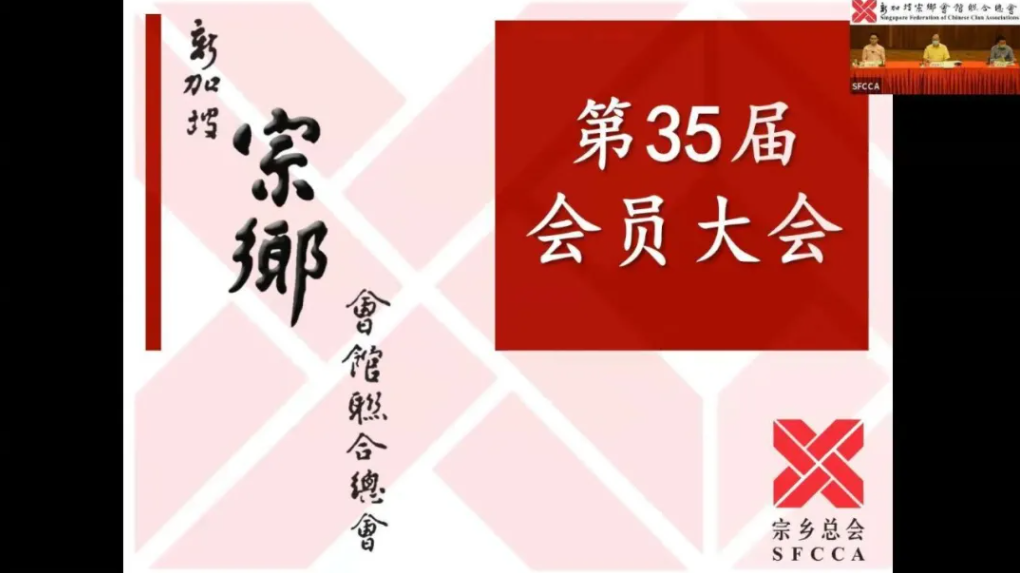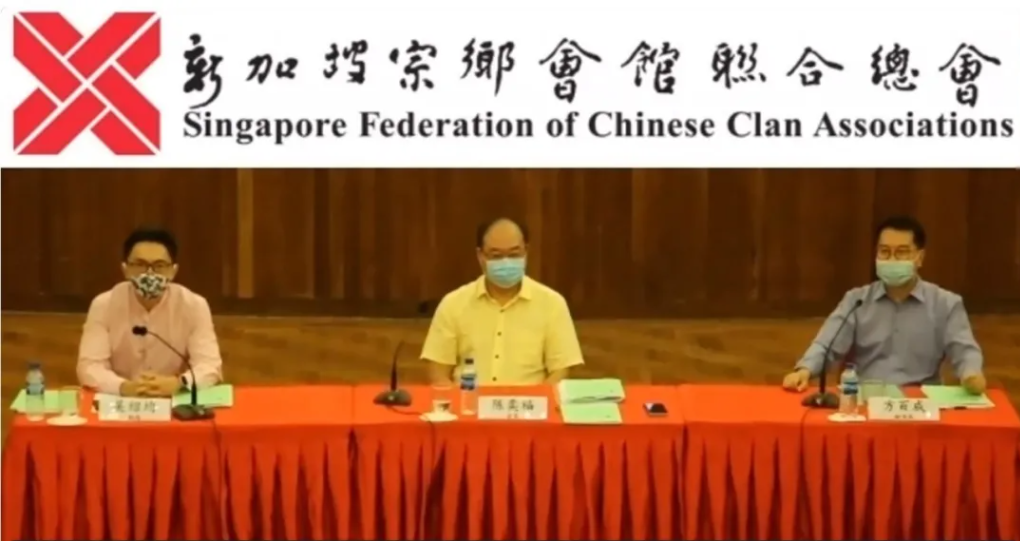 SFCCA President Mr Tan Aik Hock (centre), Secretary-General Mr Perng Peck Seng (right), and Treasurer Mr Ng Siew Quan (left) chaired the 35th AGM 
In his speech, Mr Tan highlighted that the COVID-19 pandemic has changed the business landscape on an international level, and accelerated the need for local community organisations to transform themselves.
A year ago, the SFCCA Secretariat integrated the use of Salesforce, a Customer Relationship Management (CRM) system, into its internal operations. Also, the SFCCA Secretariat inaugurated the use of Microsoft Teams in February 2020. During the country's circuit breaker period, these cloud management softwares came in handy for the SFCCA Secretariat staff when handling work-related matters whilst working from home. Despite working remotely, the SFCCA Secretariat staff were still able to efficiently service our member associations and the general public.
Mr Tan also pointed out that SFCCA had collaborated with Microsoft to conduct online training classes to explain to member associations how they can make effective use of cloud management softwares to move their operations online and work remotely.
In the past one year, SFCCA has leveraged on technology to successfully organise a variety of interesting and engaging activities. For example, during the circuit breaker period, SFCCA, Singapore Chinese Cultural Centre (SCCC) and zaobao.sg collaboratively organised "The More We Stay Home Together" short video competition. Our signature community events such as Duanwu Carnival and National Day Sing-along which were conducted virtually this year had also received overwhelming response from the public.
Mr Tan revealed that the virtual National Day Sing-along on Facebook Live attracted over 10,000 viewers in just one hour. The virtual event's response not only exceeded expectations, but also reached out to a wider demographic as compared to physical events. This goes to show that virtual events are also effective in promoting social cohesion. Moving forward, participants can look forward to SFCCA's upcoming events such as networking sessions, seminars and Youth Sports Festival conducted virtually or in hybrid format.
On the other hand, in the early days of COVID-19 in Singapore, SFCCA rallied member associations to donate essential items which were then distributed to close to 1,000 frontliners – staff at polyclinics and taxi drivers at Changi Airport. During the circuit breaker period, SFCCA partnered other donor partners in the "Everyday Guardians" initiative by the Home Team Volunteer Network (HTVN) to recognise the hard work and dedication of frontliners during the COVID-19 pandemic.
During the AGM's Q&A segment, Eng Choon Huay Kuan's Head of Research and Publications Mr Chen Wen Ping noted that SFCCA had nominated Singapore Khek Community Lieu Clan Association's First Vice-President Mr Lew Chee Beng for the 2020 National Day Award (The Public Service Medal). Hence, Mr Chen enquired on the reasons and criteria for the recommendation.
Mr Tan explained that SFCCA would call for nominations from member associations every year. Members are to nominate deserving individuals who have made outstanding contributions to the society. Thereafter, an internal judging panel would be set up to review the nominations. The selection criteria include years of service in clan associations and contributions to the society. The final nomination list would then be submitted to Ministry of Culture, Community & Youth. Confidentiality is kept throughout the process.
Adding on to the above, Mr Tan shared that Mr Lew Chee Beng, who is also an SFCCA Council Member, has devoted no less than 20 years of his time serving in clan associations. Besides setting up Lew Foundation to support social and charitable causes, he has contributed several generous donations over the years to Methodist Welfare Services (MWS) Nursing Home Yew Tee, Singapore Thong Chai Medical Institution, etc, hence, was nominated for the National Day Award.
During the AGM, Mr Tan also announced that SFCCA will be partnering Yellow Ribbon Singapore to sponsor and support inmates through their undergraduate studies so that they will be better reintegrated into the society upon release. Under this partnership, Lew Foundation will be sponsoring $360,000.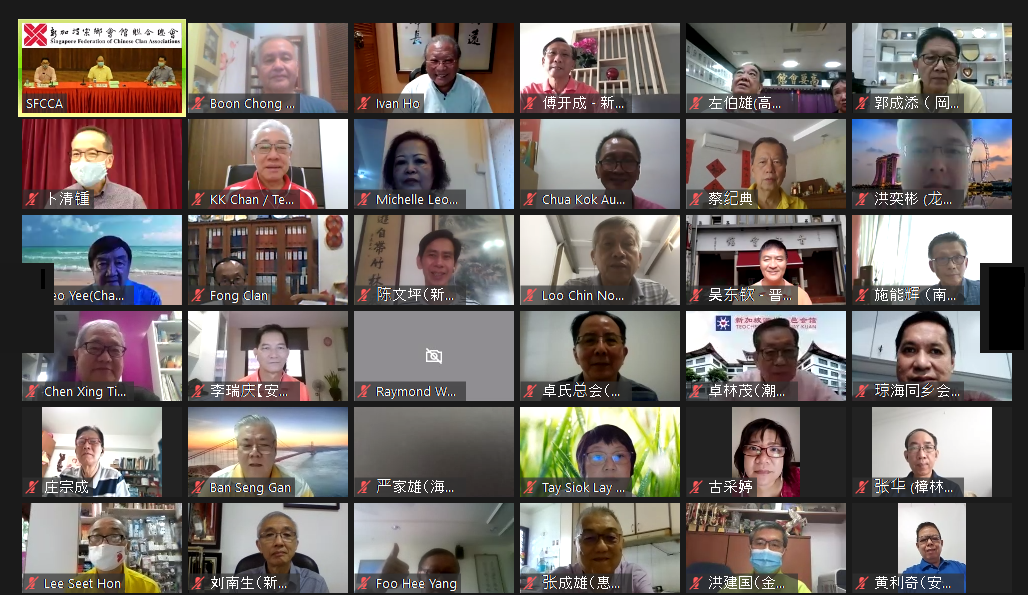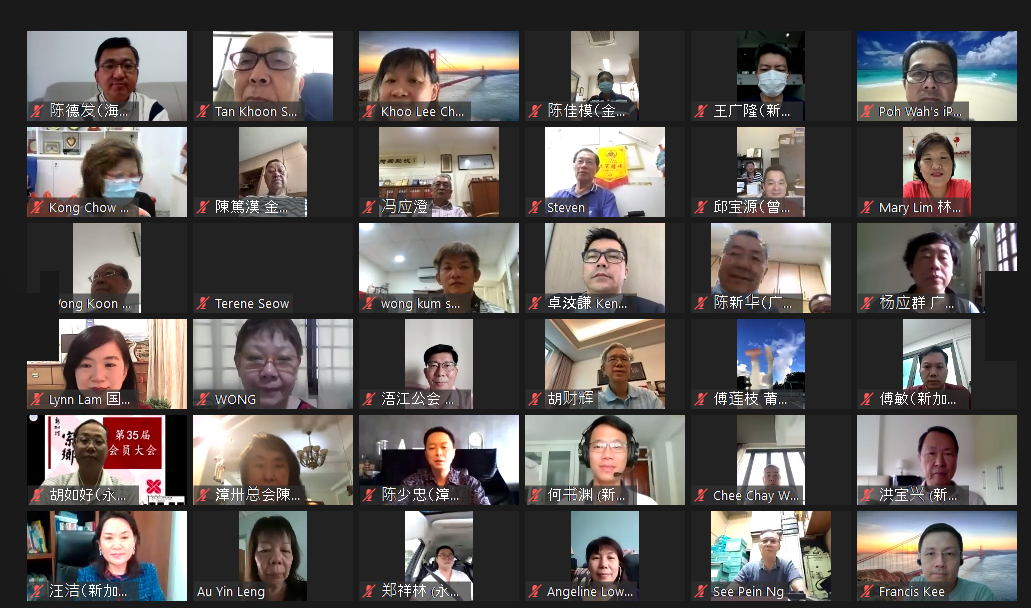 Close to 120 participants joined the AGM on Zoom
---
Media Reports:
– https://zaobao.com.sg/news/singapore/story20200913-1084431 (Lianhe Zaobao)
– https://8world.com/news/singapore/article/sfcca-plans-1248361 (MediaCorp Channel 8)