In view of the COVID-19 pandemic, the "14th National Day Sing-along" organised by Singapore Federation of Chinese Clan Associations (SFCCA) and Singapore Chinese Cultural Centre (SCCC) went virtual, for the first time ever, on 8th August 2020. That evening, the hour-long event was broadcast simultaneously on SFCCA's, SCCC's and Mediacorp Radio CAPITAL958's Facebook pages, garnering 18,381 views.
The sing-along was hosted by local radio station deejays Phua Kia Peow and Bukoh Mary, alongside local singers Abby Lai Ka Hei and Irwin Ah Win who led the audience in singing a medley of familiar National Day/ local songs such as "Voices from the Heart", "Munnaeru Vaalibaa", "Semoga Bahagia", "Xi Shui Chang Liu" and "Home".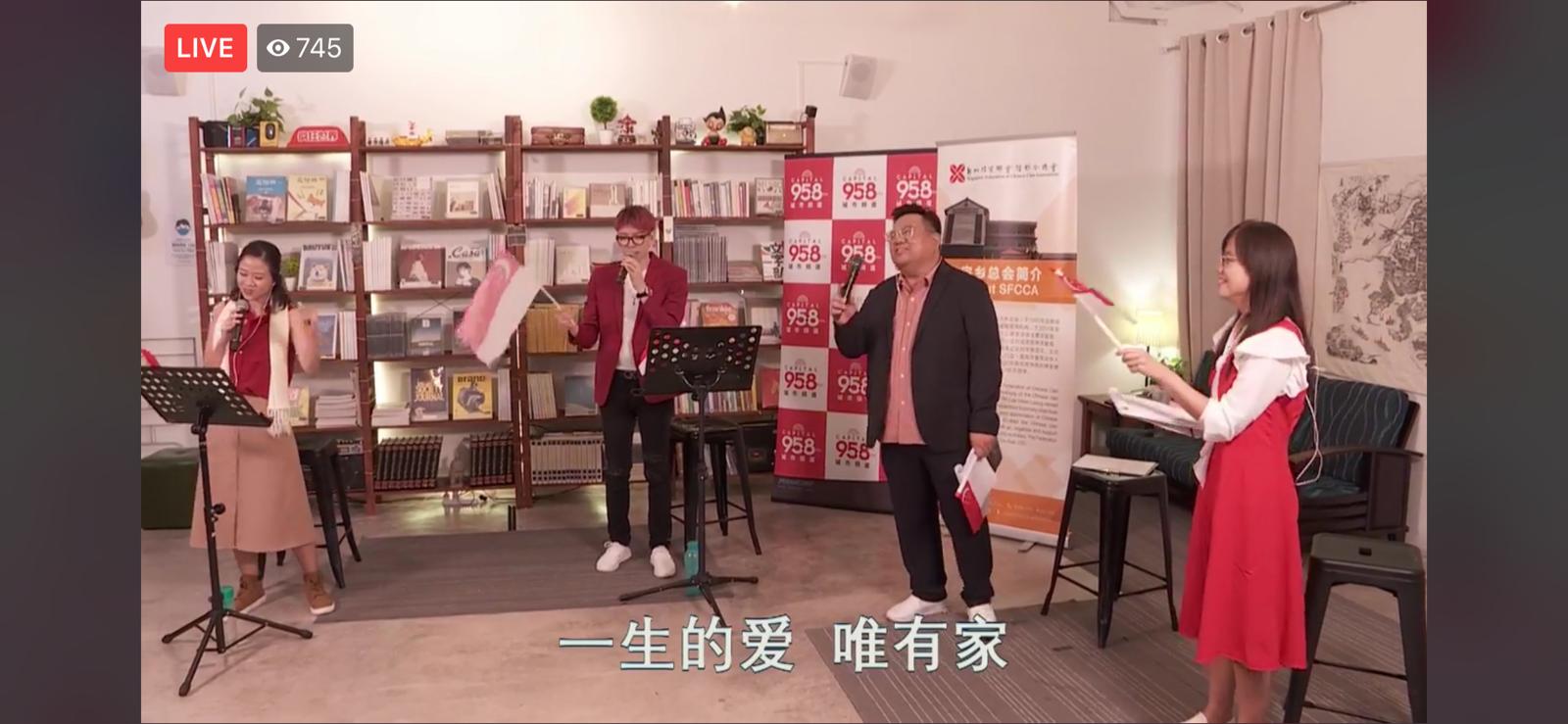 L – R: Local singers Abby Lai and Irwin, and emcees Phua Kia Peow and Bukoh Mary, entertained everyone through the livestream with many familiar National Day songs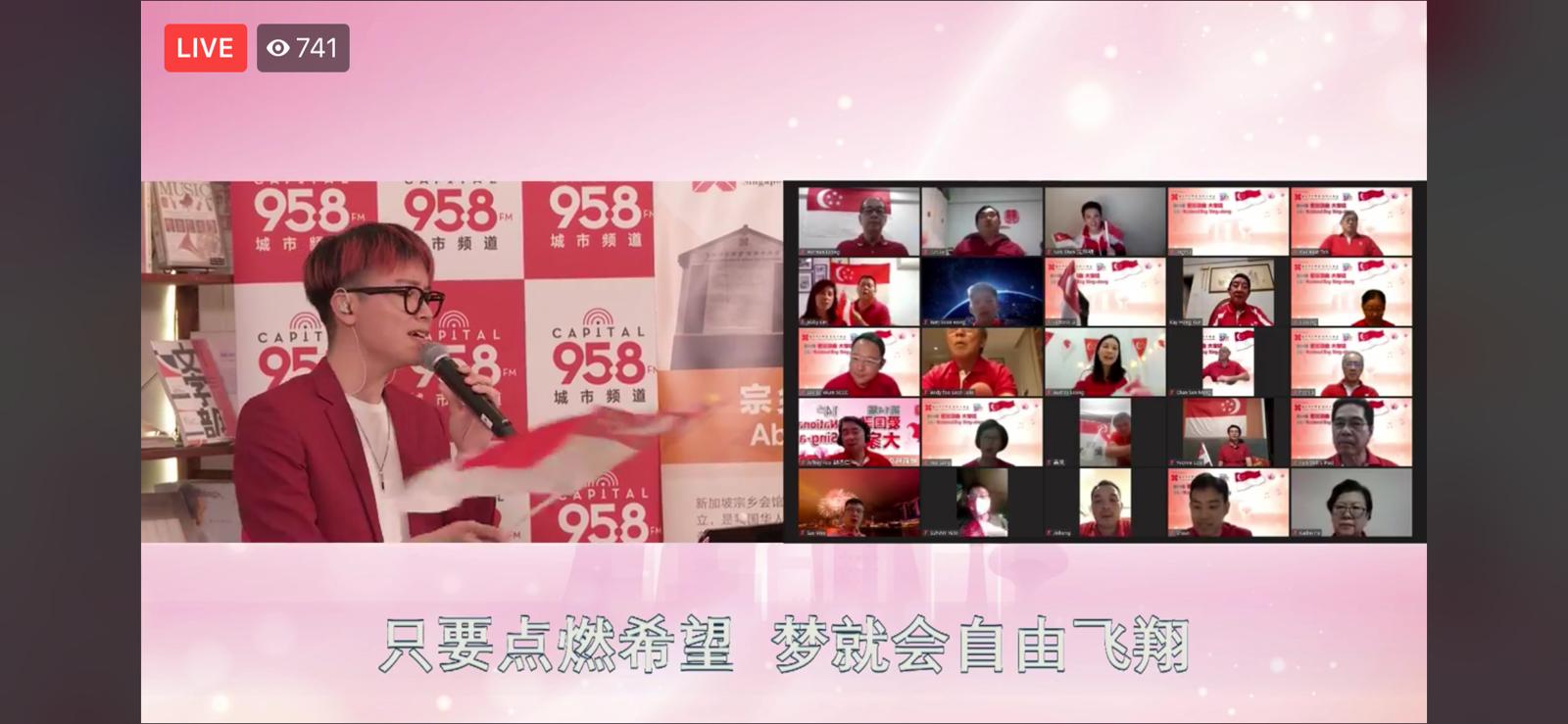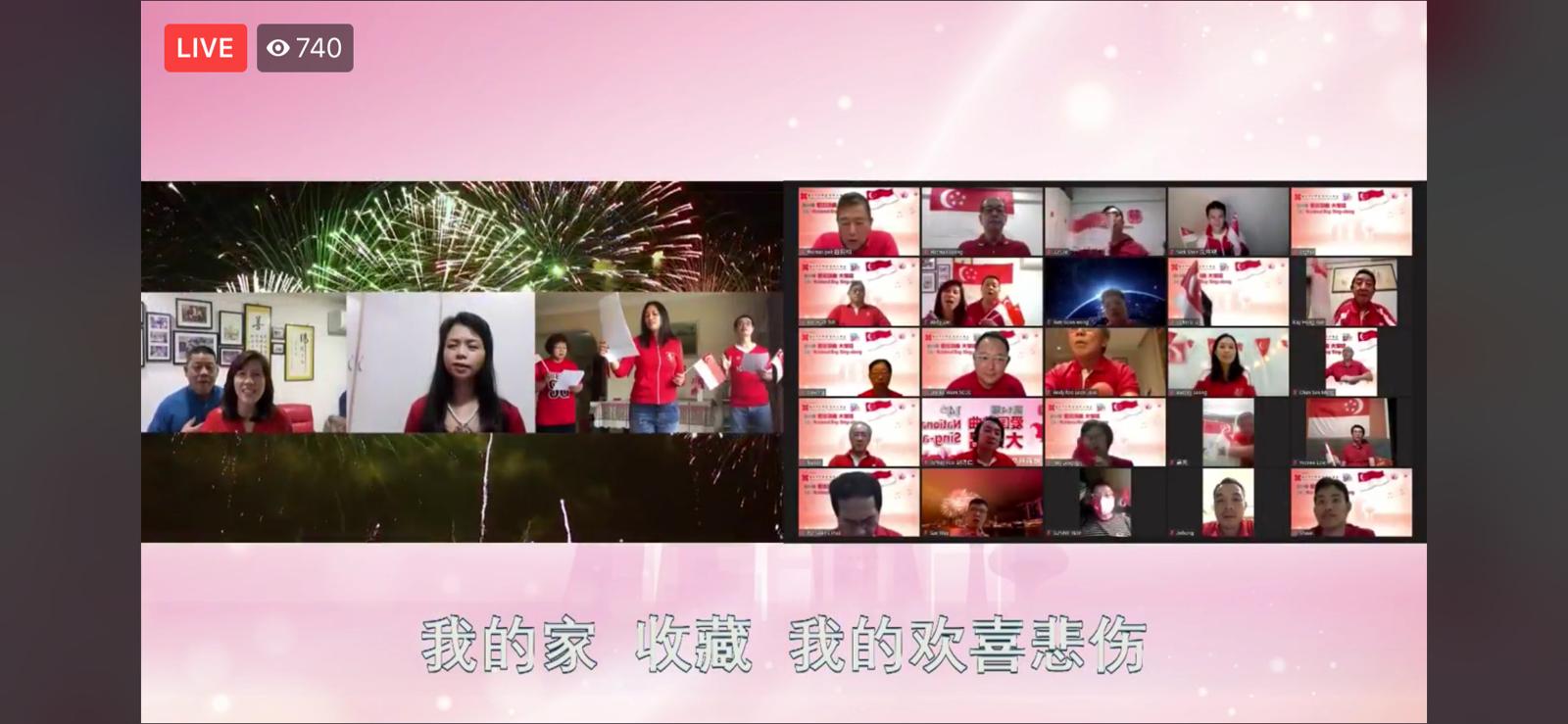 The audience members were well-immersed in the National Day festive mood and even joined in the singing led by Abby and Irwin, though separated by the screen
Despite it being a live streaming of the singers' performance, 147 audience members joined the sing-along through the Zoom platform and were seen waving their flags and enjoying the uplifting songs from the comfort of their homes. To liven up the atmosphere during the live streaming, the organisers also shared videos submitted by SFCCA's member associations whose members pre-recorded themselves singing along to National Day/ local songs. On the other hand, audience on Facebook left congratulatory comments and extended their well wishes for Singapore.
A pre-recorded video address by President of Singapore, Madam Halimah Yacob, was shared during the live streaming. During her address, President noted the special segment to pay tribute to the unsung heroes of Singapore, and thanked the frontline workers for their selfless contributions to keep all of us in Singapore safe. She urged all to stand in solidarity with one another to demonstrate the #SGUnited spirit and overcome the challenges ahead.
In the special segment paying tribute to the unsung heroes of Singapore during our nation's fight against the COVID-19 pandemic, a video montage was played. The montage, with the singers singing "We Will Get There" in the background, featured photographs of the unsung heroes from SFCCA, Kwong Wai Siew Peck San Theng, Teochew Poit Ip Huay Kuan, Singapore Kwangtung Hui Kuan, Singapore Chin Kang Huay Kuan and Singapore Khoh Clan Association volunteering in the community and doing their part for Singapore amidst the outbreak.
Missed out on the "14th National Day Sing-along"? Fret not; head over to www.facebook.com/SG.SFCCA/videos/2367313590232070  to catch the replay!
– – – – – – – – – – – – – – – – – – – – – – – – – – – – – – – – – – – – – – –
Channel 8 news feature:

(https://www.8world.com/news/singapore/article/ndp2020-sing-along-1214451)
– – – – – – – – – – – – – – – – – – – – – – – – – – – – – – – – – – – – – – –
Lianhe Zaobao report: https://www.zaobao.com.sg/news/singapore/story20200803-1073977