With the aim to foster bilingual and bicultural talents, SFCCA Scholarship will be awarded to up to five outstanding students pursuing their studies in top-ranking Chinese universities annually. The recipients will receive up to $15,000 for each academic year, to finance their studies and living expenses. Applications will open on 1st April 2022.
Please download the SFCCA Scholarship Terms & Conditions and Application Form for more information.
For more enquiries, please contact the SFCCA Secretariat at 6643 6475 or email admin@sfcca.sg.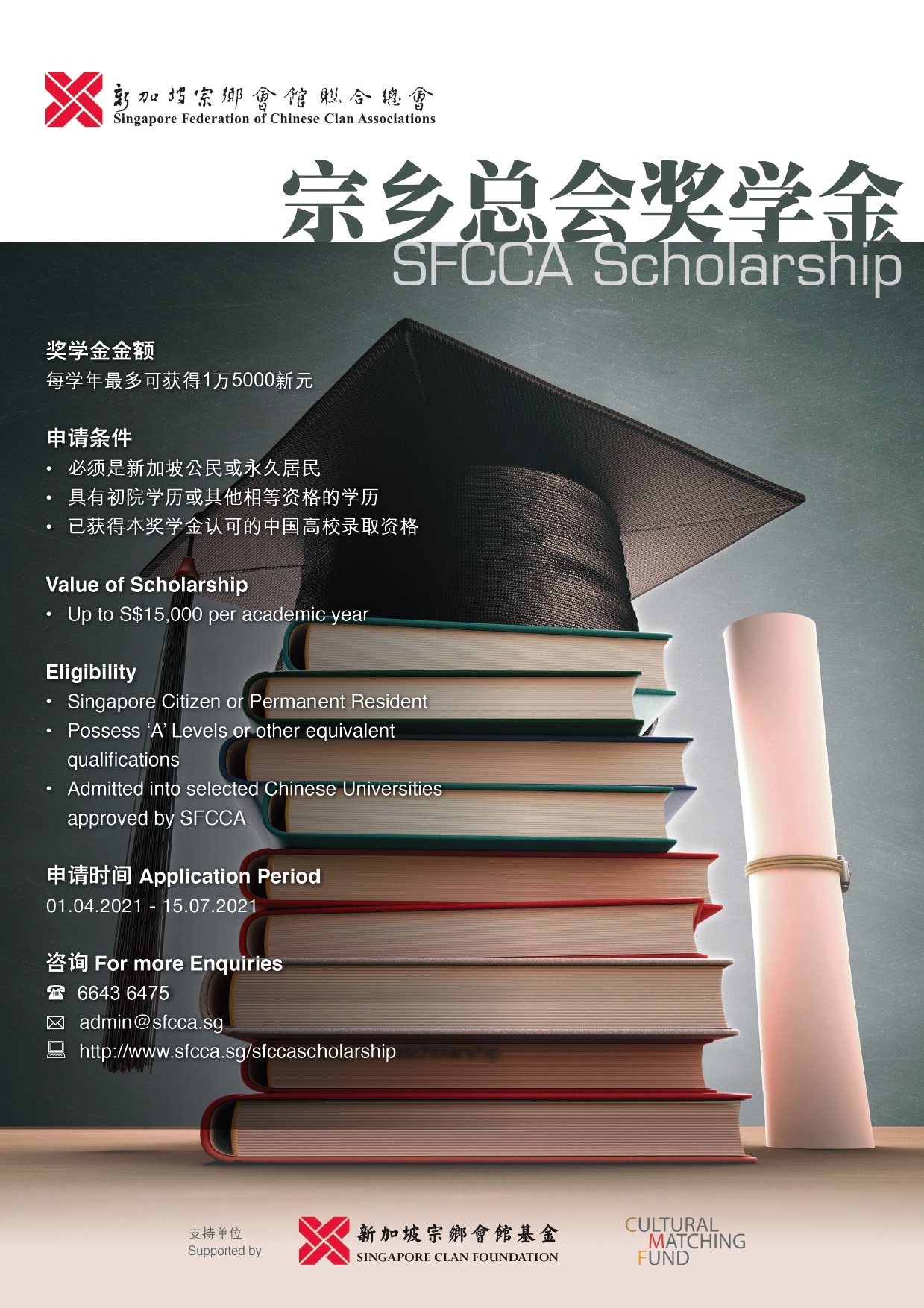 The SUSS-Singapore Federation of Chinese Clan Associations (SFCCA) Sponsorship scheme was first introduced in 2011. The scheme hopes to encourage lifelong learning and to nurture a bilingual and bi-cultural workforce.  Awarded to non-degree holders, this sponsorship will offer the opportunity for them to strengthen their command of the Chinese language as well as to gain a holistic understanding of the Chinese culture.
Application for the SUSS-SFCCA Sponsorship is open to all SFCCA members and staff. The applicant must have good academic and co-curricular activities records, strong language skills and demonstrable leadership qualities.  The applicant must also be a non-degree holder.
New students must meet the admission requirements for the programme of study applied for at SUSS.  They must separately seek admission to the programme and must be accepted for admission before being considered for the sponsorship.
The SUSS-SFCCA Sponsorship is applicable to the following programmes:
BA Chinese Language and Literature
BA Chinese Language and Literature with Minor
BA Translation and Interpretation
BA Translation with Minor
Bachelor of Early Childhood and Chinese Language Education (This programme is offered every January semester.)
For more information, please read the Terms and Conditions or visit SUSS' website.
Applications for July 2021 Intake: 1st February 2021 to 31st March 2021
Interested applicants are to submit the application directly to SUSS and shortlisted applicants will be notified by end of May 2021.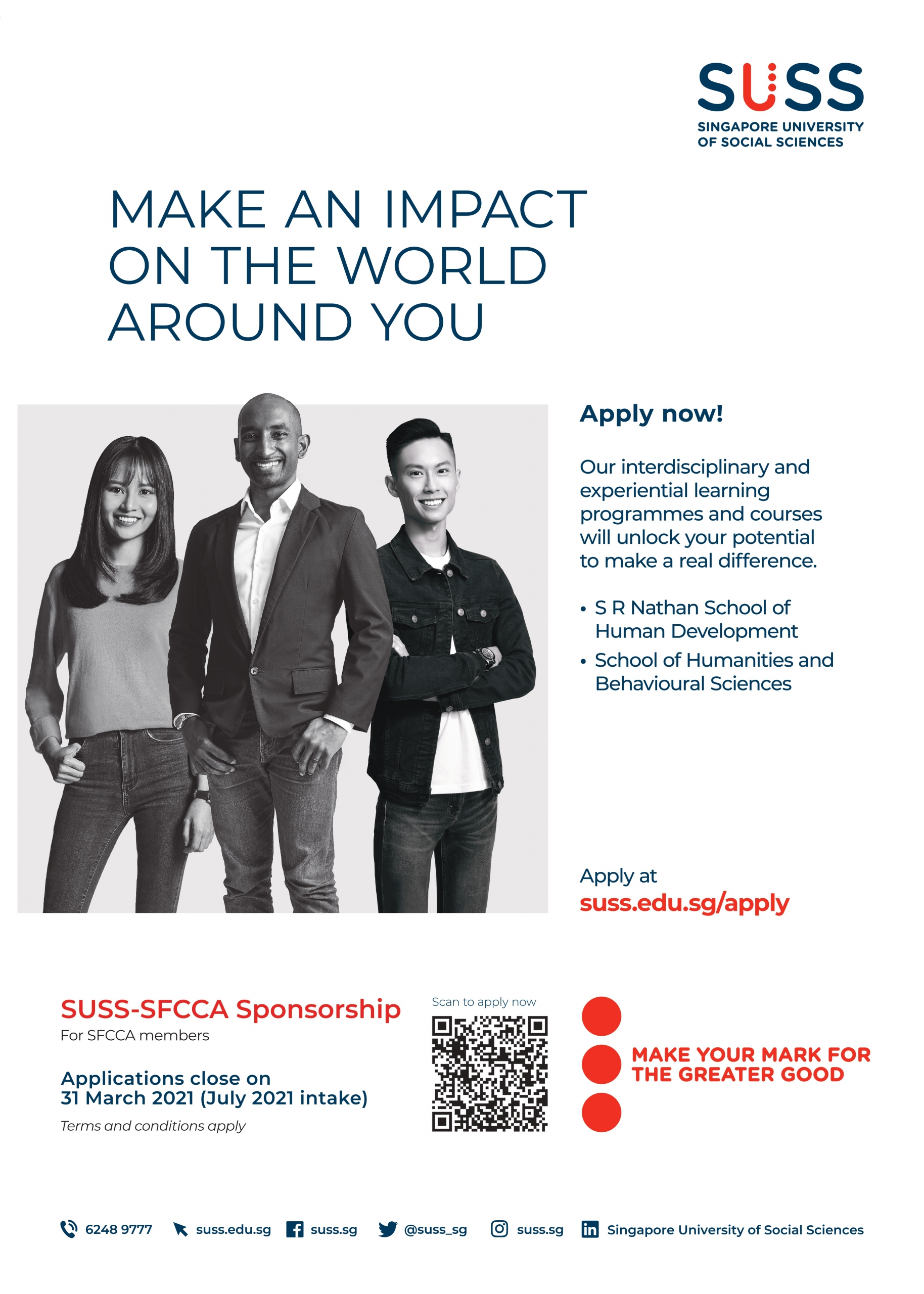 Chinese Development Assistance Council (CDAC) is a community self-help group set up on 22nd May 1992 by and for the Chinese community in Singapore. The CDAC-SFCCA Student Assistance & Support Scheme is a financial assistance scheme for needy students to encourage them to continue with their education, and to motivate them to strive for greater achievements.  For more details, please refer to the Rules and Regulations.
Application is now open. Student or one of the parents must be a Chinese Singapore Citizen or Permanent Resident. Families with Gross Monthly Household Income (MHI) not exceeding $2,400 or Monthly Per Capita income (PCI) not exceeding $800 could apply for Bursary, Tuition Fee Waiver and higher Activity Fee Subsidy. The quantum ranges from $300 to $480, the amount depends on the level the student is studying. Completed application forms must be sent to CDAC Secretariat via email or mail by the stipulated closing dates of the various levels.
Email Address:
student@cdac.org.sg
Mailing Address:
CDAC Building
65 Tanjong Katong Road
Singapore 436957
Tel: 6603 5555; Fax: 6841 4881