The "Outstanding Literary Award 2022" ceremony was successfully held at the SFCCA Multi-Purpose Hall@Level 2 on 25 March morning. The ceremony invited the 6 shortlisted poets, members of SFCCA Coucil, and editorial committee members of "Yuan" magazine. Vice President of SFCCA, Mr Chan Kian Kuan was the Guest of Honour to present the awards.
The "Outstanding Literary Award 2022" commenced its call for submissions in late 2021, garnering a considerable influx of poetic works. From this impressive pool of works, six poems were shortlisted after a meticulous selection process, titled: "酒曲回肠" (Cai Jia Liang), "星岛时光" (Qi Ya Rong), "诗六帖" (Huai Ying), "吟哦南洋" (Shu Ran), "融入融合的未来" (Sun Kuan), and "梦回世代" (Li Long). The esteemed panel of judges comprised of 潘正镭 Pan Zheng Lei, a lauded poet and writer who earned the esteemed Ordre des Arts et des Lettres in France, 林高 Lin Gao, a recipient of the Singapore Cultural Award and a Senior Lecturer in the Chinese department at the National University of Singapore, and 罗福腾 Luo Fu Teng, an Associate Professor in the Chinese Department at Nanyang Technological University. Following a thorough and insightful evaluation process, it was with great discernment that "酒曲回肠" garnered the highest accolades, securing the coveted "2022 Outstanding Literary Award."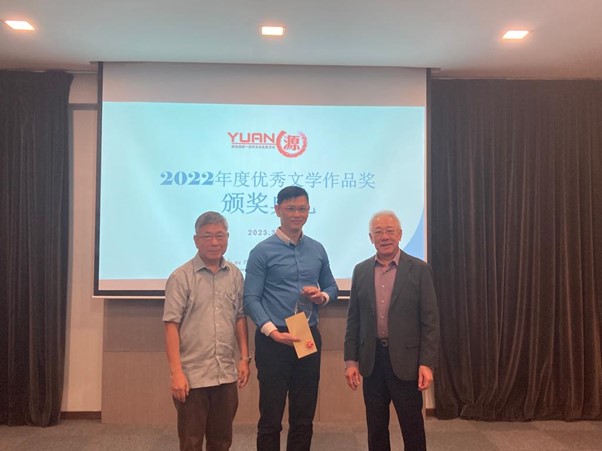 ▲"酒曲回肠" received the "2022 Outstanding Literary Award". (From left to right) Chairman of "Yuan" magazine Committee, Mr Giam Meng Tuck Yan Meng Da, Award-winning poet, Mr Chua Kay Liang(Middle) and SFCCA Vice President, Mr Chan Kian Kuan
Author of the award-winning poem"酒曲回肠", Mr Chua Kay Liang, expressed in his acceptance speech that the work mainly discusses his grandfather migrating to Southeast Asia and working as a wine seller. The family's deep connection to wine was passed on through the generations. Therefore, Mr Chua infused elements of his ancestors' hometown, love, and culture into the poetry. He also expressed gratitude for the recognition given by the judging panel and mentioned that receiving this award is an affirmation for his works.
▲(From left to right) Finalist Qi Ya Rong, Judge Lin Gao and Pan Zheng Lei, Chairman of "Yuan" magazine Committee Mr Giam Meng Teck, Award-winning poet Mr Chua Kay Liang, SFCCA Vice-President Mr Chan Kian Kuan, finalists Shu Ran, Li Long, Sun Kuan and Huai Ying (front row in a wheelchair)
The "Outstanding Literary Award" was established in 2016 with the aim of encouraging local literary creation. It annually receives literary works from three genres: novels, essays, and poetry. The selected works are published in "Yuan" magazine, and winners are selected from these published pieces each year. In addition to receiving an honorarium, the winner also receive a winning certificate and a cash prize of $2,000
The "2023 Outstanding Literary Award" is now calling for submissions of novels. All are welcome to participate and submit their works. For more details, please refer to the following poster: