On May 14, 2:00 p.m., the SFCCA scholarship recipients hosted the "Studying In China Universities-Perspective From SFCCA Scholars" sharing session via Zoom. This was the second time that the SFCCA Scholars Network (SSN) held such a sharing session, attracting close to 60 participants, about 80% of whom were from local junior colleges and secondary schools. The session was also simulcasted live on Singapore Eye, receiving an overwhelming response, and close to 5,000 views.
The event was moderated by the Co-Chairman of SSN, Jason Boey, who is also one of the inaugural SFCCA scholarship recipients, and is currently working in the government sector. When introducing the scholarship, Jason revealed that 29 out of the 49 students who benefited from the scholarship have since graduated. Among them, 40% are working in the private sector, 32% are employed in the government sector, 28% have chosen to pursue further studies and others have opted to start their own businesses. He also stated that the scholars who have graduated are not only outstanding in various fields, but also active contributors to the society.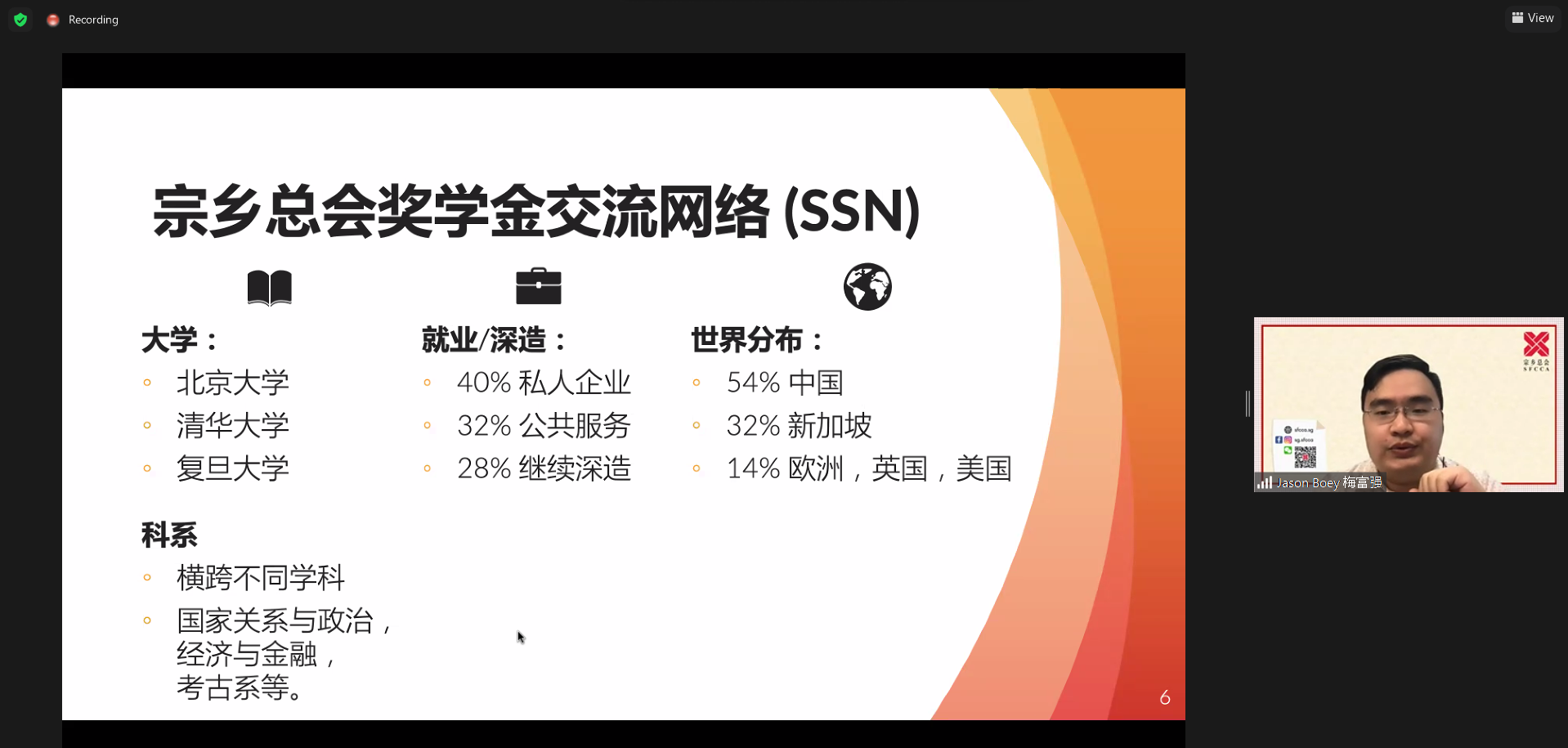 What are the reasons for choosing to study in China?
The event invited three students from Peking University, Tsinghua University and Fudan University to share their views. Ng Joong Hwee, a Year 3 student studying a double degree in the School of International Studies and the Guanghua School of Management at Peking University, shared that he chose to study in China as it is a rapidly emerging market. In addition, he believes that many companies are always looking for bilingual and bicultural talents, and studying in China is a good platform to cultivate this.
Loy Wei Peng, a Year 3 student at Tsinghua University's School of Economics and Management, chose to study in China mainly because of the Sino-Singapore Tianjin Eco-city. Wei Peng mentioned that his first visit to the Sino-Singapore Tianjin Eco-city was in 2013. At that time, he was only fifteen years old and was impressed by the initial development of the Eco-city. He appreciated the potential and prospect of cooperation between China and Singapore, aspiring to contribute to further fostering relations.
Lim Ying Hui, a Year 4 student majoring in Broadcast and Television at the School of Journalism at Fudan University, said that she had decided for some time that she wanted to pursue a career in Chinese news media. She chose to study in China because she believed that China has a unique news media system and that the knowledge and skills she learned could be applied to the local news industry.
Online classes during the pandemic
During the pandemic, many students were unable to return to school and had to take classes or participate in extracurricular activities online. The scholarship recipients also shared their experiences at the sharing session.
"Since online classes have become a fait accompli, instead of complaining, I think the best way to adapt is to have a right mindset," said Ng Joong Hwee. After all, as the saying goes, "Your attitude determines your height (of accomplishments)." He feels that students should be brave enough to speak up during this critical period and take the initiative to seek help from teachers if they need it. There are also online extracurricular activities such as online forums and Model United Nations to take part in. Alternatively, to try making new friends online.
Although he was unable to return physically to campus during the pandemic, Loy Wei Peng believes that there are still a lot of creative online activities organised by the university, such as sports competitions. He shared that he was one of the counsellors for the Tsinghua Global Summer School, which was conducted online due to the pandemic. Although the coordination work was faced with inconveniences and the process was exhausting, Wei Peng noted that the experience as a whole was still very memorable. Wei Peng also mentioned that WeChat is an indispensable communication tool in China and many resources are available within the application. Students are taught online by watching a live replay of each class through a WeChat mini-program. Teachers would also send out occasional exercises through the platform. In addition, Tsinghua has also set up a group with volunteers who are able to answer questions from students across different subjects, thus providing a great resource and tutoring platform.
Like the other two scholarship recipients, Lim Ying Hui attends classes through live and recorded lectures. However, some of the courses in the Department of Broadcast and Television covers specialised equipment which can only be learned by hands-on practice, and Ying Hui regrets that she can only watch the equipment be used online. Fortunately, there are still hard skills taught in the course, such as conceptualising the content of a program and how to go about shooting a program. In the process, she realised the importance of learning on her own and honing her hard skills, which are very important for her future career. Speaking of her internship experience, Ying Hui mentioned that she has interned at 8world News, and the digital content team of Lianhe Zaobao. She has also completed a remote internship with Dragon Television in China. She emphasised the importance of looking for opportunities based on your interests. During the internship, she stresses that it is also important for one to understand the pace, nature, value and meaning of the role.
Life in China
When it comes to life in China, each of the three students had a different experience.
Ng Joong Hwee believes that China's high-speed rail network is very well-developed and that traveling in China is very convenient. During the school holidays, he had the opportunity to travel to Xinjiang with his friends. In addition, he had been an exchange student in other countries and had experienced the differences between Eastern and Western culture. He had also formed friendships with people from various countries during his exchange. To him, the friendships he made are one of the most valuable takeaways from studying in China.
Since young, Loy Wei Peng loved playing table tennis, and was part of the school table tennis team. He continued this hobby by joining the Faculty of Economics and Management's table tennis team and met many like-minded friends by "meeting people through playing ball". He mentioned that there are many opportunities to join student clubs at Tsinghua and there are no restrictions, thus students can sign up for clubs based on their own interests and skills. He revealed that he also had the privilege of leading a team on a study tour to the outskirts of Beijing. He said, "I think the biggest takeaway we get from studying in China is that you get to experience first-hand how the Chinese society is like, as well as the Chinese policies."
In her sharing, Lim Ying Hui had mentioned student clubs like the Shanghai Singapore Students' Association and the Fudan Singapore Students' Association. Both clubs regularly organise activities for Singaporean students in Shanghai to gather and network with each other. In addition, some of the club activities allow Singaporean students to meet and interact with students in China.
Takeaways from SFCCA
After receiving the scholarship, Ng Joong Hwee said he joined the SFCCA Scholars Network (SSN) and was fortunate to have interacted with the other scholarship recipients. He also had the opportunity to see SFCCA's major events, such as the River Hongbao, before the general public during his internship at the SFCCA.
Loy Wei Peng added that the SFCCA is a very good platform for expansion and growth, and it is a very good starting point as an internship place. What the scholarship recipients have gained is not just the scholarship, but also the opportunity to broaden their horizons.
In primary school, Lim Ying Hui participated in a storytelling contest sponsored by the Hokkien Huay Kuan, and learned about the many activities and talks organised by SFCCA to promote Chinese culture, which she found very meaningful. As a result, she wanted to learn more about the operations of different clan associations. In order to do her part in promoting Chinese culture, Ying Hui has also served as a facilitator for sharing sessions and designed social media posts for the association, further polishing her bilingual skills.
Advice for studying in China
Some participants of the sharing session expressed that there is a difference in level of Chinese language proficiency between Singaporeans and the Chinese students, and asked the scholarship recipients how they overcame the language barrier.
All three scholarship recipients agreed that although there is a difference in Chinese proficiency level, there is no need to feel daunted when encountering difficulties in the learning process. One way to overcome this is to actively communicate and interact with the Chinese classmates in order to improve their language skills.
When asked how one should choose which major to pursue, all three scholarship recipients said that one must be clear about his or her areas of interest before choosing their major. Ng Joong Hwee also added that interests may also change in the process, but there is no need to worry too much about this. Loy Wei Peng believes that the most straightforward way to live in China is to set aside your worries and be courageous, because studying abroad is, after all, a valuable learning opportunity and platform.
The SFCCA scholarship is now open for application. For more information, please click here.