Singapore Federation of Chinese Clan Associations concluded its Council Election on 24th September 2021, with Mr Thomas Chua taking over the helm of SFCCA from Mr Tan Aik Hock as its fourth President. The new Council was sworn in on 16th October, witnessed by Deputy Prime Minister and Coordinating Minister for Economic Policies Mr Heng Swee Keat.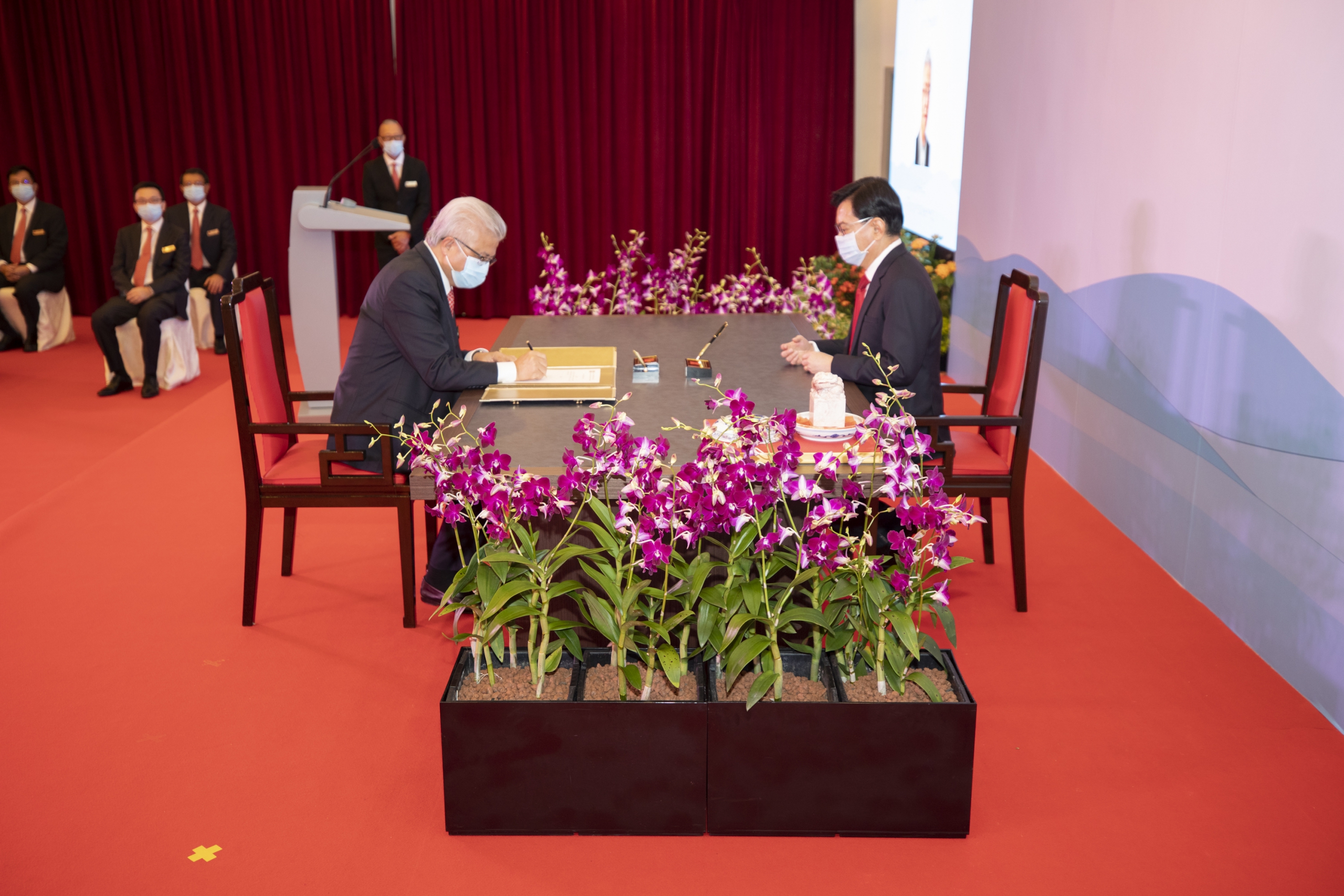 Under the witness of DPM Heng Swee Keat (right), Mr Thomas Chua (left) was sworn in as the fourth President of SFCCA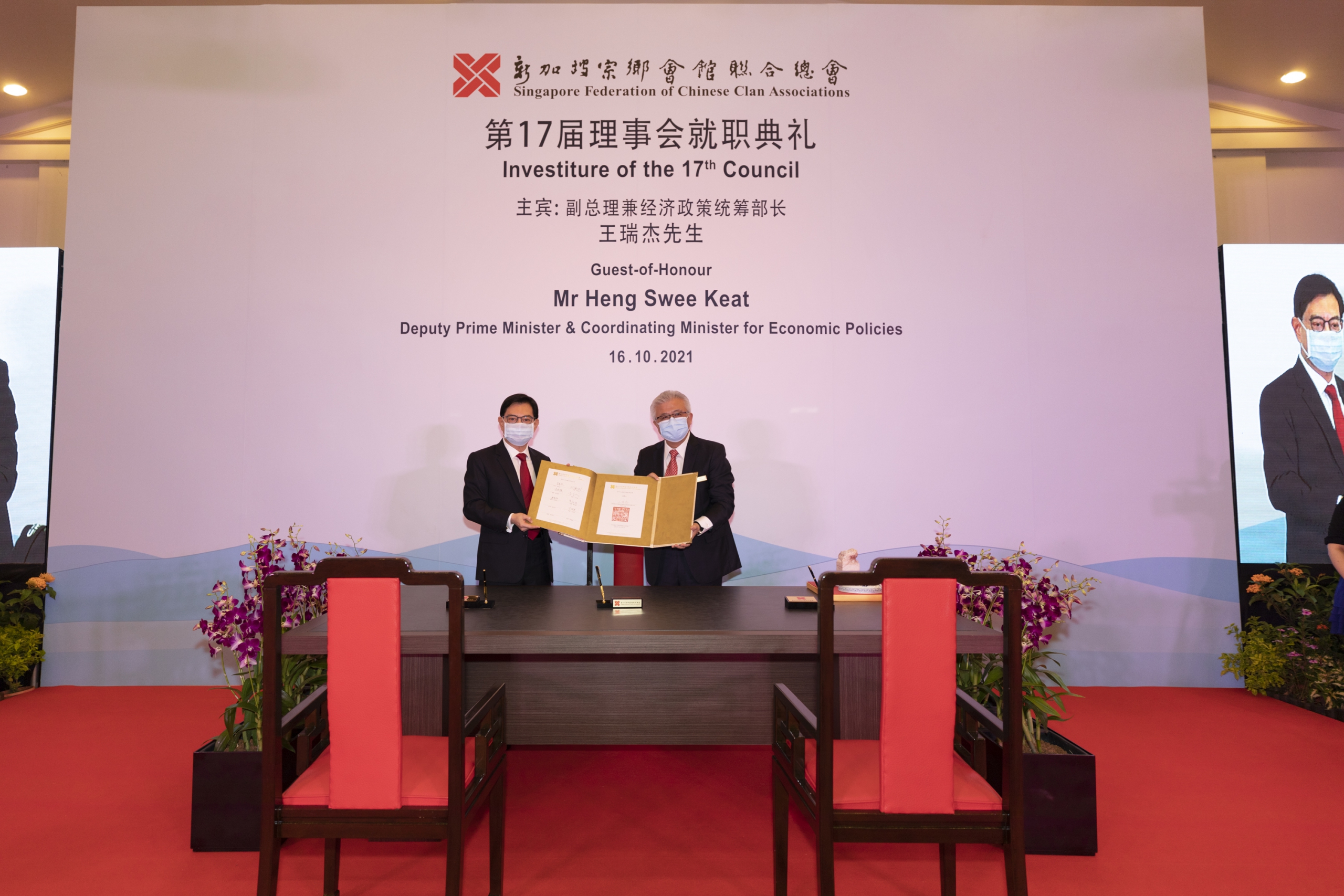 SFCCA President Mr Thomas Chua (right) with DPM Heng Swee Keat (left) after affixing the seal on the oath document
In his acceptance speech, Mr Thomas Chua expressed his gratitude to all three former Presidents, as well as the previous Councils and Executive Committees for their contributions towards SFCCA. He also identified the 17th Council's directives, namely the acceleration of SFCCA's transformation, the deepening of exchanges and cooperation with member associations, and the strengthening of cooperation with other ethnic groups to promote social harmony whilst uniting the Chinese community. He mentioned that SFCCA's work will revolve around these three directives, and that SFCCA will continue to make contributions towards the nation's progress and social stability.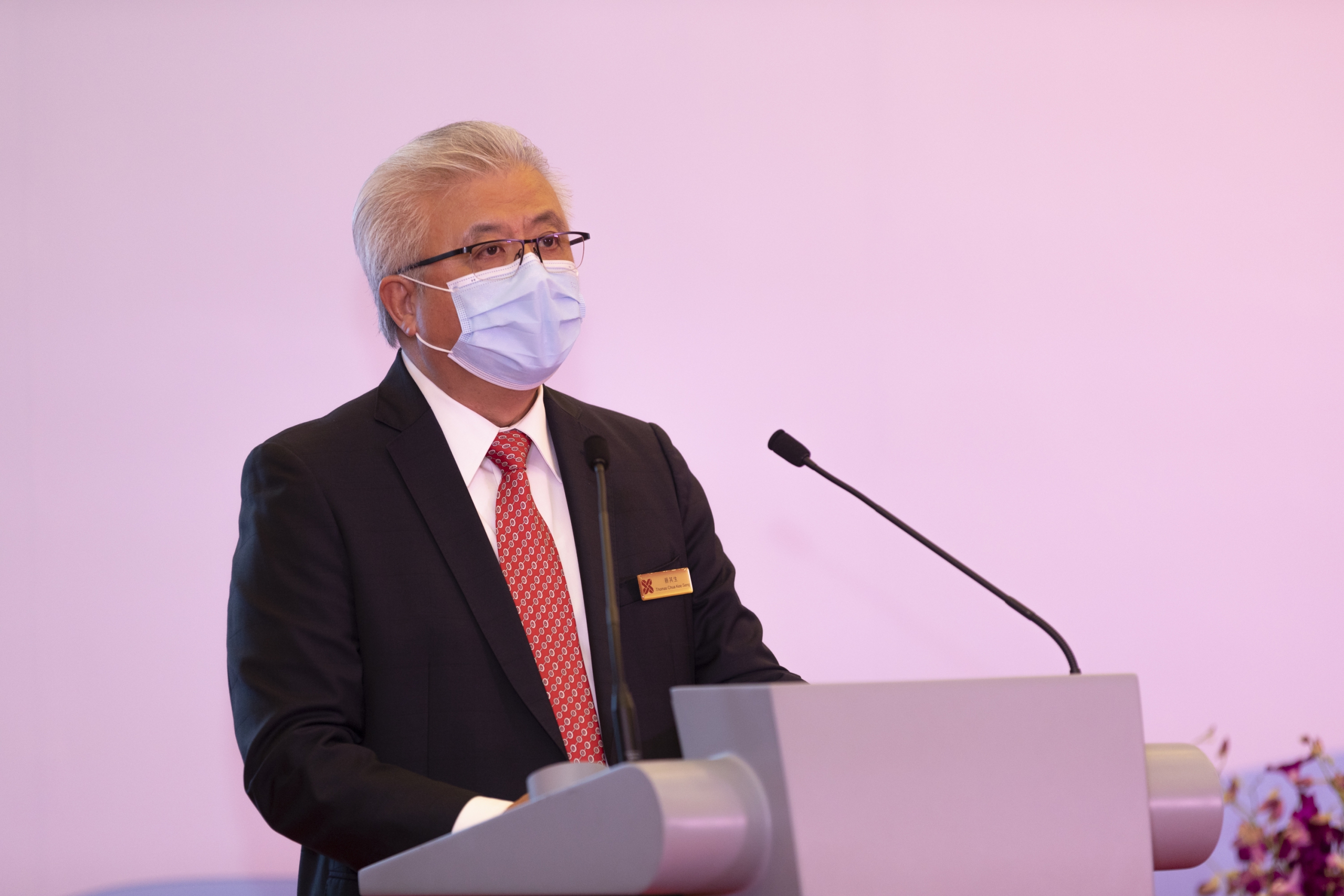 During his speech, President Mr Thomas Chua shared SFCCA's directives
Stepping down from his role as the President of the 16th Council, Mr Tan Aik Hock expressed his gratitude to his Council and thanked all partners for the trust and support rendered during his term in office. He also encouraged the new Council to bring SFCCA to greater heights by staying committed and forging ahead together as one. 
During his speech, DPM Heng Swee Keat stressed the importance of Singapore's multiracialism and multiculturalism, and that every generation must make efforts to maintain our harmony, even as we celebrate the unique cultural traditions of each ethnic group. He said, "I am heartened to see that the clan associations are doing your part to promote the mutual understanding and harmony between the various ethnic groups. The Chinese cultural activities organised by the SFCCA have incorporated the cultures and traditions of our other ethnic groups. This reflects the multicultural fabric of our society and strengthens the Singaporean identity."
The 17th Council will also be led by Vice-Presidents Mr Zhong Sheng Jian and Mr Chan Kian Kuan. With outgoing Treasurer Mr Ng Siew Quan being elected as Secretary-General, Mr Hong Poh Hin will take over as the Treasurer in the new Council. Amongst the 31 Council Members are six new faces, namely newly elected President Mr Thomas Chua, Vice-President Mr Chan Kian Kuan, Social Affairs Committee Chairman and Vice-Chairman Mr Lennon Tan and Mr Png Yiow Beng, Member Affairs Committee Vice-Chairman Mr Tan Hin Teng, and Cultural Committee Vice-Chairman Mr Yeo Eng Koon. For the 17th Council and Executive Committee name list, please visit sfcca.sg/en/2021/09/24/sfcca-17th-council-election-thomas-chua-elected-as-president.
This Council investiture marks the first time in SFCCA's history an investiture was held in hybrid mode. The ceremony was broadcast live on SFCCA's Facebook page, with onsite attendance limited to invited guests, amongst whom includes Minister for Culture, Community and Youth and Second Minister for Law, also the Chairman of Chinese Community Liaison Group, Mr Edwin Tong.
Visit https://fb.watch/8Kqf1iSKxG to watch and relive the SFCCA 17th Council Investiture on Facebook.