Singapore Federation of Chinese Clan Associations (SFCCA) held its 36th Annual General Meeting (AGM) and concluded the second stage of its 17th Council Election on 11th September 2021. Following last year's AGM, this is the second time SFCCA held a hybrid AGM, attended by around 140 attendees. In attendance onsite were SFCCA President Mr Tan Aik Hock who presided over the meeting, some Council members and candidates in the second stage of Council Election, whilst remaining member representatives attended via Zoom.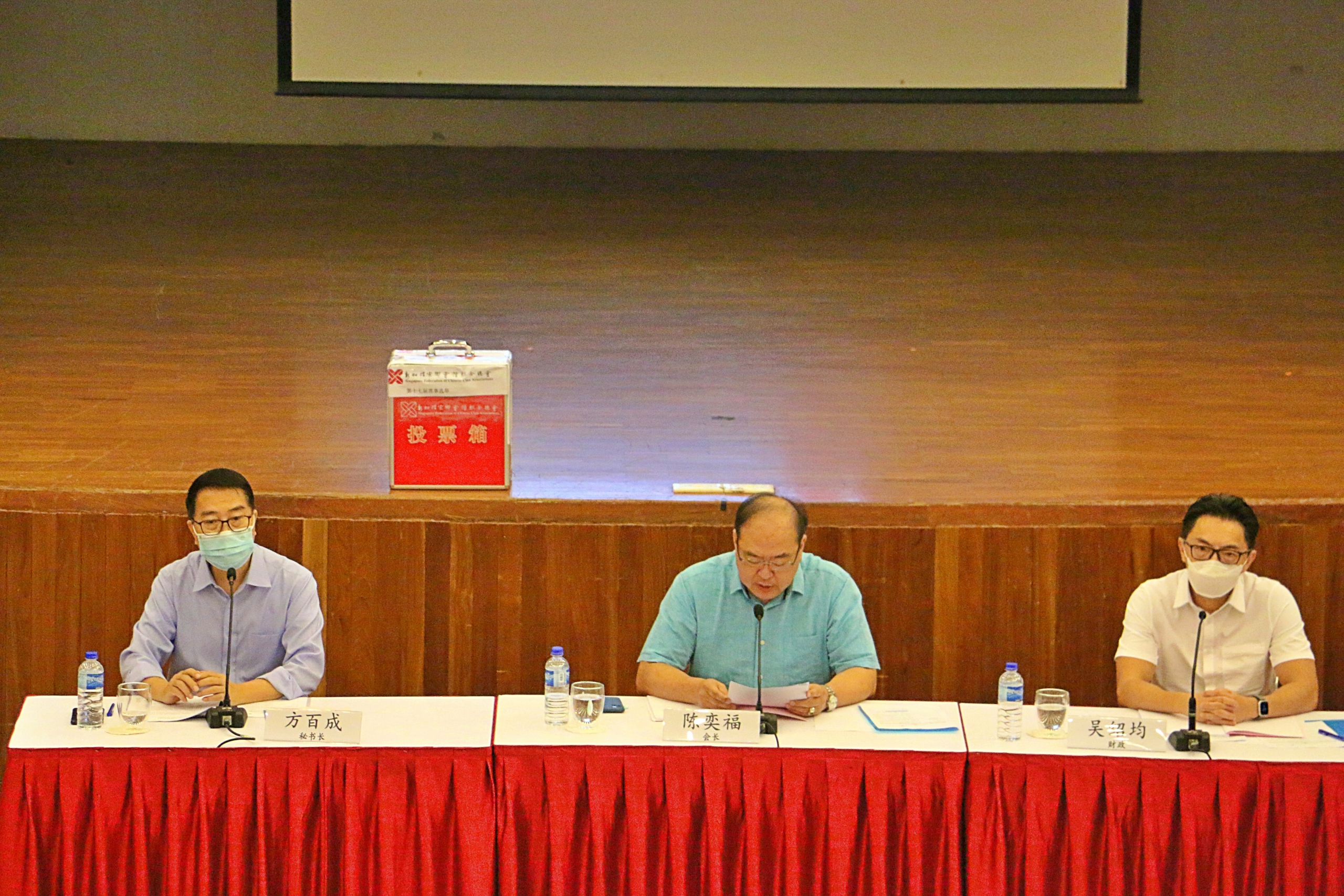 16th Council President Mr Tan Aik Hock (centre) presided over the 36th AGM, alongside Secretary-General Mr Perng Peck Seng (left) and Treasurer Mr Ng Siew Quan (right)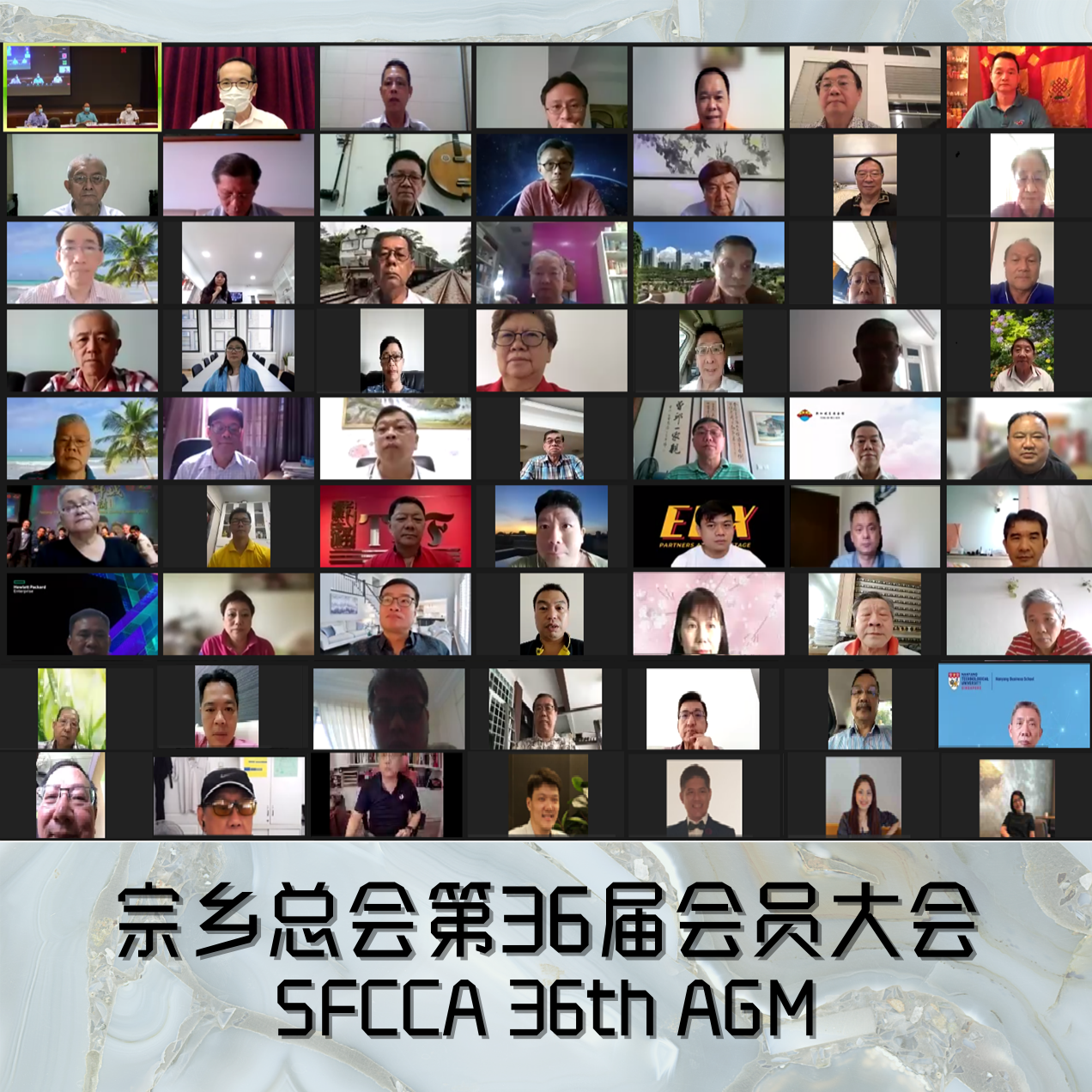 SFCCA member representatives joined the AGM via Zoom
In his address, Mr Tan highlighted that COVID-19 has sparked innovation and thereby creating opportunities for associations' transformation. Over the past year, besides adopting novel ways to hold our year-round activities, SFCCA also made full use of digital technology and new media to organise a variety of innovative projects such as the "This is Singapore" short clips series which introduces interesting anecdotes about Singapore, Virtual Escape Room and Virtual Run, which all garnered overwhelming response from the public, especially the youth.
Mr Tan also revealed that SFCCA will be rolling out a Members Loyalty Programme, with the new "Legacy Card" featuring various forms of benefits. It is hoped that this will drive the members' loyalty towards the clan associations, encourage more to be involved in clan associations' activities, and promote interest in local Chinese culture.
SFCCA begun its preparation for the 17th Council Election earlier on in March this year. In accordance with the SFCCA Constitution, the triennial SFCCA Council Election constitutes a total of three stages. In the first stage, its 7 Founder Members have to nominate their representatives to take the office. In the second stage, candidates have to be nominated first then go through a round of polling, electing 14 from amongst the Ordinary Members. In the third and final stage of the Federation's election, a maximum of 10 other persons will be co-opted by these 21 Council Members, forming a Council of not more than 31 members.
SFCCA had earlier on carried out the first stage of its election. Its 7 Founder Members' Representatives are – Singapore Hokkien Huay Kuan President Mr Thomas Chua Kee Seng, Teochew Poit Ip Huay Kuan President and Honorary President Mr Chan Kian Kuan, Singapore Kwangtung Hui Kuan Vice-President Mr William Leong Sin Yuen, Nanyang Hakka Federation President Mr Ho Khiam Seng, The Singapore Hainan Hwee Kuan President Mr Francis Phua Kiah Mai, Sam Kiang Huay Kwan President Dr Lee Peng Shu, and Singapore Foochow Association President Mr Hong Poh Hin.
On the day of the AGM, the voting results for second stage of the 17th Council Election were announced. A total of 145 member associations participated in the voting to select 14 Council Members out of the 19 nominated candidates. There were seven spoilt votes.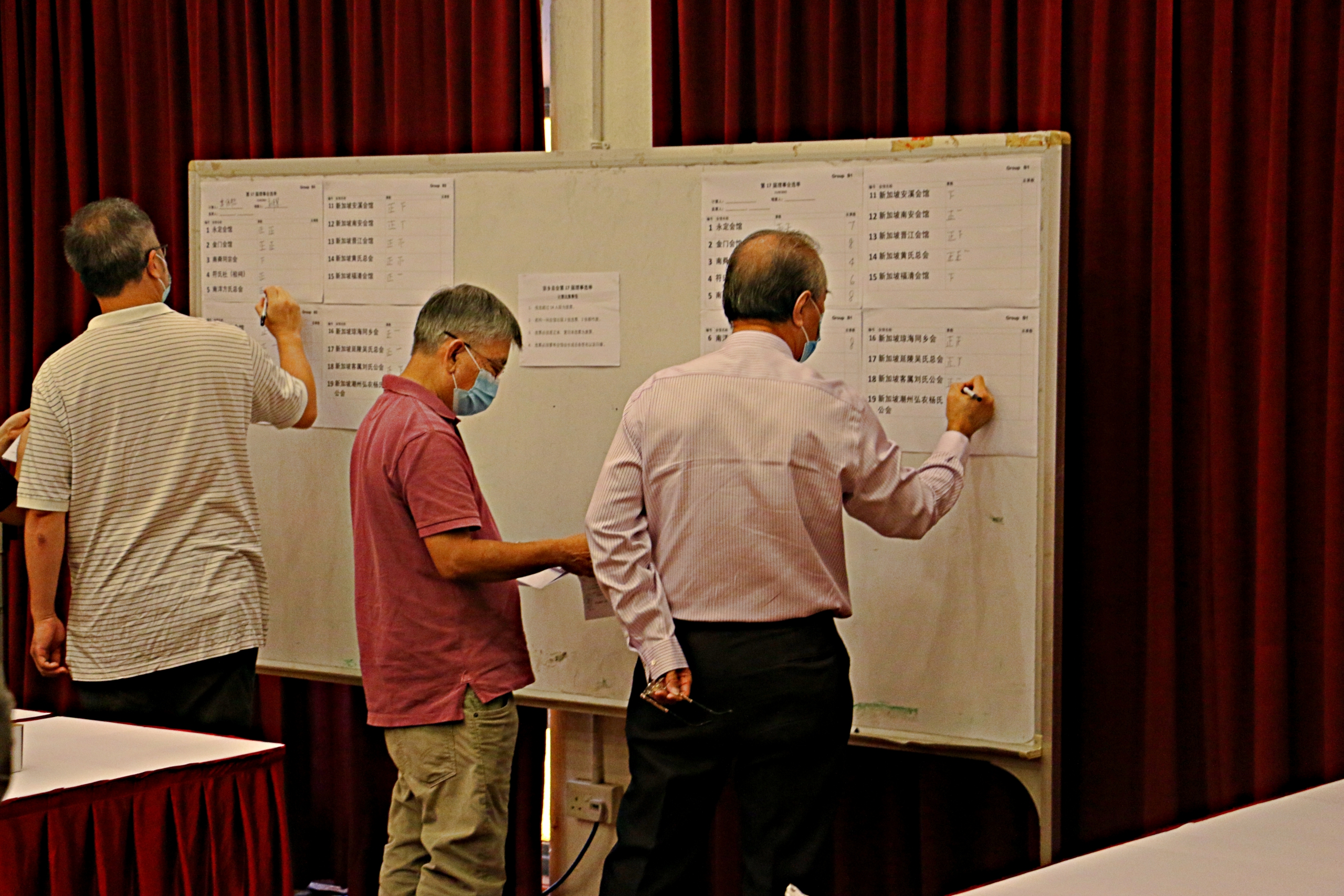 The counting of votes for the SFCCA 17th Council Election and announcement of results took place concurrently with the AGM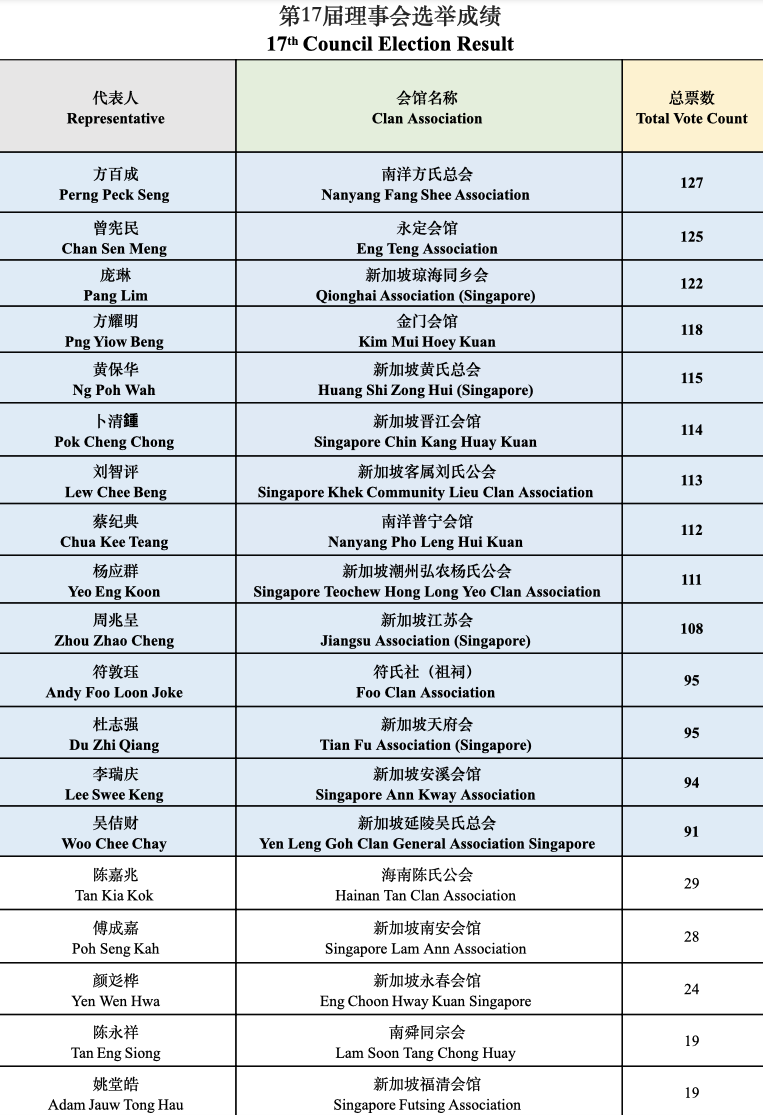 Results for the second stage of the 17th Council Election
Come second half of September, these 14 newly elected Council Members and 7 nominated Founder Members' Representatives will co-opt a maximum of 10 other persons into the Council. Simultaneously, election of 17th Council's office bearers – namely the President, Vice-President, Secretary-General, Treasurer, and Executive Committee's Chairmen – will be conducted.