Jointly organised by Singapore Federation of Chinese Clan Associations (SFCCA) and Singapore Chinese Cultural Centre (SCCC), the Spring Reception 2021 on 14th February 2021 was held virtually for the first time and livestreamed on both organisers' Facebook pages. Over 1,500 guests and livestream viewers came together to usher in the Year of the Ox.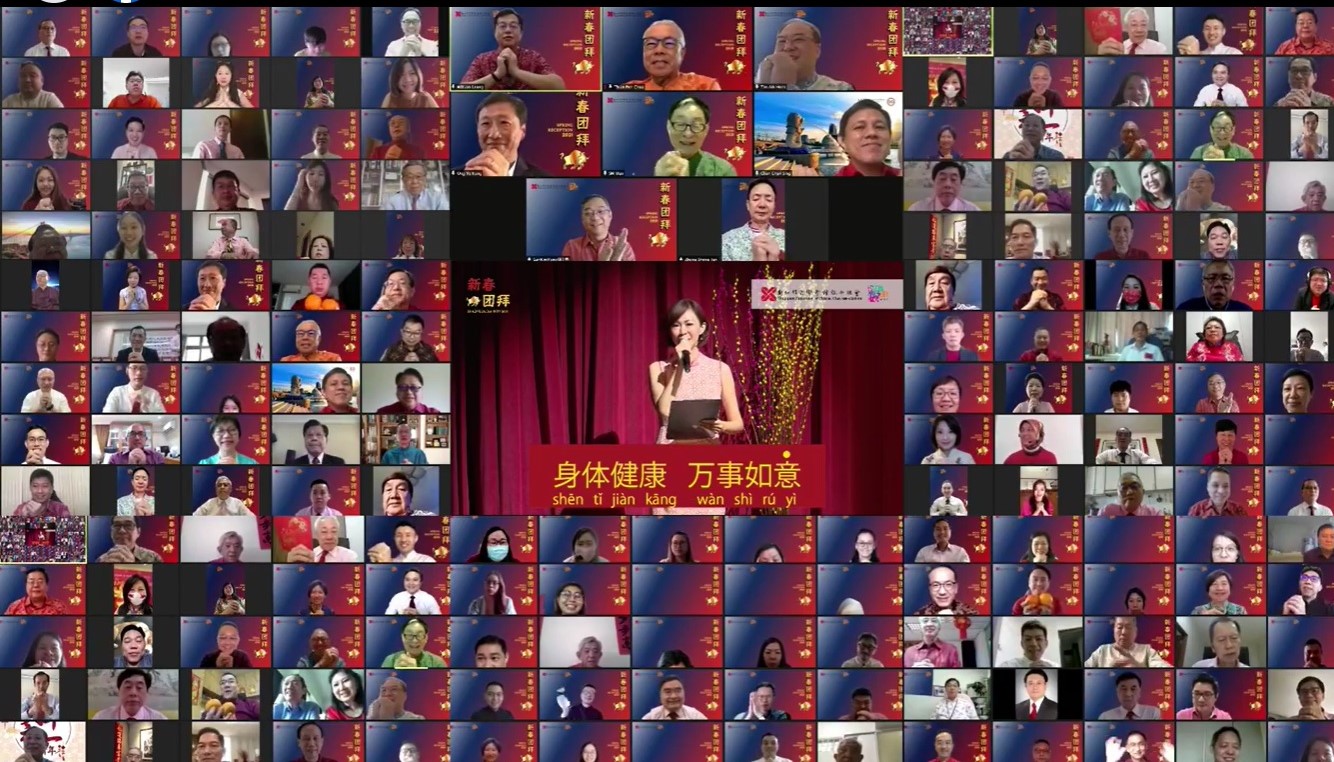 Guests gathered online for the first time ever in the Spring Reception history to exchange mass greetings with one another
Ringing in the new year and reflecting on an extraordinary 2020, Guest-of-Honour Minister for Trade and Industry Mr Chan Chun Sing, thanked SFCCA and its member associations during his pre-recorded address for assisting in the fight against COVID-19 and donating essential items to those in need. As we look towards the future, Minister Chan also emphasised the importance of remaining globally connected.
He said, "Community organisations like SFCCA have played key roles in connecting Singapore to the world, but also the world to us. Where community organisations may have acted more as point-to-point 'bridges' in the past, providing bilateral links, they are more like 'hubs' today. Firmly rooted in Singapore, with uniquely Singaporean characteristics, but keeping us open and connected to a multitude of other countries and cultures."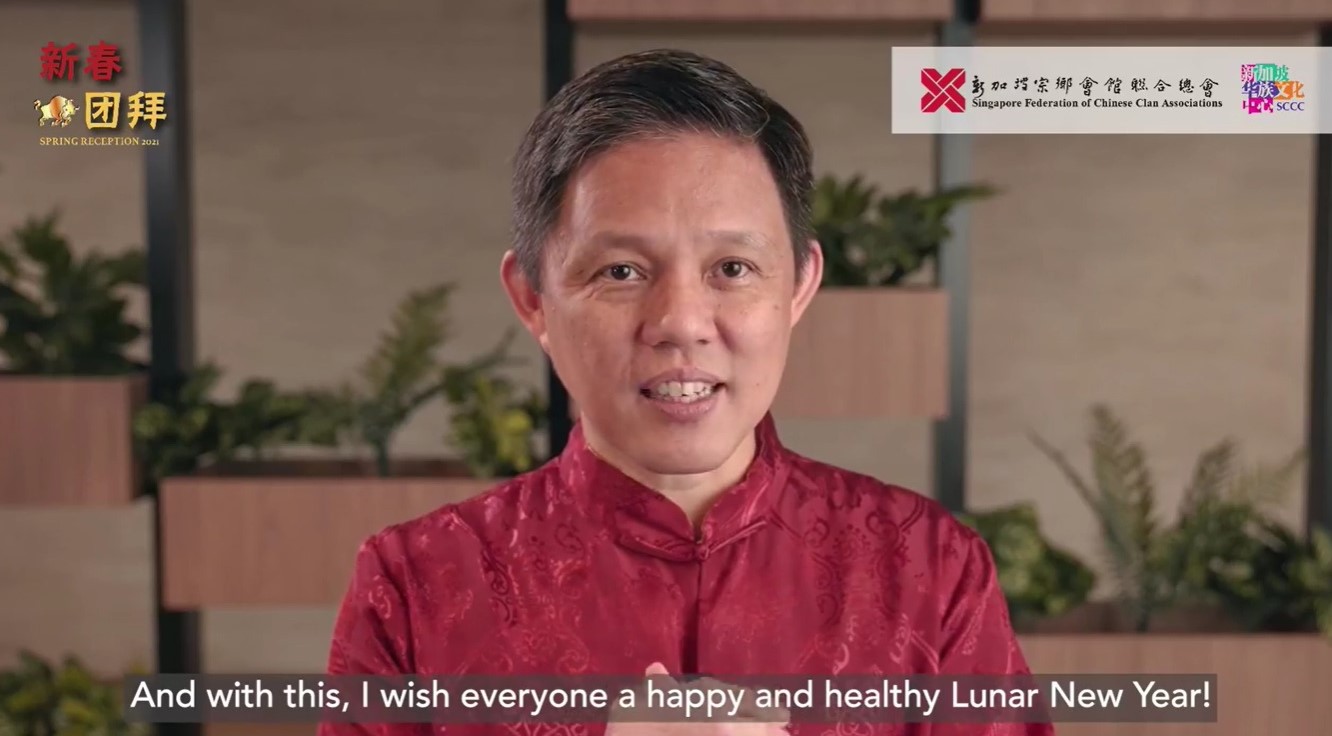 Spring Reception 2021's Guest-of-Honour Minister Chan Chun Sing delivered a pre-recorded Chinese New Year Address
Minister for Culture, Community and Youth and Second Minister for Law Mr Edwin Tong who attended the Spring Reception for the first time after being appointed Chairman of the Chinese Community Liaison Group also shared festive greetings in a pre-recorded video. He complimented on how the showcase of performances was an opportunity for us to appreciate how the traditional and contemporary came together in perfect harmony.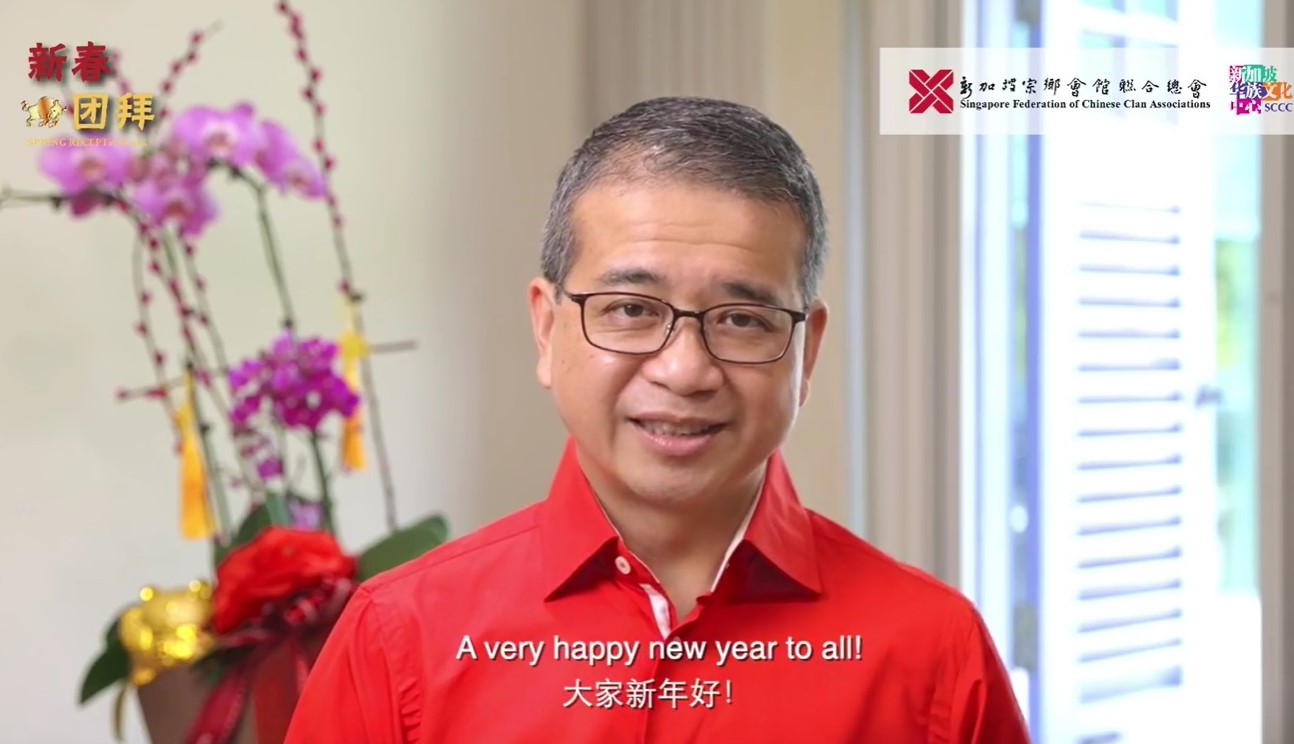 Minister Tong shared festive greetings through a pre-recorded video
Speaking on the digital nature of Spring Reception 2021, Chairman of SCCC and Honorary President of SFCCA Mr Chua Thian Poh said, "In the face of the COVID pandemic, we are glad to still be able to hold our first virtual Spring Reception this year. The past year was unlike any we have seen, the pandemic disrupted people's lives and plans and the SCCC is no exception. Nonetheless, we remained positive and saw this challenge as an opportunity to preserve and promote Chinese culture, while thriving through the pandemic. We will continue to present traditions in innovative ways, leveraging on technology and new media, and enriching the local arts and cultural scene."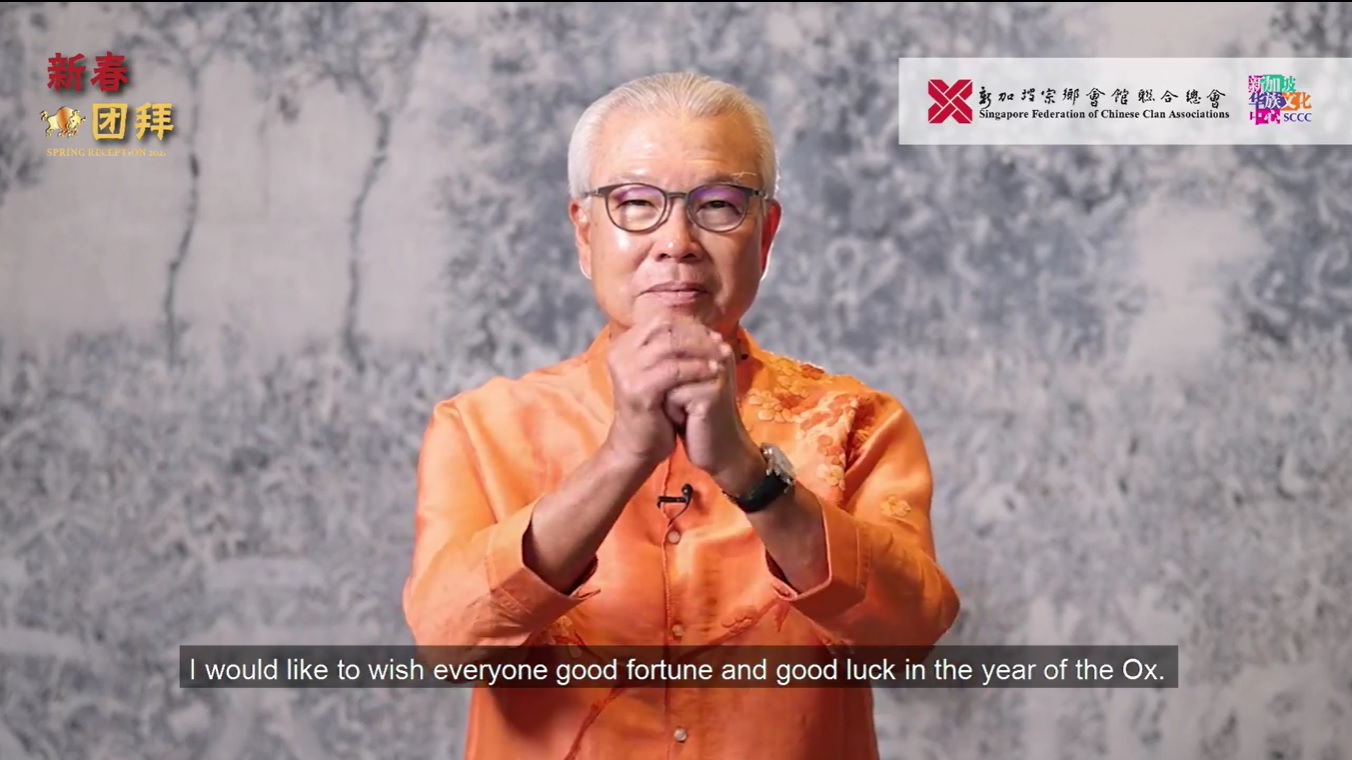 Chairman of SCCC and Honorary President of SFCCA Mr Chua Thian Poh shared his well wishes for everyone
Echoing that in his speech, Mr Tan Aik Hock, President of SFCCA, said, "The pandemic has changed the way we live and clan associations also need to adapt with the times, so as to promote the local Chinese culture and values more effectively. SFCCA therefore calls upon all our member associations to harness the power of technology to adjust to the new normal." Besides taking the lead in shifting their operations and activities online since the beginning of last year, SFCCA would spearhead the digital transformation by providing the necessary assistance to their association members, Mr Tan added.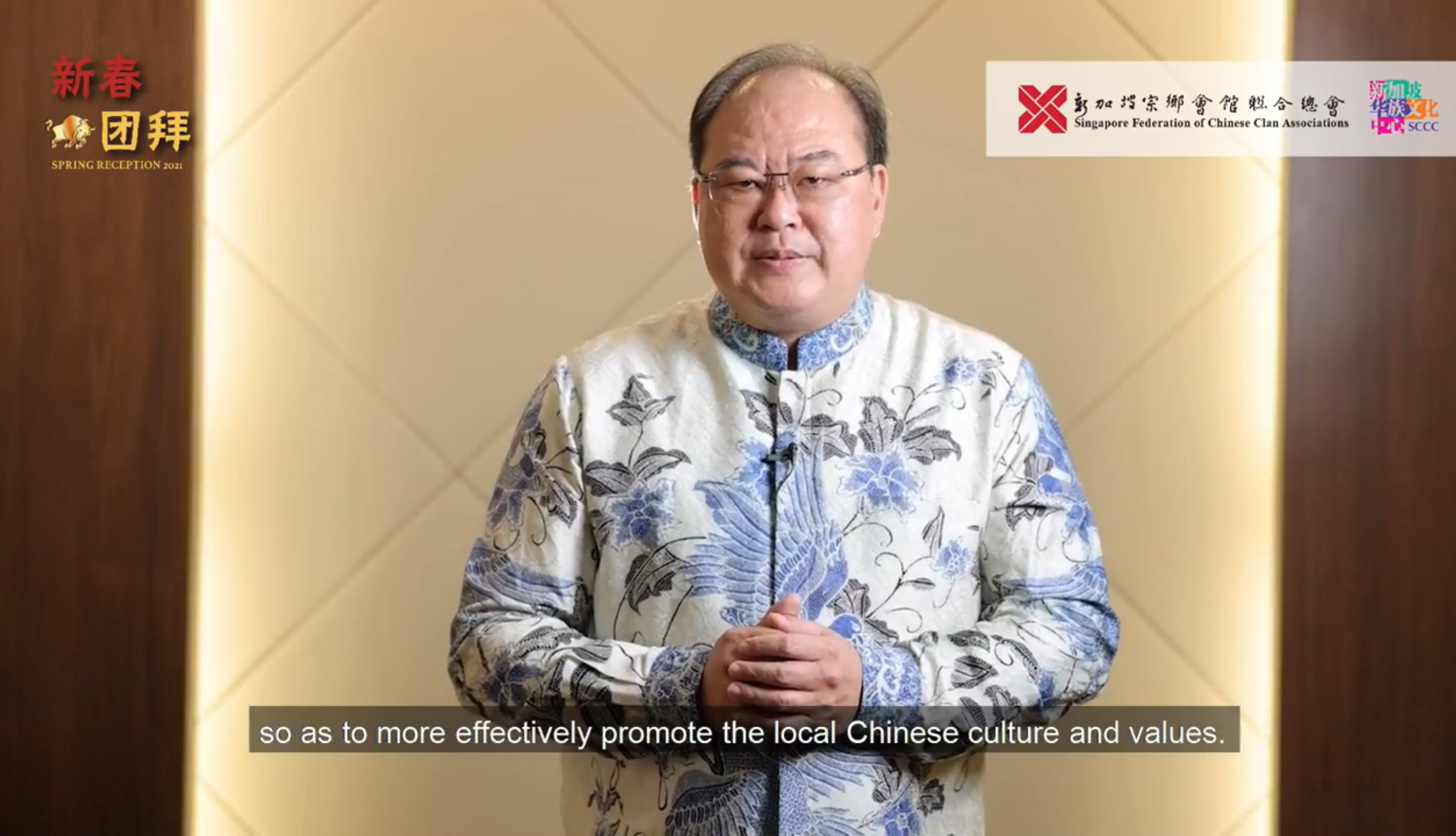 President of SFCCA Mr Tan Aik Hock in his pre-recorded video address
Online guests and viewers were treated to a line-up of performances prepared by the organisers, namely a percussion drum performance by Drum Feng, a street dance and Chinese martial arts performance by Urban Terrain Groovers and a rendition of Chinese New Year songs by local musicians.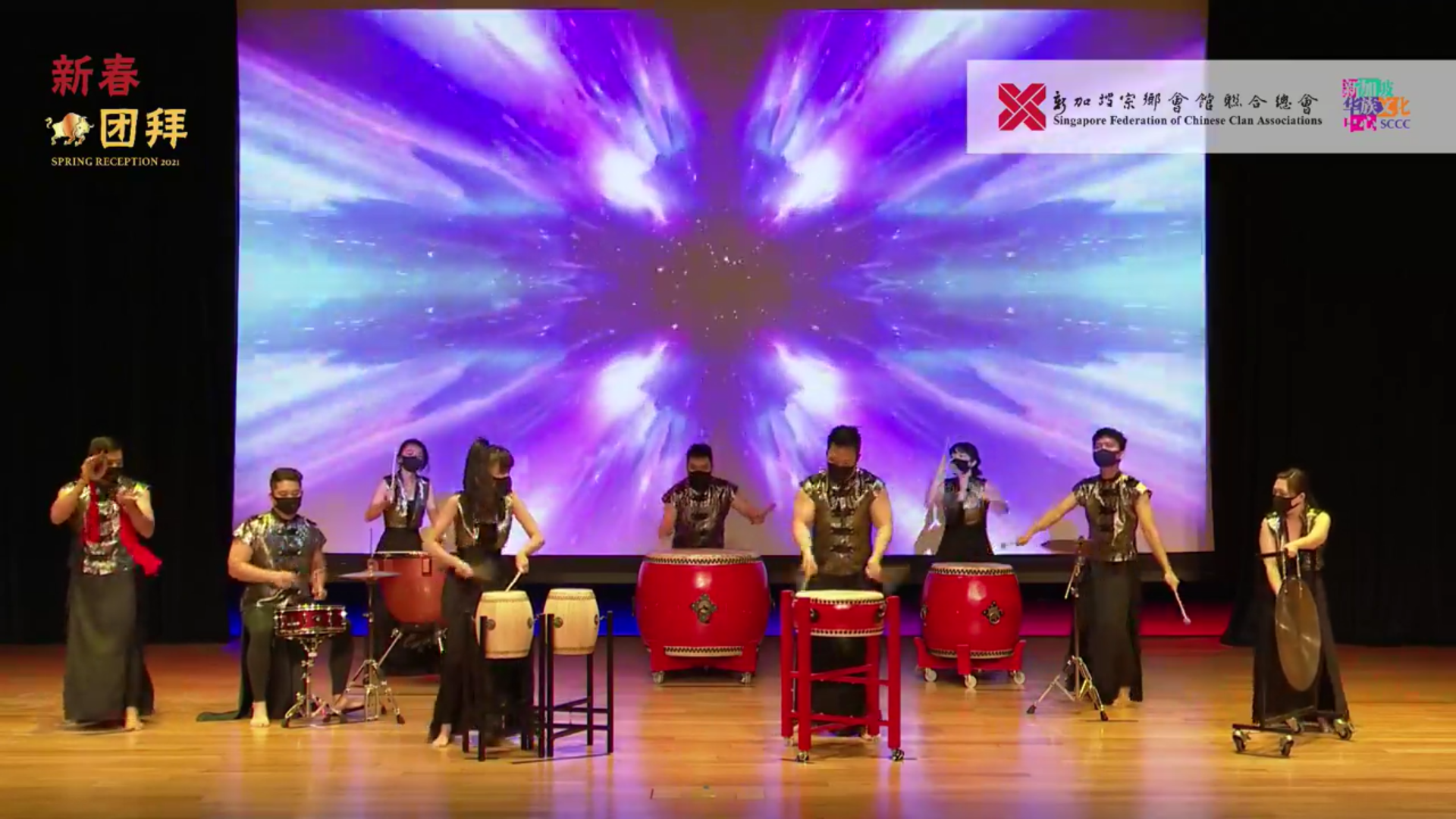 Opening performance by percussion ensemble Drum Feng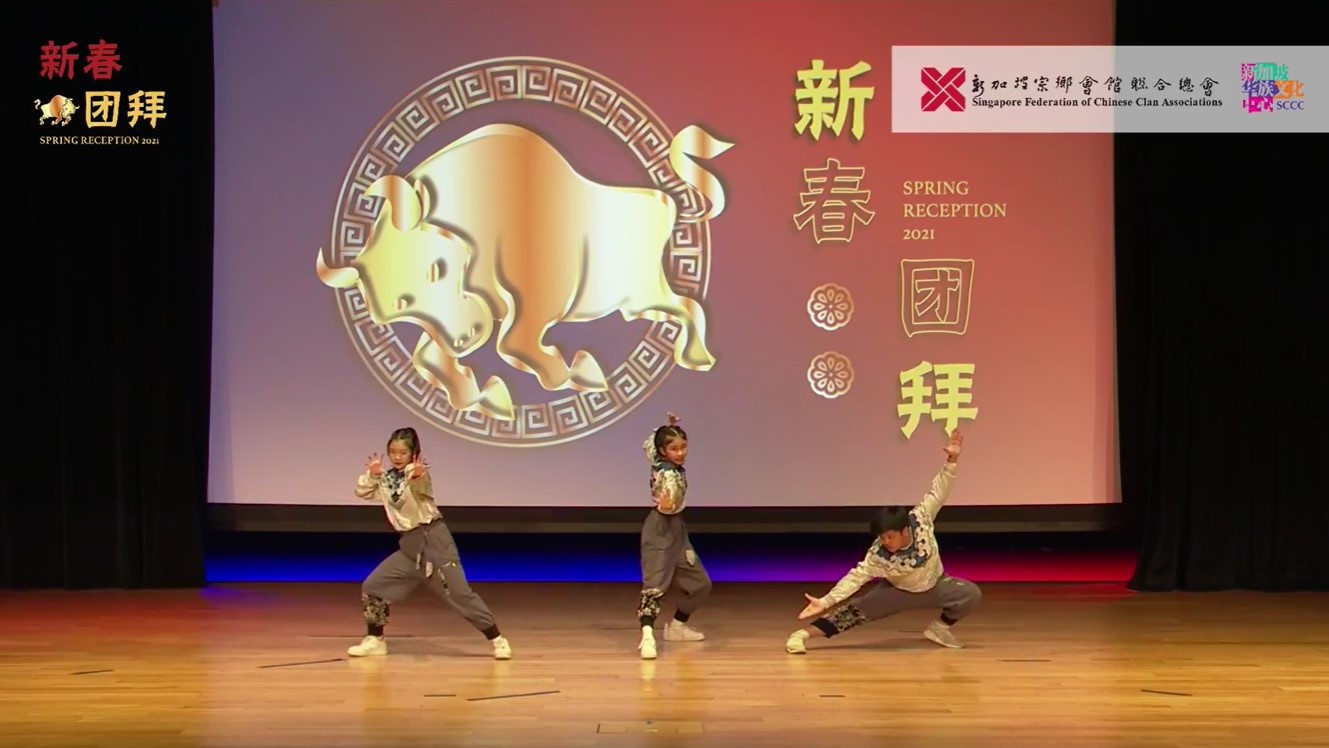 Urban Terrain Groovers showcased a youthful performance – a mix of street dance and Chinese martial arts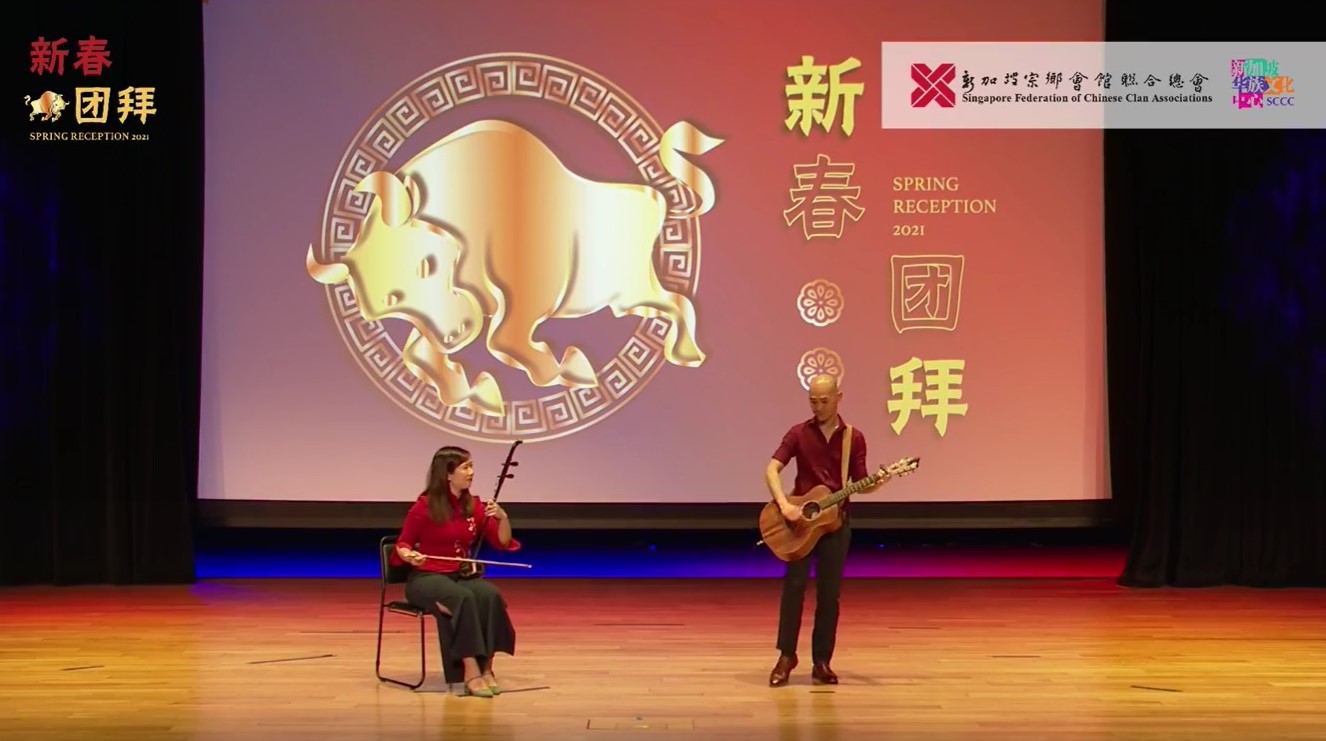 Local musicians showcased their unique rendition of Chinese New Year songs
Political leaders that were in attendance include Minister Gan Kim Yong, Minister Ong Ye Kung, Senior Minister of State Chee Hong Tat, Senior Minister of State Sim Ann, Senior Minister of State Koh Poh Koon, Minister of State Low Yen Ling, Minister of State Sun Xueling, Minister of State Desmond Tan, Minister of State Tan Kiat How, Senior Parliamentary Secretary Baey Yam Keng and Parliamentary Secretary Eric Chua.
Other distinguished guests included Members of Parliament, members of the diplomatic corps, foreign dignitaries and representatives from local arts and cultural groups, clan associations, leaders of the Chinese community and representatives from different ethnic communities.
For those who have missed the livestream, please visit  www.facebook.com/SG.SFCCA/videos/192708432607805.
---
In the media: