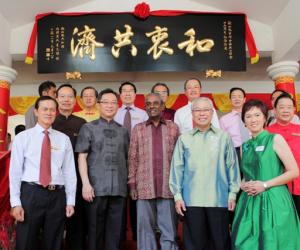 For the first time, Singapore Federation of Chinese Clan Associations (SFCCA) held a Spring Reception and invited the Senior Minister, Professor S. Jayakumar (middle) as the Guest-of-honour. The attendees also included Minister Gan Kim Yong (third from left) and Mrs Josephine Teo, CEO of Business China (first from right).
In celebration of Chinese New Year, SFCCA and Business China jointly organised the 2011 Spring Reception at the Multi-Purpose Hall@Level 1 on the morning of 5 February, 2011 which is also the third day of the Lunar New Year. It is a first for SFCCA to collaborate with Business China to organise Spring Reception, bringing together members of the Federation, new immigrants, representatives of official organisations, as well as Singaporean business entrepreneurs doing business in China to reminisce. This not only increase engagement and allow for exchange of ideas, but also present new opportunities for more activities to be held in SFCCA.
Senior Minister, Professor S. Jayakumar was invited to grace the occasion as the Guest-of-Honour. Other guests included Minister of Manpower Gan Kim Yong, Chinese Ambassador to Singapore Wei Wei, Senior Parliamentary Secretary for Ministry of Trade and Industry & Ministry of Information, Communication and Arts Sam Tan. More than 300 people attended the festive event which includes leaders from the clan associations, Business China's directors, SFCCA's Council Members and executive committee members etc.
At the event, President of SFCCA, Chua Thian Poh gave his address and said that the "The Chinese New Year gathering today has far-reaching significance as it is the first Spring Reception jointly organised by SFCCA and Business China since our establishment. We will uphold our founding purpose, engage in continuous self-renewal, and keep up with the times. Moving forward, in addition to strengthening the cooperation between clan associations, the Federation will also expand the level of cooperation with Singapore Chinese Chamber of Commerce & Industry (SCCCI) and Business China. This would draw upon everyone's strengths, allowing us to continue to contribute to the nurturing of our country's bilingual and bicultural talents. "
Mr Chua also appealed to the clan members of the Federation, that the clan associations should fully leverage on its own advantages, and play a pivotal role in promoting the use of mother tongue languages (MTL). The associations should also actively cooperate by promoting the new MTL teaching and assessment framework launched by the Ministry of Education (MOE). SFCCA, in conjunction with parents, schools and community organisations can work together to create a diverse space for learning Chinese, igniting a child's passion and love towards their mother tongue and Chinese culture.
Guest-of-honour Professor S. Jayakumar also mentioned in his speech, that SFCCA is a non-governmental organisation that leads the clan associations in Singapore and promotes Chinese language and Chinese culture. Clan associations in Singapore have developed a close-knit geopolitical and clan relationship with China. Its long history and wide, accessible human connections can serve as a very stable foundational bridge for the younger generation and the many people who want to seek business opportunities in China.
He added, established since 2007,  Business aims to nurture bilingual and bicultural talents through various activities, online platforms and channels, so as to build a bridge that connects China with the cultures and economies of other countries all around the world, to let young Singaporeans recognise and learn more about China, while aiding them in entering the China market. Hence, SFCCA and Business China can actually complement each other's strengths and work even closely together. Spring Reception is a very good example of the collaboration of both parties, opening up new plans for their partnership.
Aside from mass greetings, Singapore Foochow Association's Chinese Orchestra was also invited to perform on the day of the festival, alongside Nanjing's Dance Troupe who performed many songs and dance performances. In addition, Long Service Awards were also given out to 17 individuals who have served SFCCA for over 10 years to thank them for their contributions to the association. Afterwards, President Chua Thian Poh and the VIPs gathered for tea, while more than 300 guests enjoyed delicacies from different dialect groups.
The God Of Fortune was also invited to hand out "gold coins" and oranges to the guests. There were also brush, ink and paper provided for guests to write and hang couplets to express their Chinese New Year wishes. Brilliant smiles and laughter filled the atmosphere with vigour and joy.
当天也安排了财神爷分发金币、柑橘给来宾,现场也提供文房四宝,让来宾挥春,写上新年祝福。浓厚的佳节气氛中,众人脸上堆满了欢喜的面孔和灿烂的笑容,一片朝气蓬勃,其乐融融。