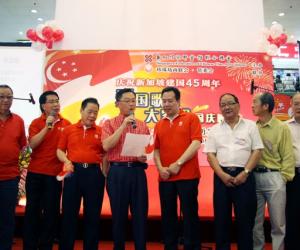 Minister Gan Kim Yong (fourth from left) and various council members performed a song together on stage
National Day Sing-Along 2010, jointly organised by SFCCA and Singapore People's Park Complex Merchants Association, was held once again at the People's Park Complex on 7th August 2010 for the fourth year where the crowd sang their best wishes for Singapore's 45th birthday.
SFCCA gathered 12 of its member associations: Singapore Ann Kway Association, Char Yong (Dabu) Association, Nanyang Hakka Federation, Singapore Hokkien Huay Kuan, Singapore Kwang Tung Hui Kuan, Theng Chuan Ngau Thau Koo Kay Tan Clan Association, Teochew Poit Ip Huay Kuan, Singapore Hainan Hwee Kuan, Kim Mui Hoey Kuan, Sam Kiang Huay Kwan, Guangxi and Gaozhou Association as well as Choo Clan Association in the participation of the sing-along session. Besides, new immigrant associations such as Tian Jin Association, Performing Arts School and Sin Chong Music Cultural Art Development Centre were also invited to the grand event. Over 180 performers and nearly 1,000 audiences expressed their patriotism through singing.
At 7pm, Minister for Manpower Gan Kim Yong, accompanied by SFCCA Secretary-General Lim Fang Hua, arrived at the event venue. As the national anthem started playing, audiences held their fists near to their chests and recited the Singapore pledge together. Shortly after, Singapore Ann Kway Association presented "Wishing You Singapore" (祝福你啊新加坡), a lively yet heartwarming song.
Many other patriotic songs sung during the sing-along session include "Moonlight Boat Ride" (月夜泛舟), "Beautiful Singapore" (美丽的新加坡), "The Awakening" (雾锁南洋), "Song of the Night Flight" (夜航之歌) sang later that evening celebrates the beauty of Singapore. Familiar evergreen songs such as  "Voices from the Heart" (小人物的心声), "Friends" (朋友), "Tomorrow Will Be Better" (明天会更好), "In the Spring" (春天里) evoked memories and audiences were able to sing along with the melody which created a lively and joyful atmosphere.
Minister Gan Kim Yong and various council members were also invited on stage to perform the song "Believe in me, Singapore" (相信我吧,新加坡) which received a huge round of applause from the crowd. The event ended off at 9 pm with a heartwarming song titled "Hand in Hand, Heart to Heart" (手拉手,心连心).