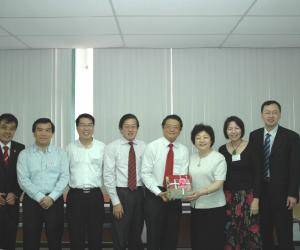 SFCCA representatives presented a commemorative publication to the delegates
A 3-member delegation led by Shandong University's Vice President Fan Liming, accompanied by Zhang Guo Shen, Secretary of the Education Department of the Embassy of the P.R. China, visited SFCCA on 1st April 2010. The representative group had an exchange dialogue session with SFCCA's Deputy Secretary-General Lee Peng Shu, council members Perng Peck Seng and Teh Kwi Huat, Chairman of Research Committee Dr. Lee Cheuk Yin, and Executive Director Lim Boon Tan.
Vice President Fan Liming began the session with an introduction to Shandong University. Founded in 1901, Shandong University is a comprehensive school with rich history offering a wide range of courses. The large-scaled campus with 58,000 enrolled students comprises six different faculties, one branch campus, and 3 hospitals. The teachings of Confucius and Mencius originated from Shandong Qufu and contributed to the establishment of a training base in Shandong University for teachers from Confucius Institute. It also plays an active role in the universalisation of the Chinese language and Education.
Fan Liming mentioned that their purpose of the visit was to explore the possibility of working with SFCCA in the promotion of the Chinese language and culture. For instance, Shandong University has held several summer camps opened to students from secondary school onwards and even an English summer camp for overseas non-Chinese students. She also expressed her idea of using the theme of tracing roots in the hometown of Confucius and Mencius to make use of their cultural and geographical advantages as a way for students to learn about the cultural traditions of the university for a combined "learning and touring" cultural journey.
Deputy Secretary-General Lee Peng Shu supported her idea. He pointed out that summer camps are similar to our local "Chinese cultural immersion trips". In recent years, more than a hundred primary and secondary schools have conducted such trips with schools in China. However, it is not in popular demand due to the high cost. He believes that SFCCA can build on the concept of Chinese culture and kindship ties to engage and collaborate with Shandong University. Both Perng Peck Seng and Dr. Lee Cheuk Yin felt that targeting primary and secondary school students would attract more participation and that a partnership with Shandong University's affiliated secondary school would be more feasible.
Fan Liming mentioned that upon their return to China, they would devise a special project and work out the details of the specific collaboration with hope of bringing Singaporean students to Shandong to experience the profoundness of the Chinese culture.