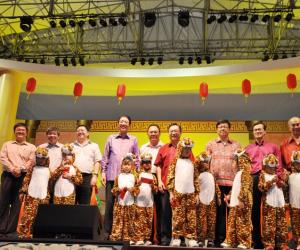 Deputy Prime Minister and Minister for Defence Teo Chee Hean (back row, fourth from left) presided over the River Hongbao Light-up Ceremony. Second from right is SFCCA Vice President Ho Kiau Seng
River Hongbao, jointly organised by SFCCA, Singapore Chinese Chamber of Commerce and Industry, Singapore Press Holdings, People's Association and Singapore Tourism Board, is now in its 24th year! The theme of River Hongbao 2010 is "Welcoming the Year of the Tiger with Chengdu and Singapore (推成(成都)促新(新加坡)迎虎年)". For the first time, the event is co-organised with the Chengdu Municipal Government, the hometown of the giant pandas, to bring the city's famous cultural performances, light shows, handicrafts and culinary delights to Singapore. The River Hongbao working committee expressed that they hoped to highlight the rich cultural landscape as well as cultural and artistic qualities of Chengdu for the public to enjoy and learn more about.
On 12th February 2010, the opening ceremony of River Hongbao was held at the Marina Bay Floating Platform. The guest-of-honour that evening was Deputy Prime Minister and Minister for National Defence Teo Chee Hean, accompanied by SFCCA Vice President Ho Kiau Seng and other organisers, who presided over the Light-up Ceremony for the event, which kicked off nine days of festivities along with the bright bloom of the fireworks.
Beautiful Lights Reflected on the River
River Hongbao, which ran for nine days from 12th to 20th February 2010, attracted close to a million members of public and tourists. The giant God of Wealth standing tall on the riverbank, the glorious wishing fountain with golden coins and the golden carved dragon made of sugar, allowed Singaporeans to preserve and celebrate their folklore festivals while keeping the arts and culture in mind.
Besides the panda design, the 88 sets of large lanterns transported from Chengdu, also included 15 tigers lantern, the "Group of Tigers in Spring" and the 12 zodiac signs, which looked particularly beautiful when reflected on the river. The most eye-catching lantern was the exquisitely crafted "Dragon and Phoenix" made of porcelain tableware.
Outside the Marina Bay Floating Platform, there were rows and rows of Chengdu speciality art stalls selling a wide range of cultural products, including Hua Dan masks, panda puppets, woven praying mantis, etc. The unique live sugar painting, face painting and shadow puppet show also attracted the attention of many adults and children, who stopped to watch. Chengdu snacks such as "Guo Kui" and "Dan Dan noodles" were also sold out, making this Chinese New Year not only a great time for Singaporeans to enjoy themselves.