In partnership with the People's Park Traders' Association, the "3rd National Day Sing-along" was organised by SFCCA at Chinatown for the first time ever. Through this event, SFCCA hopes to encourage more people to take part in "National Day Sing-along" to express their love for our nation through singing.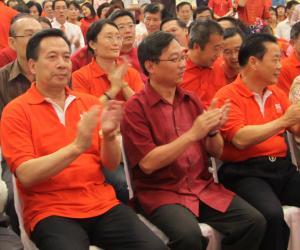 (Front row, from left to right) SFCCA Secretary-General Lin Fanghua, Minster Gan Kim Yong, SFCCA Treasurer Ho Kwok Choi, (Back row, second from left) Chen Liping from Tian Jin Association enjoying themselves at the event
What set this year's sing-along apart from the previous years was the repertoire of songs chosen. This year, a total of 20 classic folk songs about Singapore and friendships was sung at the event. There was also live band accompaniment, which makes the whole atmosphere even livelier. A total of 16 member associations signed up to participate in this meaningful event. Other than that, SFCCA also invited new immigrant associations such as Tian Jin Association, Tian Fu Association, and Hua Yuan Association to celebrate the occasion together and for them to better integrate into the Singapore society.
At 7pm, Guest-of-Honour, Minister for Manpower Gan Kim Yong, arrived and was seated with the company of Lin Fang Hua, Secretary-General of SFCCA, and SFCCA council members. He mentioned that he was pleased that SFCCA invited the new immigrants to the celebration for them to better integrate into Singapore society. As the national anthem started playing, the crowd held their fists near their chests and recited the Singapore pledge together. More than 40 pupils from Poi Ching School (under the Futsing Association) performed two English songs, namely 'Singapura' and 'Stand Up for Singapore'. Thereafter, Hua Yuan Association and Eng Choon Huay Kuan also performed Julie Sue's "Hold Hands" (牵手).
Many other well-known songs were sung during the celebration, such as "Friends" (朋友), performed by Futsing Association and Kim Mui Hoey Kuan. Besides that, members from Singapore Hokkien Huay Kuan also sung "No Pain No Gain" (爱拼才会赢) together with Singapore Lam Ann Association and Singapore Ann Kway Association. The atmosphere was further heated up with the addition of the audience singing along and humming in harmony. Ending off, Singapore Hainan Hwee Kuan and Tian Fu Association sang "Grandmother's Penghu Bay" (外婆的澎湖湾) while Singapore Kwangtung Hui Kuan sang "Su Wu's Shepherd" (苏武牧羊).
The encore of the celebration included local songs such as "Lou Xiang" nursery rhyme (陋巷童谣), "Seagull" (海鸥) and "Moonlight in the City" (城里的月光). Under the lead of the host, all the audience waved their Singapore flags and sang together in harmony – a heartwarming sight to behold.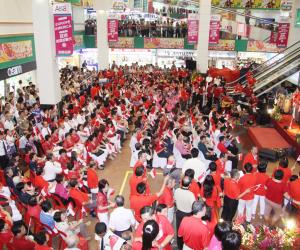 The event attracted a huge turnout