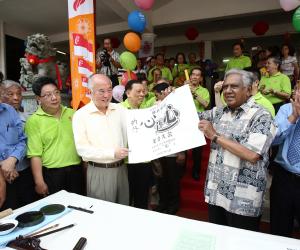 President S.R Nathan and SFCCA President Wee Cho Yaw along with the President's attempt at Chinese calligraphy of the word "Heart"
At 10am in the morning, the SFCCA building was bustling with noise and excitement, filled with an endless flow of people queuing up at the various food booths. There was a strong scent of curry flavour, light noodles fragrance, nourishing herbal flavour as well as fragrant aroma of the fried food in the air.
The Racial Harmony Food Fair took place on 19th July 2009. In conjunction with Singapore's Racial Harmony month in July, SFCCA, together with member associations and various ethnic organisations, hoped to use this opportunity to encourage communication and understanding among all ethnic groups in Singapore to promote racial harmony.
A Word to Connect Hearts

At 10:30 am, President S.R. Nathan and the First Lady arrived at the grand opening ceremony of the event. President S.R. Nathan lifted the writing calligraphy brush and wrote a "心" (Heart in Chinese) on the calligraphy paper to mark the official commencement of the food fair. "Heart" was the theme and highlight of this meaningful event, and it was hoped that the food fair could connect hearts of people from the various ethnic groups.
SFCCA President Wee Cho Yaw, Secretary-General Lin Fang Hua, and many of the SFCCA Council and Committee members welcomed and ushered President S.R. Nathan to the different food booths set up by members associations and ethnic organisations. All the booths' representatives were enthusiastically introduced their specialities and also thanked the President for coming by offering different delicacies. Therefter, President S.R. Nathan moved on to the Multi-Purpose Hall where he tasted more local goodies and enjoyed the performances presented by the different ethnic organisations.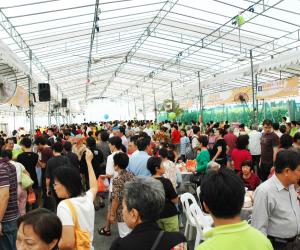 An estimated 3000 – 4000 people visited the event
Multicultural Gathering
The scale of the food fair this time round was larger than it used to be. There were close to 30 participating booths, selling over 70 ethnic flavoured delicacies. Other than the unique flavoured Teochew kueh, Kinmen popiah, Fuzhou fishball, there was also a new immigrant group from the Tian Jin Association selling Goubuli buns. Local Malay, Indian and Eurasian ethnic groups also brought along satays, roti prata, and other special pastries. The food fair was held from 10am till 4pm, attracting an estimated turnout of 3000 to 4000 with the support of member associations and the public.
The 19 participating member associations and organisations included Singapore Hokkien Huay Kuan, Teochew Poit Ip Huay Kuan, Singapore Kwangtung Hui Kuan, Singapore Foochow Association, Sam Kiang Huay Kwan, Singapore Futsing Association, Kim Mui Hoey Kuan, Char Yong (Dabu) Association, Hopo Corporation, Singapore Ann Kway Association, Singapore Amoy Association, Eng Choon Hway Kuan Singapore, Singapore Hainan Society, Guangxi and Gaozhou Association, Tian Jin Association, Harmony Centre, The Eurasian Association, Little India Shopkeepers and Heritage Association (LISHA) and Singapore Khalsa Association.
Representative of the participating Nyonya group, Christine, mentioned that 400 Nyonya kuehs were sold out within an hour and a half, and the overwhelming response was beyond her expectations. The public was also interested in Nyonya items and therefore, the exquisite Nyonya porcelain that was on sale was extra popular amongst the public.
Satays prepared by the Malay organisation were the public's hot favourite too. Suratman, chairman of the organisation, said that this is their first time collaborating with SFCCA in the food fair and he was pleased with the results. Without hesitation, he also mentioned that he would gladly participate again if invited.
Char Yong (Dabu) Association's Yong Tau Foo, Kim Mui Hoey Kuan's Kinmen popiah as well as Sam Kiang Huay Kwan's Shanghai xiao long bao have also received good response from the public.
As compared to the previous years, the food fair held by SFCCA this time round was more diversified, allowing different ethnic groups and organisations to gather together, indulging in the wide variety of delicious cuisines and promoting friendships between all ethnic groups.