Singapore Federation of Chinese Clan Associations (SFCCA) concluded its Council Election on 24th September 2021 with the formation of its 17th Council. Mr Thomas Chua will take over the helm of SFCCA as its fourth President.
Mr Thomas Chua expressed his gratitude to former President Mr Tan Aik Hock for his leadership in the past three years, notably his contributions towards the Federation's signature event, River Hongbao. He also lauded the past Councils' contributions, for establishing SFCCA as one of the most influential organisations among the local Chinese community. Over the next three years, Mr Chua is dedicated to lead the new Council to take a more professional approach in managing the Federation, as well as aid the member associations in their transformation and grow their social functions.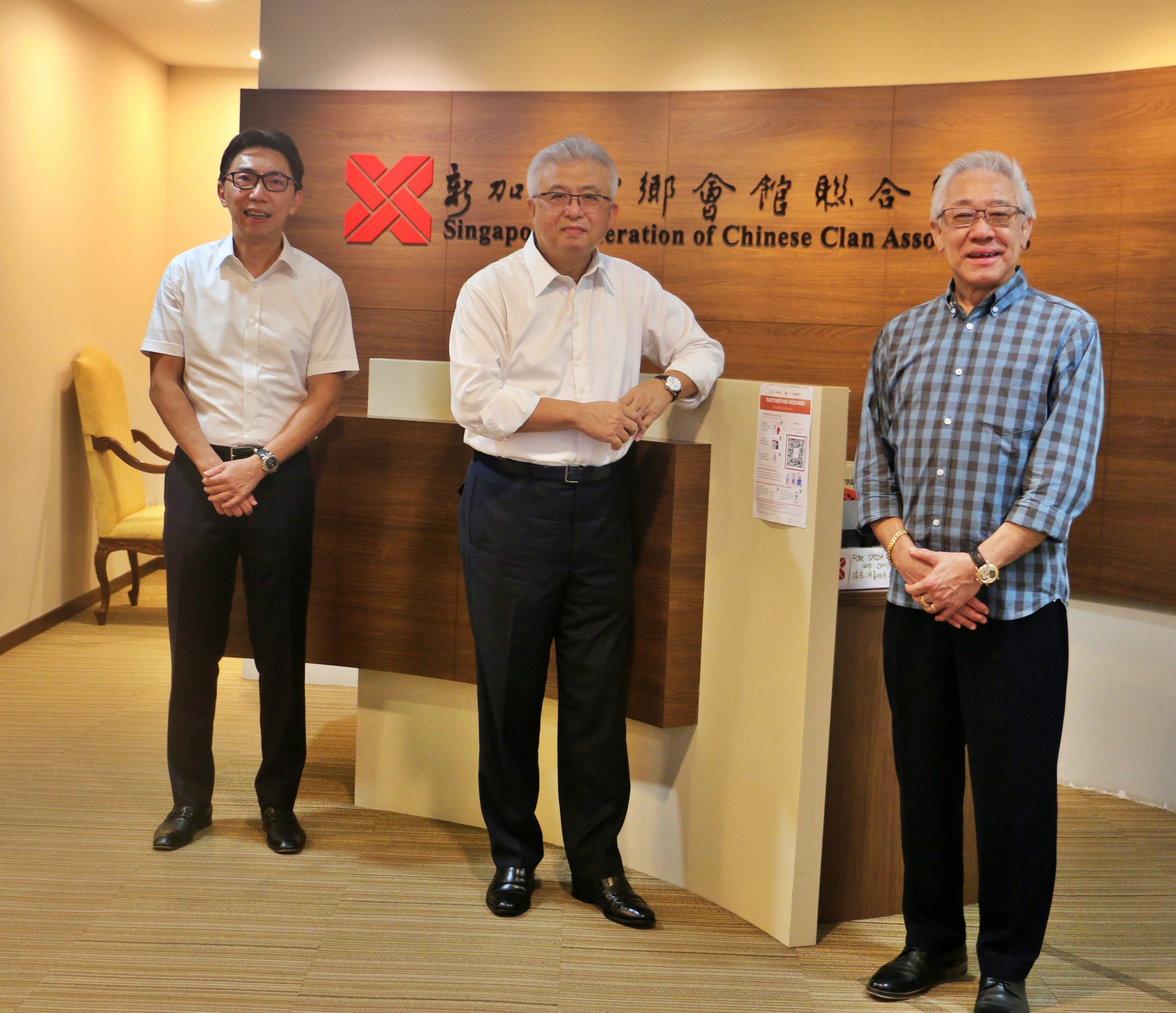 From left to right: Secretary-General Mr Ng Siew Quan, President Mr Thomas Chua, Vice-President Mr Chan Kian Kuan
Absent with apologies as he is currently overseas: Vice-President Mr Zhong Sheng Jian
The new Council will be led by a competent and experienced team, with Mr Zhong Sheng Jian and Mr Chan Kian Kuan as Vice-Presidents, Mr Ng Siew Quan as Secretary-General, and Mr Hong Poh Hin as Treasurer. Mr Ng Siew Quan, a Partner at PricewaterhouseCoopers with extensive experience in financial management and corporate management, has served the local Chinese community for over a decade. It is hoped that with his expertise, Mr Ng will bring about revolutionary ideas to the Federation.
New faces inducted into the 17th Council have also been appointed key positions in the Executive Committee, namely Mr Lennon Tan and Mr Png Yiow Beng as the Chairman and Vice-Chairman of Social Affairs Committee, Mr Yeo Eng Koon as the Vice-Chairman of Cultural Committee, and Mr Tan Hin Teng as the Vice-Chairman of Member Affairs Committee. These new Council Members can also serve as a bridge between the Federation and member associations – to promote exchange of management expertise and sharing of resources, as well as to facilitate mutual learning.
SFCCA had earlier on worked with a vendor to develop a Customer Relationship Management (CRM) system tailored specifically for clan associations. The Federation will now invest in the CRM system for member associations' use, to assist them in their digital transformation. On the other hand, to lay a firmer foundation for future long-term development, SFCCA will be discussing with Singapore Land Authority on the renewal of land lease.
SFCCA's 17th Council Investiture will be held on 16th October 2021.
The 17th Council and Executive Committee name list is as follows: