On the 15th of May 2021, the SFCCA Scholars Network (SSN) conducted its first public event via Zoom. The "Studying in China Universities – Perspectives from SFCCA Scholars" webinar saw some of the SFCCA Scholars sharing their overseas study experiences, and successfully attracted over 60 participants, of which 80% are from local junior colleges.
This event was moderated by SSN's Co-Chairman, Mr Ian Loh, who is also part of the pioneering batch of SFCCA Scholars. Mr Loh expressed at the start that he hopes for aspiring undergraduates to gain a better understanding of studying abroad in China. He also hoped to answer some of the burning questions brought up by the participants. Additionally, he introduced the SFCCA Scholarship as well as the SSN.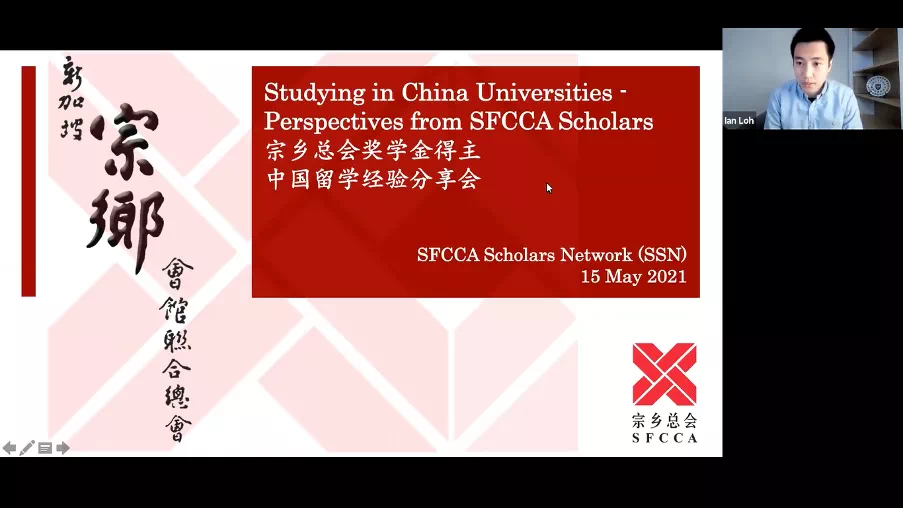 Mr Ian Loh hosting the first "Studying in China Universities – Perspectives from SFCCA Scholars"
Mr Loh expresses that members of the current SSN, both graduates and undergraduates, have degrees that span across 13 fields. They include Chinese Language Studies, Political Science, Archaeology, Economics and Finance. The SSN spans across the globe, with scholars in Singapore, China, the United Kingdom, and the United States of America. Upon graduation, over 40% of the graduates decided to pursue a career in the private sector. 32% pursued development in civil service, while 28% decided to pursue further studies.
Mr Loh stated, "It is extremely important to pick a good university. The learning environment, educational resources, alumni network should be factors of consideration when picking out a university." He believes the webinar allows many students to gain better insights into their future career path, subsequently picking a university that is best suited for them.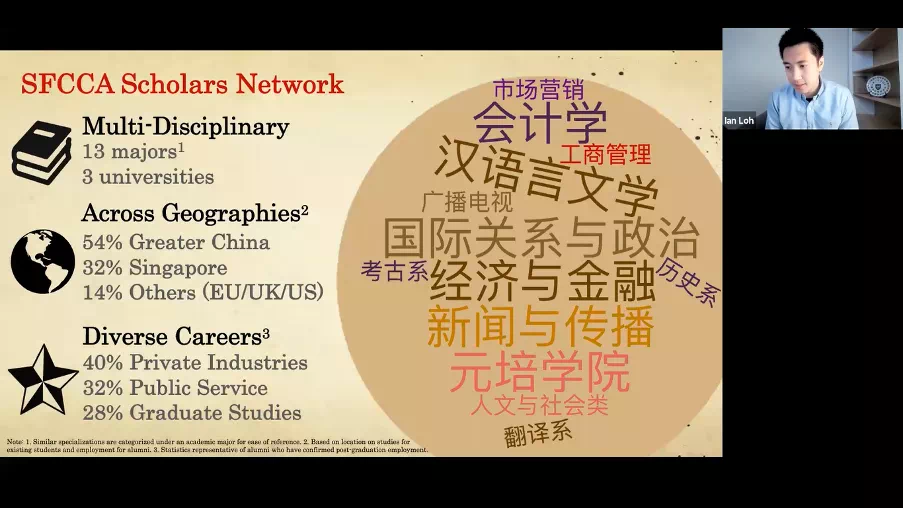 Mr Loh explains more about the SFCCA Scholars Network
1. Which university to pick? Depends on your personal needs.
The event invited three SFCCA scholars currently undergraduates in respectable Chinese universities, notably Tsinghua, Fudan and Peking universities. When asked how they chose their universities, Ms Guan Jingyi, an Economic and Finance major in Tsinghua University, responded that her goal was to attend an overseas university to experience studying abroad. She pointed out that there were many factors she had to consider when choosing her university, which included the country's living environment and current affairs, the quality of education the university provides, and her financial ability.
Ms Guan shared, "Due to economic considerations, I did not choose to study abroad in Europe and the Americas. I also did not wish to be bonded; hence, I did not apply for any bond requirement scholarships. At that period, I realised that China's economy provided a perfect learning environment for me to further my economics and finance studies. After studying abroad for the past years, I deeply experienced China's rapid economic and technological development, and thus I have no regrets choosing Tsinghua University."
In addition to Ms Guan's inputs, Ms Huang Lijing, a Chinese Language major at Fudan University, also shares her experiences when choosing her university and major. She expressed that after the release of her A level results, she applied to both local and overseas universities to open her window of opportunities. She gave a lot of thought when it came to choosing her major and university. She feels that it is important to choose a major that matches one's interest. Also, one should consider the potential for future development and progress in major and universities. Since Ms Huang has a vested interest in the Chinese Language, and she also wishes to experience the independence of studying abroad, she applied for the SFCCA Scholarship and left for Shanghai to pursue her degree.
Ms Guan and Ms Huang were quite ready to experience the life of an overseas student. However, Ms Liu Yalin, a Political Science student at Peking University, initially hesitated to leave for abroad. She stated, "As I am already familiar with the Singaporean education system, I believe that I would be more comfortable in local universities. However, upon realising that university education might be the last stop of my education journey, I believe that I should take a leap of faith and step out of my comfort zone. Thus I chose to study abroad in China." She supplemented that she wished to gain a global perspective whilst studying in China. Additionally, given the rapid development of multiple aspects in China, studying abroad would give her the selective advantage of capitalising on China's future opportunities.
2. Choosing between the renowned universities of China
Many junior college students often vex about their choice of China's top universities. Ms Huang shared her personal experience when it came to choosing one out of the many renowned universities. She stated that she knows she wanted an education related to the Humanities. She considered both Peking and Fudan universities and chose the latter. She explained, "Shanghai is a vibrant and charismatic city. Whilst embracing foreign culture, she manages to retain the elegance and beauty of her rich Chinese heritage. Upon arrival at Shanghai, I will no doubt experience her rich cultural heritage."
On the other hand, Ms Huang also reviewed her past experiences participating in immersion activities in Beijing and Shanghai. She expressed that she travelled more to Beijing and wished to experience a new environment. In addition, she expressed that Fudan University promotes an open and inclusive culture; the university also has a large diversity of students. These factors promote the sharing of perspectives and ideas, which greatly prompts and accelerates one's learning. Also, the student hostel in Fudan is single-roomed, which allows for her to have sufficient personal space amidst her vibrant university life.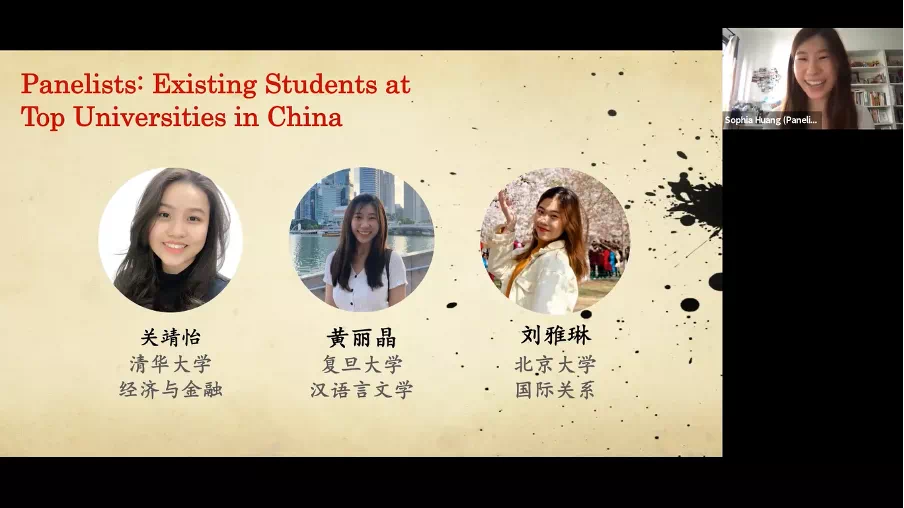 The three SFCCA Scholars, Ms Guan, Ms Huang, and Ms Liu (left to right, respectively), share their experiences studying abroad
On the other hand, Ms Liu feels that Beijing is the capital of China, hence she wishes to experience an overseas education there. She considered Peking and Tsinghua universities. Upon hearing that Peking University provides a liberal arts programme, while Tsinghua's speciality lies with the sciences, she decided to pursue her Political Sciences degree at Peking University. After the past years at Peking University, she realised that Peking University does provide a good learning environment for humanities-based subjects. The professors and students are open-minded, and the university promotes open discourse. She believes such an environment is optimal for pursuing her major.
Ms Guan agreed with Ms Liu's views with regards to capitalising on the strengths of renowned universities. She believes that Tsinghua's strengths lie in their Sciences and Engineering, and the academic staff of the Economics department were reputable. She stated, "Tsinghua University's Economics department Consultancy Committee, established by the first Dean Rong Ji, comprises of many prominent figures in the business world. They include Jack Ma, the co-founder of the Alibaba group, and Mark Zuckerberg, founder of Facebook. These figures would share their words of wisdom with the students of Tsinghua via frequent talks and dialogues. In addition to Tsinghua's academic prowess, Ms Guan was also captivated by the beauty of the school's campus the moment she set foot. Hence decided to pursue her Economic and Finance degree with Tsinghua.
Mr Loh added that Tsinghua, Peking and Fudan belong to the top universities of China. They each have their strengths, history, and resource pool. All three schools boast an outstanding alumni network. Hence he suggested for students to follow their interests and career goals when deciding.
3. Preparations for studying abroad? Tips from Seniors
Ms Liu shared that although Peking University's courses were mainly conveyed in Chinese, she believes that this is part of the natural learning process. She suggested that all freshmen hone their language skills via reading, watch Chinese dramas and variety shows to better integrate into the Chinese society. Ms Guan also mentioned that Tsinghua's courses are also mainly conducted in Chinese, with some technical courses being taught in English. Although learning mathematics in Chinese was hard, she stated that she adapted to the change after some time and found it manageable.
Ms Huang also shared some tips with regards to being a productive college student. She would read up on the key topics of her major beforehand. Additionally, before leaving for abroad, she gradually adjusted her mindset, allowing her to be mentally prepared for the vastly different and independent life ahead. Ms Huang also suggested that incoming first-year students search for part-time jobs or contribute their time at SFCCA during their vacations. She believes that these experiences would boost one's soft skills and acquire the right mindset to treating a person, essential skills for the global experience.
4. Making friends with the locals of your host country, integrating into host society
In accordance with her personal experiences, Ms Liu mentioned that she actively participated in various activities around the university. This helped her create bonds with the locals and integrate them into the student body of her university. She suggests that freshmen can take the initiative to invite their classmates for meals, gradually building rapport and forming a bond. She emphasised that international students often respect the locals' way of life and hold a humble attitude when it comes to learning more about locals, reserving judgment.
Ms Guan also advised freshmen to not give in to stereotypes and biases. Rather, first-year students should adopt an open attitude when it comes to the host country. She admitted that it is not easy for international students to integrate into a foreign country. Still, she stated that it is not needed for students to integrate into every social circle. As long as students show respect, take the initiative to make friends and have an open mind, it is enough and is the best form of interaction.
Furthermore, Ms Huang calls for first-year students to step out of their comfort zone and have the courage to try new things. She participates in multiple sports programmes as well as the school's drama club. Also, she places additional emphasis on empathy. "When international students place themselves in the shoes of others and are amiable, after getting to know each other, one can overcome cultural barriers."
5. How did teaching and learning change in view of the evolving pandemic situation?
Many universities revised their teaching methods with respect to the evolving pandemic situation. Ms Guan believes that Tsinghua university promptly adapted to the evolving situation. The institute has arranged for appropriate face-to-face and online learning platforms. Although international students cannot return to campus, the institute made conscious arrangements to ensure that learning still takes place with little disruptions. Most classes are made online, and academic mentors often check on the needs of international students. Students need to prepare a webcam during exams, allowing for invigilation, hence the prevention of cheating.
At Fudan University, Ms Huang mentioned that lectures are recorded and made available on their online learning platform. The institute also utilises live online lessons, allowing for interactions between the professors and students. During exams, the student will also need to prepare a webcam. Exam formats online and on-campus have little differences, where either open-book or close-booked exams are administered.
Ms Liu pointed out that initially, Peking University utilised recorded lectures. However, there were portions with muffled noises, and students feedbacked that they could not see the writings on the whiteboard. Upon receiving feedback, Peking University made relevant adjustments. As for exams, the assessment format for some subjects was altered to essay assignments. She feels that the greatest disadvantage of online lessons would be the lack of a conducive study environment, which also causes her productivity to decline. Hence she advised freshmen to seek out fellow Peking University students in Singapore to form a study group.
6. Why choose SFCCA Scholarship?
Ms Guan admits that before applying for the SFCCA Scholarship, she had never participated in any of the Federation's activities. As a second-generation immigrant, she became interested in Singapore's culture and heritage and wished to seek her cultural identity. "After joining SFCCA and attaining the scholarship, I gained a platform to re-discover the cultural heritage and identity of Singaporean Chinese. I also gained a deeper appreciation of Singapore's early immigrants and their role in building the Singapore she is today. Most importantly, I made many precious friends, met alumni, and formed a network with the multiple clan associations in Singapore. These are valuable opportunities, in my opinion."
On the other hand, Ms Huang stated that she got to know SFCCA via her family and friends, which sparked her interest in the SFCCA Scholarship. After her A levels, she volunteered at SFCCA, where she organised historic documents, allowing her to understand the organisation better. Coincidentally, before applying for the scholarship, she returned to her father's hometown in Fujian to visit her relatives. That trip sharpened her determination to gain insights into her heritage and better understand the culture of clan associations. "This scholarship not only provides financial aid, it also allows me to gain fresh perspectives and insights."
With regards to vacation attachments at SFCCA and its member associations, Ms Liu mentioned that she is delighted to join the SFCCA family. Being a member of SFCCA for the past few years has allowed her to experience a sense of belonging and familiarity. She also believes that the events organised by the Federation are incredibly meaningful, and she hopes that her juniors would also participate in future events.
With the aim to foster bilingual and bicultural talents, SFCCA Scholarship was introduced in 2011. Each year, the Scholarship will be awarded to up to five outstanding students pursuing their studies in top-ranking Chinese universities. The recipients will receive up to $15,000 for each academic year, to finance their studies and living expenses. Applications are now open, and interested candidates may submit their applications before 15th July 2021.
If there are any enquiries, feel free to contact the SFCCA Secretariat at 📞 6643 6475.