The "Speech Recognition and Artificial Intelligence" webinar, which is part of the "New Immigrants and Singapore Society" experience series organised by the Singapore Federation of Chinese Clan Associations (SFCCA), was successfully held on 24 April 2021 through Zoom and Facebook live-streaming, attracting 62 participants.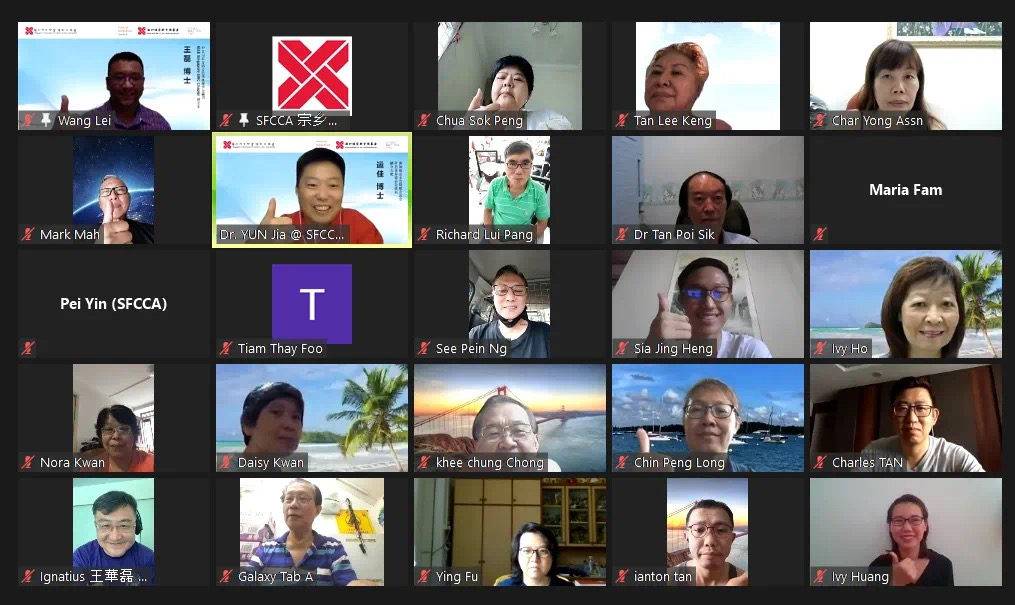 Group photo taken before the event
The keynote speaker for this webinar, Dr Wang Lei, is a former researcher at the Institute of Infocomm Research (I²R) under the Agency for Science and Technology Research (A*STAR) in Singapore. He is currently working at KLASS Engineering & Solutions on cutting-edge speech technologies and directing the development of speech recognition system technologies.
Dr Wang, with his experience in speech technology research, mentioned in his talk that speech recognition technology has gradually become widely used, transcribing users' voices into text for question-answering and conversation purposes. One familiar example is Siri, the Artificial Intelligence (AI) virtual voice assistant in the iOS system. Additionally, an increasing number of brands are incorporating this technology into smart home products, enhancing people's quality of life.
Interestingly, this highly demanded technology was not developed recently. As early as 1952, the"Audrey system"was introduced. Although the technology was rather limited and could only distinguish 10 digits, it already began assisting industries in reducing labour costs. In the 1980s and 1990s, speech recognition technology became more advanced and was capable of recognising 20 000 to 60 000 words. Subsequently, rapid development occurred from 2002 to 2006, and various fields started to apply this technology.
Dr Wang gave an example where he was involved in the development of the "Intelligent Court Transcription System" adopted by the State Courts of Singapore. This system was able to carry out real-time transcription of all court hearings, including punctuations and capitalization features to enhance readability. During the modelling process, various English accents such as American, British, and Singaporean English were included, which improved the accuracy of speech recognition.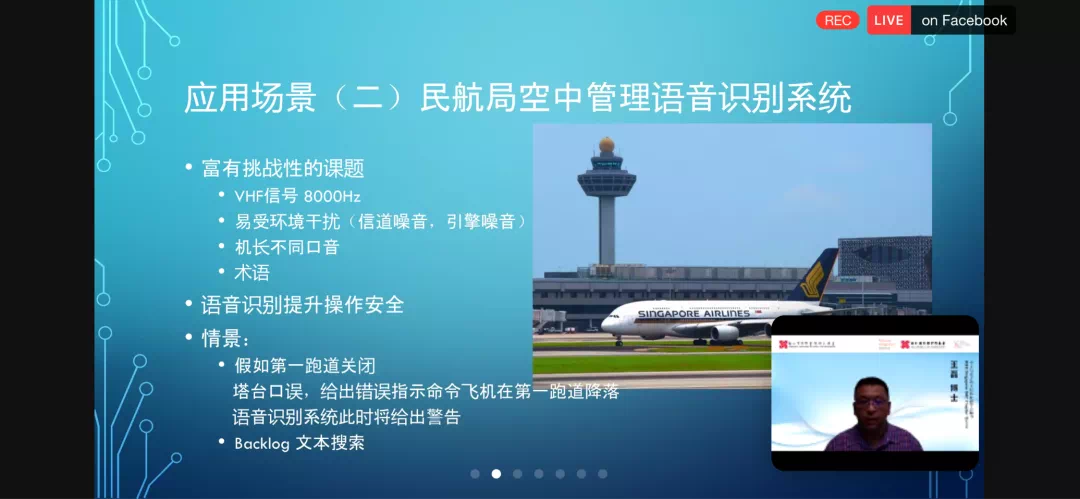 CAAS adopting speech recognition system for air traffic management
In addition, the Civil Aviation Authority of Singapore (CAAS) utilises speech recognition system for air traffic management to enhance operational safety. Dr Wang stated that this is a challenging project as the speech recognition system in CAAS is susceptible to environmental interferences, such as weather conditions, channel noise and engine noise. Moreover, different accents of pilots from various countries and relevant terminology must undergo rigorous inspection and verification to ensure smooth operation.
Dr Wang also shared about popular speech-related topics in recent years, which includes speech separation and speaker diarization technology. During the talk, he demonstrated how to perform speech separation from scenarios where multiple people are speaking simultaneously. He went on to emphasise that the current blind source speech separation can handle situations where two to three people are speaking, but the separation effectiveness will decrease if there are too many people speaking simultaneously.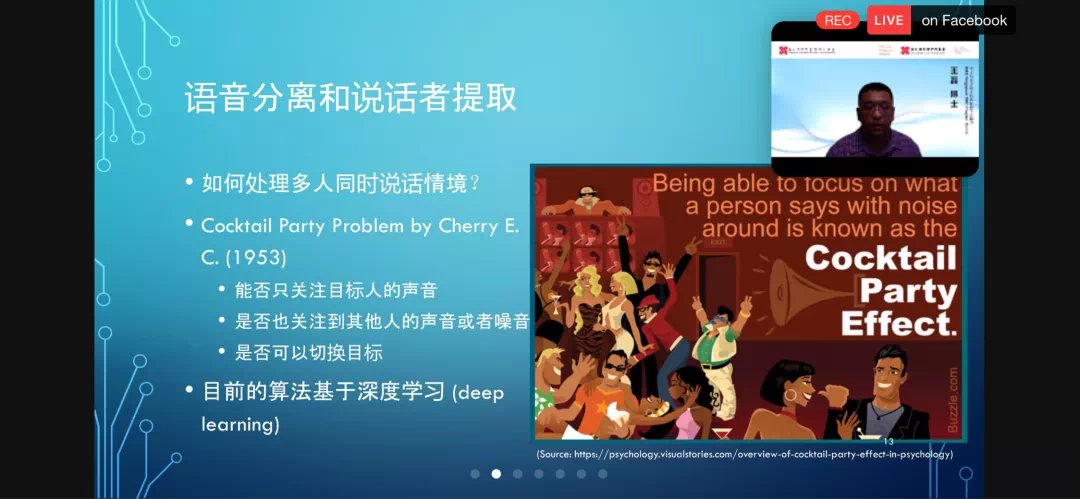 Speech separation technology has been a popular topic in recent years
On top of explaining speech recognition and AI, Dr Wang also shared his experience of integrating into the Singaporean society as a new immigrant. He revealed that after becoming a Singapore citizen in 2013, he joined the Residents Committees (RC) as a committee member. He has ​served as an Assistant Secretary and Vice-Chairman, and is currently the Head of Finance and New Media of RC. Dr Wang shared that his involvement in grassroots organisations was aimed to better understand the local culture, and the experience has been enriching. Through this, he has come to know fellow citizens from different races and walks of life, enabling him to better integrate into Singapore.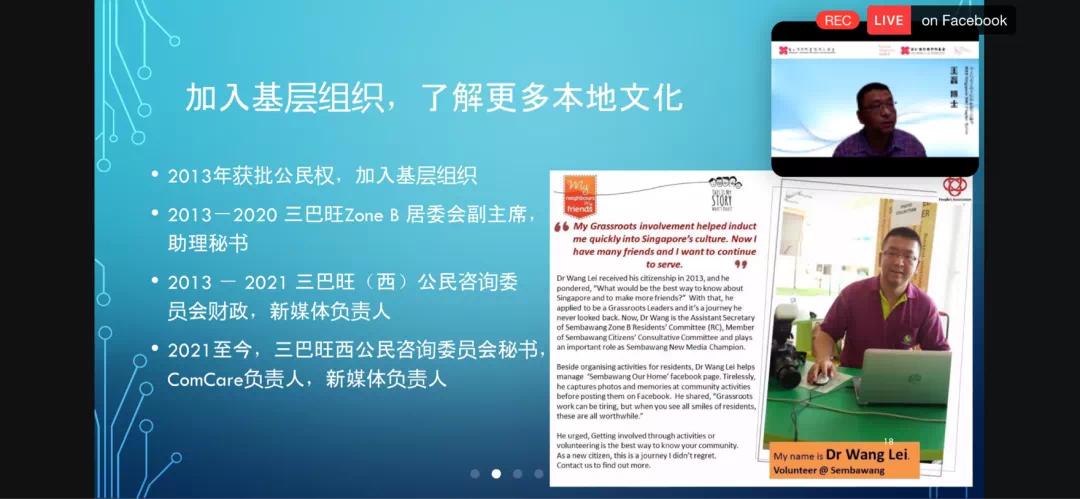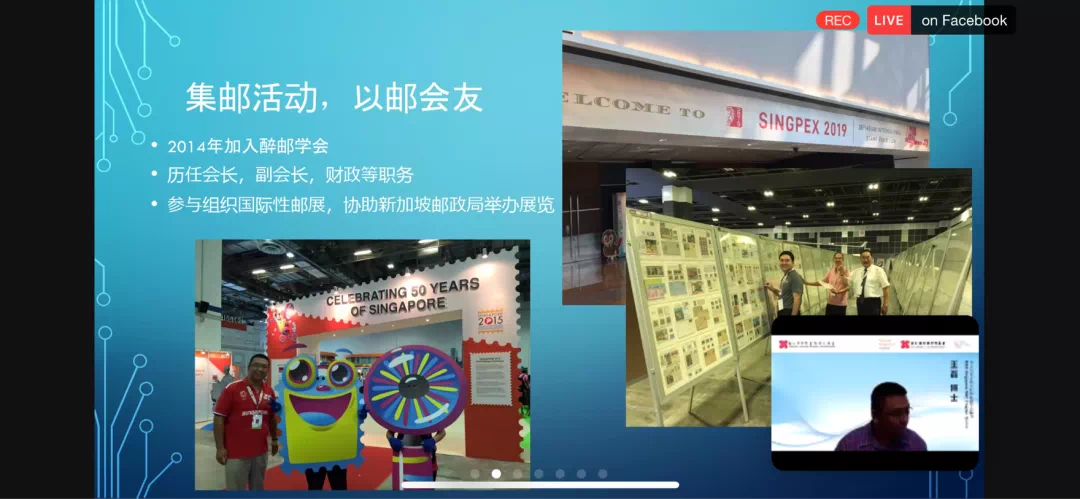 Dr Wang sharing about his integration into the Singapore society
On the other hand, Dr Wang is also a philatelist (stamp collector) and became acquainted with like-minded enthusiasts through the local philatelic society(醉邮学会), where both locals and new immigrants were able to engage in meaningful exchanges and forge friendships.
This webinar not only provided participants with a better understanding of the history and development of speech recognition and AI, but also offered valuable insights from Dr Wang experiences as a new immigrant.