90 participated in the "Escaping The Norm" Virtual Escape Room,
displaying teamwork through communication
Organised by SFCCA Youth Committee, "Escaping The Norm" Virtual Escape Room was held on 25th October 2020, Sunday, on Zoom, attracting a total of 90 participants which were divided into 16 teams.
To promote team spirit among the youth, SFCCA Youth Committee conducted the youth networking session in a manner where participants were able to interact with each other through an exciting and tense online escape room game.
The online event was officiated by Mr Foo Ce Zhi, Vice-Chairman of the SFCCA Youth Committee. In his bilingual welcome address, he expressed that although participants would not be able to interact with one another in person, the online escape room game still emphasised teamwork and cooperation which would also promote mutual understanding and communication.
Before getting started on the escape room game, the host presented an ice-breaking game, "Team Bingo Challenge". The participants were randomly assigned into teams of 4 to 5 and had to work together to complete a series of challenges such as Dance Off, Workout Time and Pictionary. Through the ice-breaking game, participants were able to break down barriers between one another and improve communication.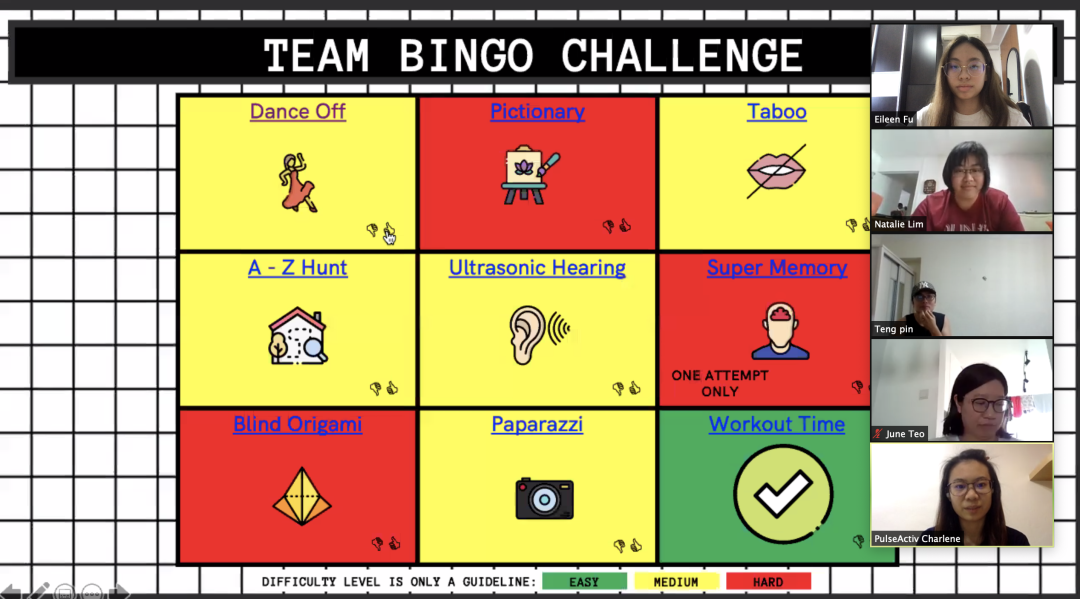 Team Bingo Challenge
Thereafter, the escape room game officially started. First of all, the host played a video on the background story of the escape room and explained to the participants the rules of the game.
In order to escape, players must work with their assigned team members to identify the werewolf that was about to attack the village that night and find a way to stop the attack within a time limit of an hour.
Players would have to unlock five different treasure chests from the available clues. The whole process was challenging and nerve-wracking, requiring the cooperation of all the players to complete a series of tasks. Once players had identified the attacking wolf, they would have to figure the way to make the spell work to prevent the village from getting attacked and successfully make an escape. The winning team was awarded a $100 shopping voucher.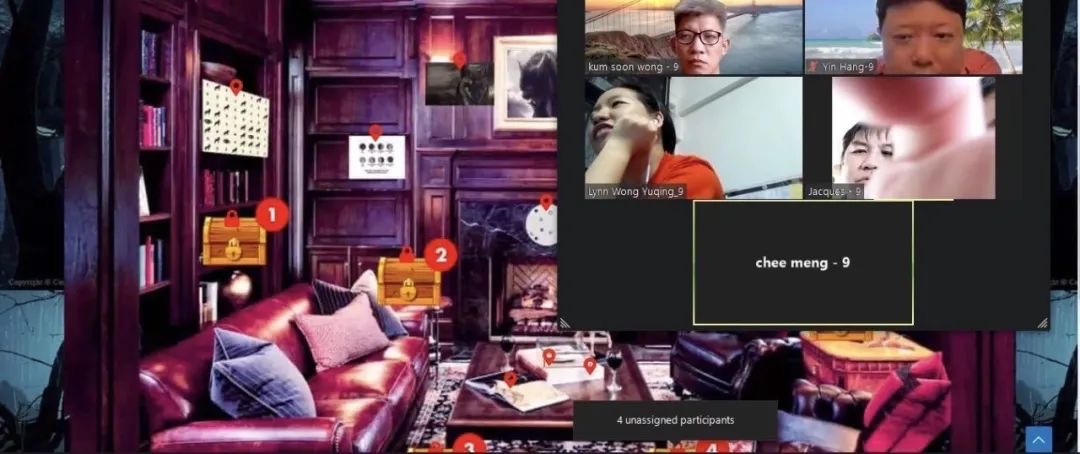 Participants were required to unlock the treasure chests through a series of tasks
In a short span of an hour, all the team members brainstormed together on ways to unlock the treasure chest, which displayed the kind of teamwork and rapport that is tested in an escape room game.
Ending off the virtual event with a "group photo" on Zoom