"A Journey of Volunteerism with Co-operatives in Singapore" online talk attracted a total of 50 participants, encouraging youths to give back to the society
As part of its Youth Networking Session series, the SFCCA Youth Committee organised a talk entitled "A Journey of Volunteerism with Co-Operatives in Singapore", supported by co-organisers Singapore National Co-operative Federation (SNCF), NTUC Health, and A Good Space Co-operative Ltd, on 19th September 2020, on Zoom, attracting a total of 50 participants.
Four industry professionals were invited to explain the structure and characteristics of co-operatives and to share related information on volunteering to encourage youths in giving back to society through practical efforts.
The first speaker at the webinar was Mr. Choy Mun Kit, Relationship Manager from SNCF, who introduced the participants to the Federation's mission to promote and develop co-operatives as sustainable enterprises to address social and economic needs.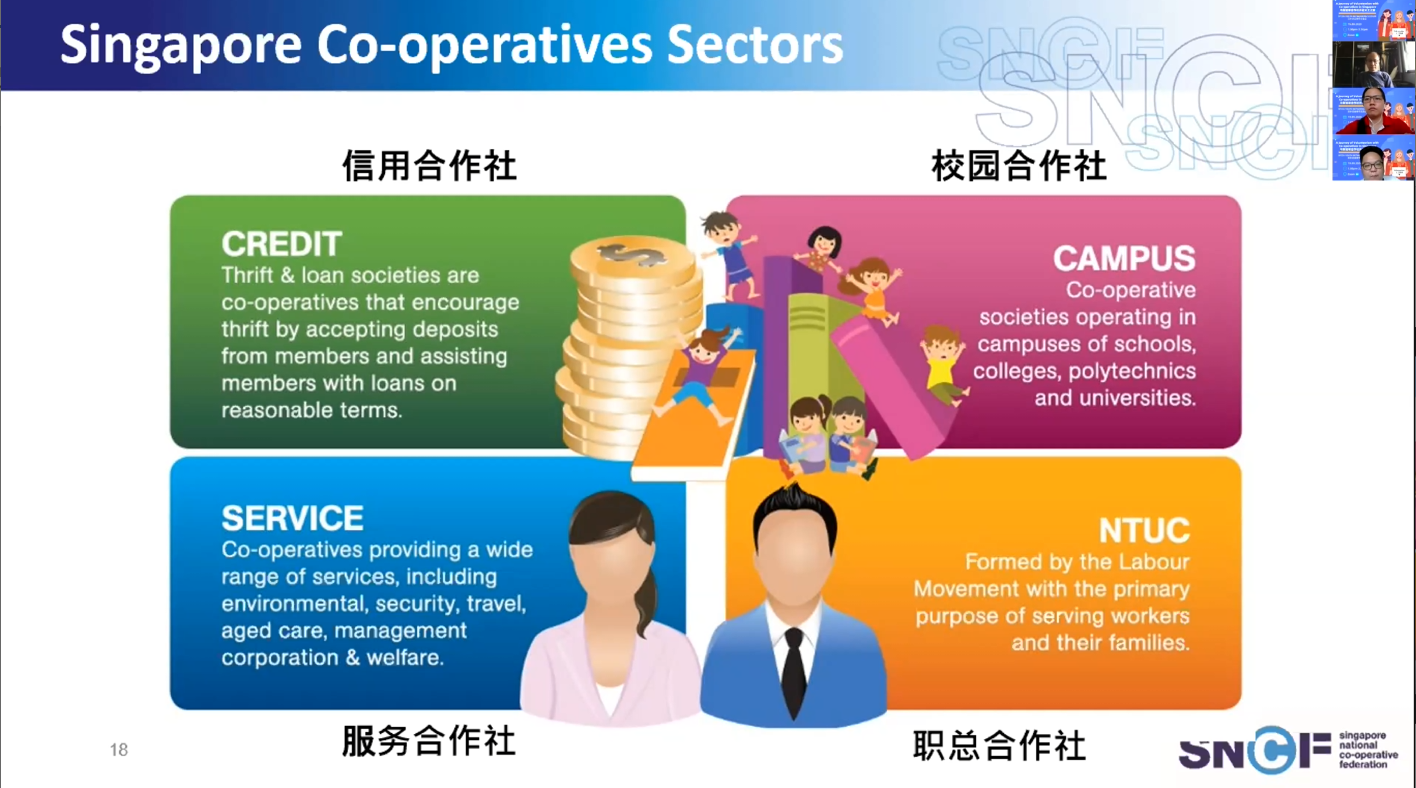 Co-operatives commonly found in Singapore
He explained that co-operatives are organisations designed to generate income and provide social good services. There are four main sectors of co-operatives in Singapore, including the Credit Co-operatives Sector, Campus Co-operative Sector, Service Co-operative Sector, NTUC Co-operatives, each of which has its role to play in different areas, providing economic assistance to the population and guaranteeing social welfare.
The second speaker, Mr. Vincent Ng, representative of A Good Space Co-operative Ltd, invited the participants to join in a series of Q&A and sharing sessions to remind them of the power of volunteerism to convey gratitude and contribute to the society.
The online talk also invited representatives from NTUC Health, Ms. Chai Chee Mei and Ms. Low Xiu Hui, to share on NTUC Health's community health and eldercare services, as well as the work of its volunteer team. The volunteer team provides comprehensive care and medical assistance to seniors, and also brings cheer to the lives of seniors by organising engaging activities for them.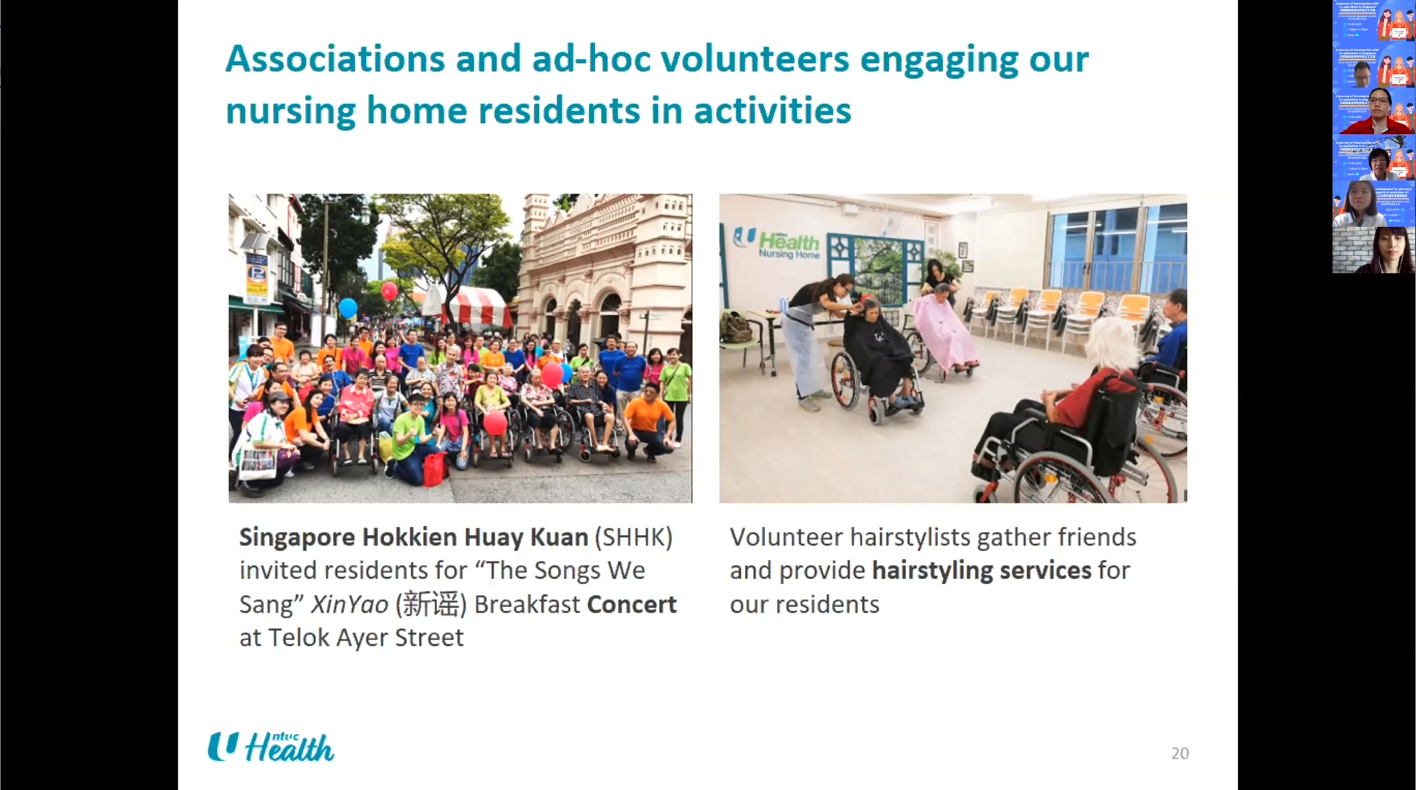 Joint activities organised by NTUC Health and partners
The event was hosted by Ms. Wong Yuqing, the first recipient of the inaugural SFCCA Outstanding Youth Award and a member of the SFCCA Youth Committee, who shared her five years of experience volunteering at NTUC Health. To enable youths and the elderly to interact and communicate with each other, Ms. Wong and friends organised a series of traditional food-making activities in addition to festive events, where young volunteers led the elderly to different clans to experience making traditional dishes. This project not only enabled the youths to learn about their cultural roots but also allowed the elderly to retrieve their collective memories, which received positive responses.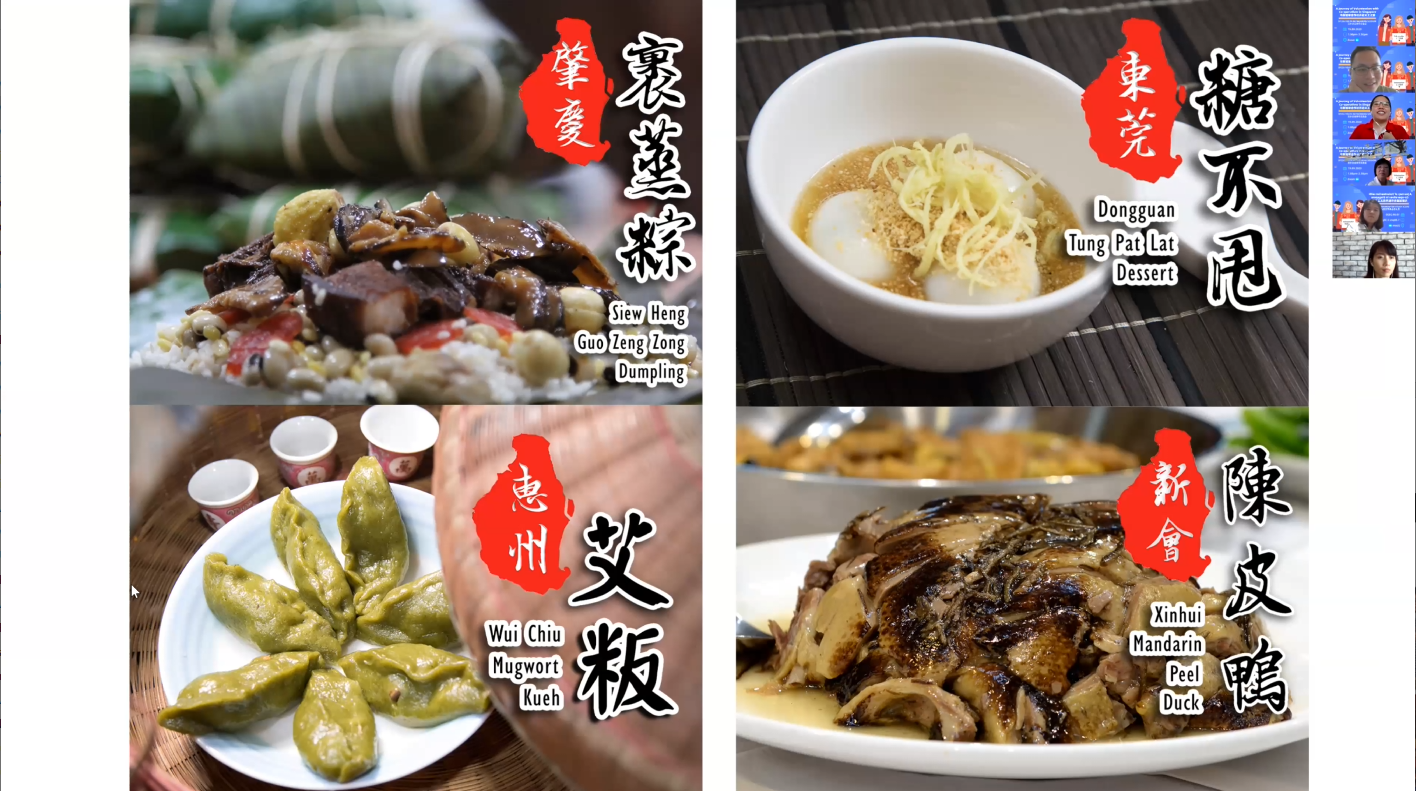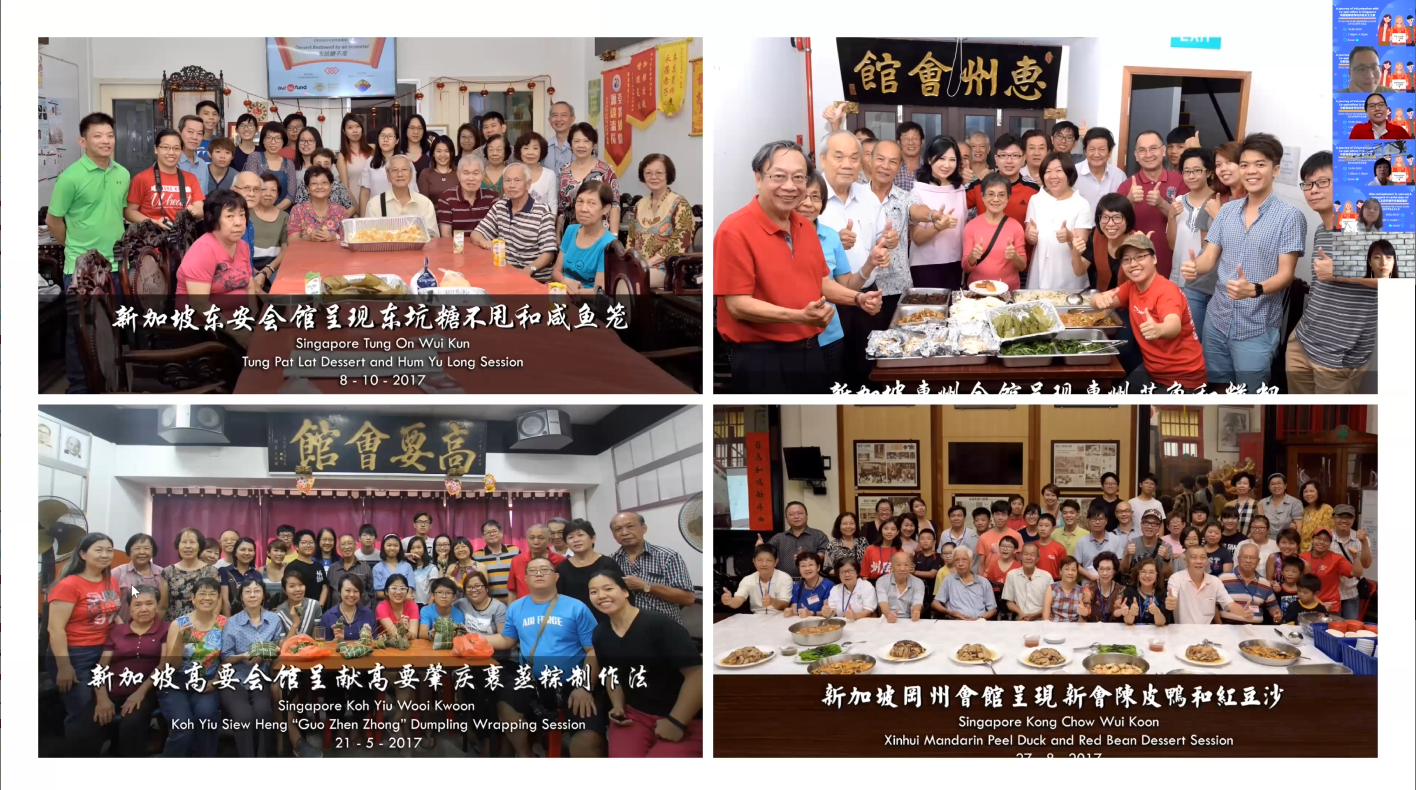 Ms. Wong combines volunteerism with clan activities to enhance interactions
Ms. Wong said that she has grown a lot since she first joined the volunteer team as a participant and is now responsible for organising events.  With the challenges of the new times, she hopes that this exchange will inspire more youths to practice the spirit of volunteerism in a new form of collaboration and to give back to society.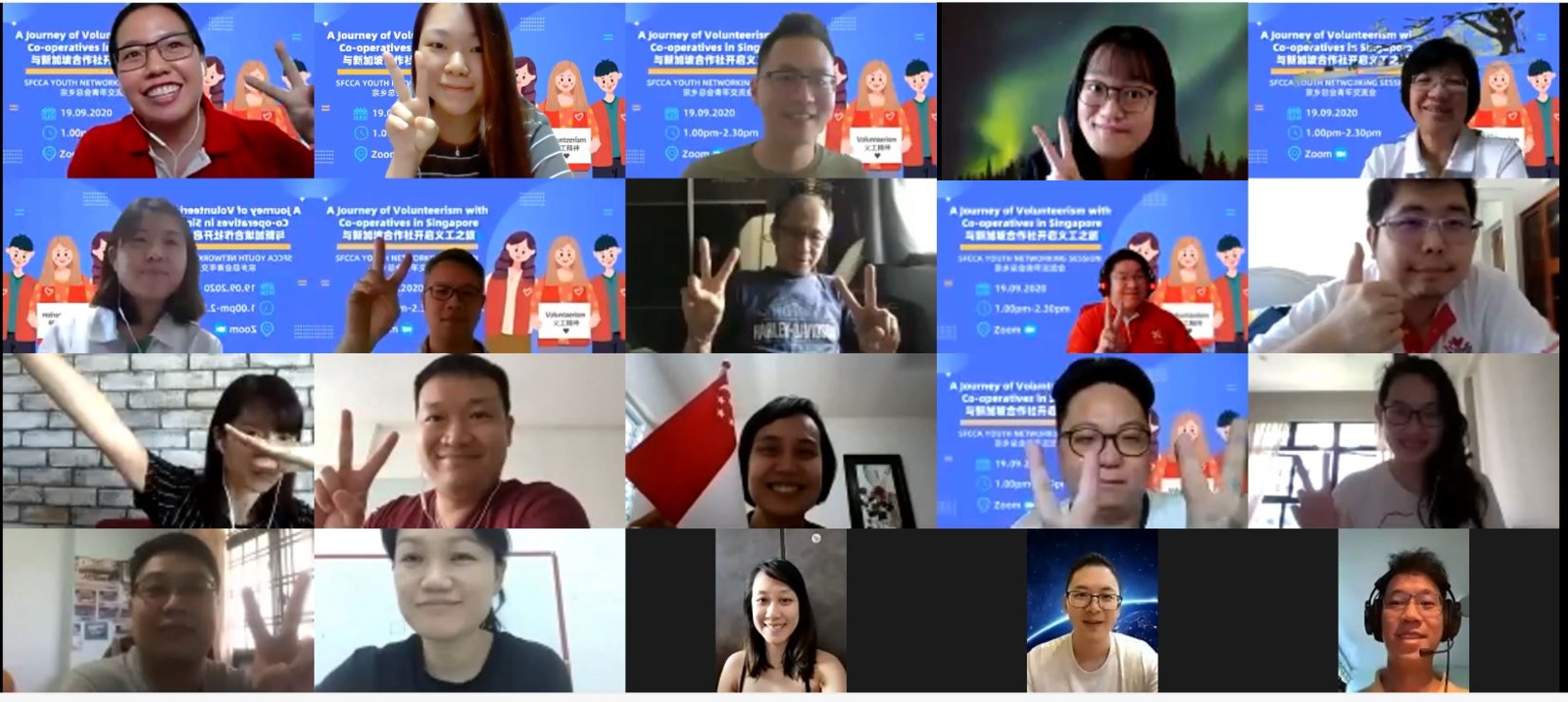 Ending off the online talk with a "group photo" on Zoom