To mark the tenth year since the introduction of the SFCCA Scholarship, the SFCCA Scholars Network (SSN) was recently established. To celebrate this momentous occasion, the SSN held its first virtual gathering on 29th August 2020. The virtual gathering drew enthusiastic response from the SSN, with 29 members (close to 70% of the Network's total membership) in attendance.
The newly minted SFCCA scholars as well as those from previous batches were invited to the gathering. During the session, whilst the alumni shared how their China experience has helped with their career, current students provided some insights on their time serving in SFCCA and/or member associations, and how the COVID-19 pandemic has affected their study experience. It was indeed a fruitful and insightful session for all who had attended the gathering.
Current Students' Sharing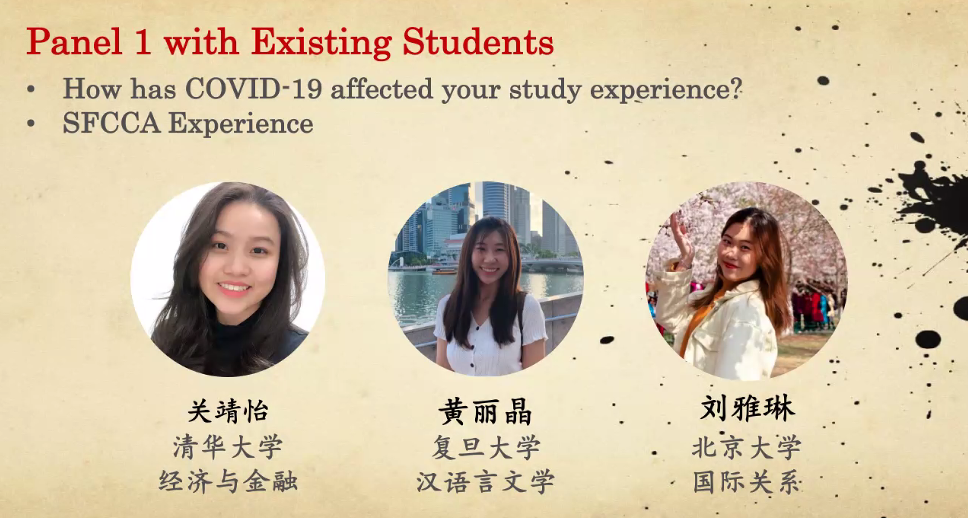 Scholars from Tsinghua, Fudan and Peking Universities shared their online learning experiences

With the rapid increase of COVID-19 cases around the globe, the SFCCA Scholars who are supposed to be furthering their studies in China have embarked on online learning after their winter break earlier this year which saw them return to Singapore. Guan Jingyi, who is in her final year pursuing Economics and Finance at Tsinghua University, shared that despite the flexibility in terms of time, online learning does not provide her with the opportunity to interact with her professors and peers.
As for Huang Lijing who majors in Chinese Language and Literature at Fudan University, she highlighted that her studies has inevitably been affected as she is unable to have face-to-face consultations with her professors. As a result of this, some professors have decided to increase the homework workload, inadvertently adding on to the study stress faced by students. To add on to this, Lijing is juggling between remote work and studying. This, to her, is a test of her tenacity.
For Liu Yalin who majors in International Political Economy at Peking University, she finds that "studying from home" has provided her with more time to revise the syllabi. Sitting for examination had proved to be a challenge for her as she had to prepare two to three cameras to capture, from different angles, herself sitting for the papers.
When speaking about their experience serving at SFCCA and member associations, three of them agreed that they have gained a deeper understanding of local clan associations' history and the efforts in promoting Chinese culture, how they can play a part in promoting social cohesion and giving back to the local Chinese community.
Scholars Alumni's Sharing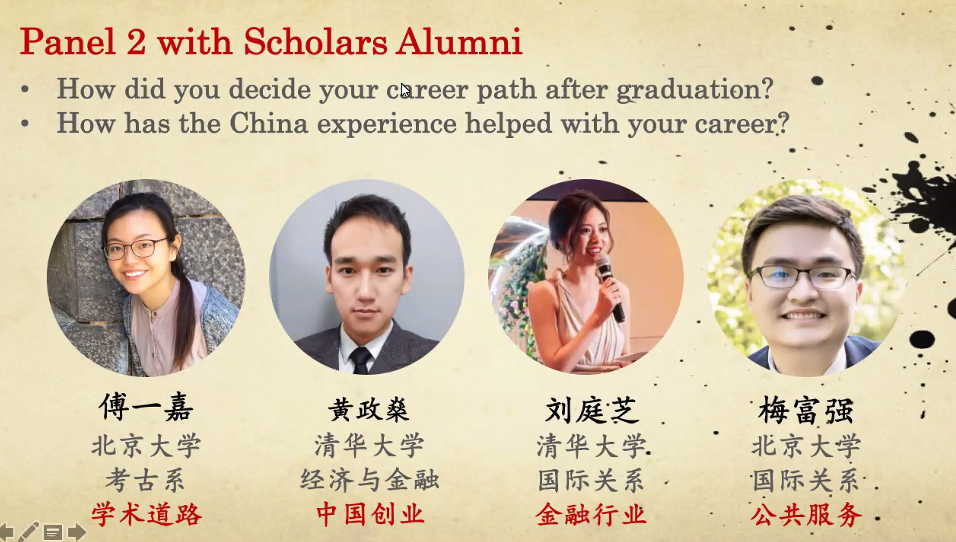 Graduated seniors shared with juniors during the virtual gathering their career path after graduation 
In addition to the above, graduated scholars shared during the virtual gathering their career path after graduation. For Poh Yi Jia who had graduated from Peking University's Archaeology, she is pursuing a PhD at Australian National University, Department of Archaeology. She feels that having a strong bilingual and bicultural background has allowed her to better communicate with peers from different countries, and often times helped in bridging language barriers.
For Alan Ng Zheng Shen who is working as a Relations Manager at Bank of Singapore (Hong Kong), he shared his entrepreneurship story whilst pursuing a degree in Business Administration (Accounting) at Tsinghua University. Together with his peers as business partners, he started a restaurant chain named "原味觉醒" (Yuan Wei Jue Xing). At the peak of the business in 2017, they were operating in total 15 outlets. Despite having to fold up the business due to various reasons, he is heartened to have embarked on this enriching journey as he had much hands-on experience that he had never learnt in school.
A Tsinghua University International Relations graduate, Liu Ting Chih changed her career path after graduation and is currently in the finance industry. She admitted that though she faced many challenges at the start of her career, she is thankful that her company values her bilingual and bicultural background. With her perseverance and willingness to learn, she was happy to share that she is doing well in the finance industry today.
Among the graduated scholars, besides pursuing a career in multi-national companies, some have joined the Singapore Public Service. For Boey Foo Keong Jason from the pioneer batch of SFCCA Scholars, he currently works as a Manager (International Relations) at Ministry of Culture, Community and Youth. He hopes to put to good use in his work what he had learnt in Peking University's International Relations, to promote ties between countries and to serve the people of Singapore. Jason and Loh Hong Sheng Ian (also from the pioneer batch) are spearheading the SSN.
SSN's Unlimited Potential
Ian shared that with the SFCCA Scholars being from a total of 13 fields of study, the SSN makes an ideal platform for the different batches of scholars to stay connected and share opportunities with one another. Graduated scholars can lead by example and share their career, postgraduate or entrepreneurship experiences with the current students. Ian believes that the SSN can serve as a platform for all to leverage for opportunities to continue learning, growing and contributing back to the Chinese community.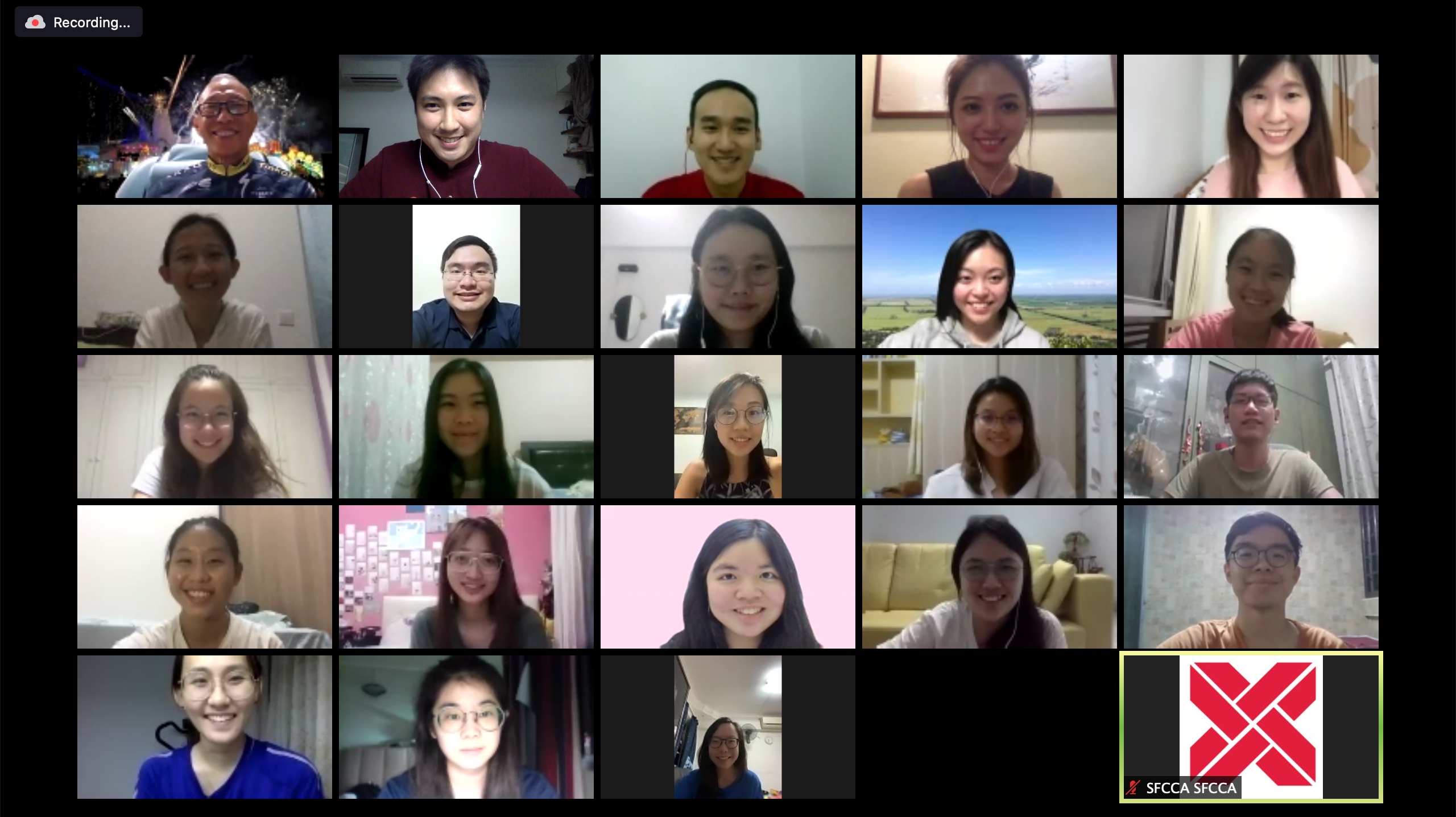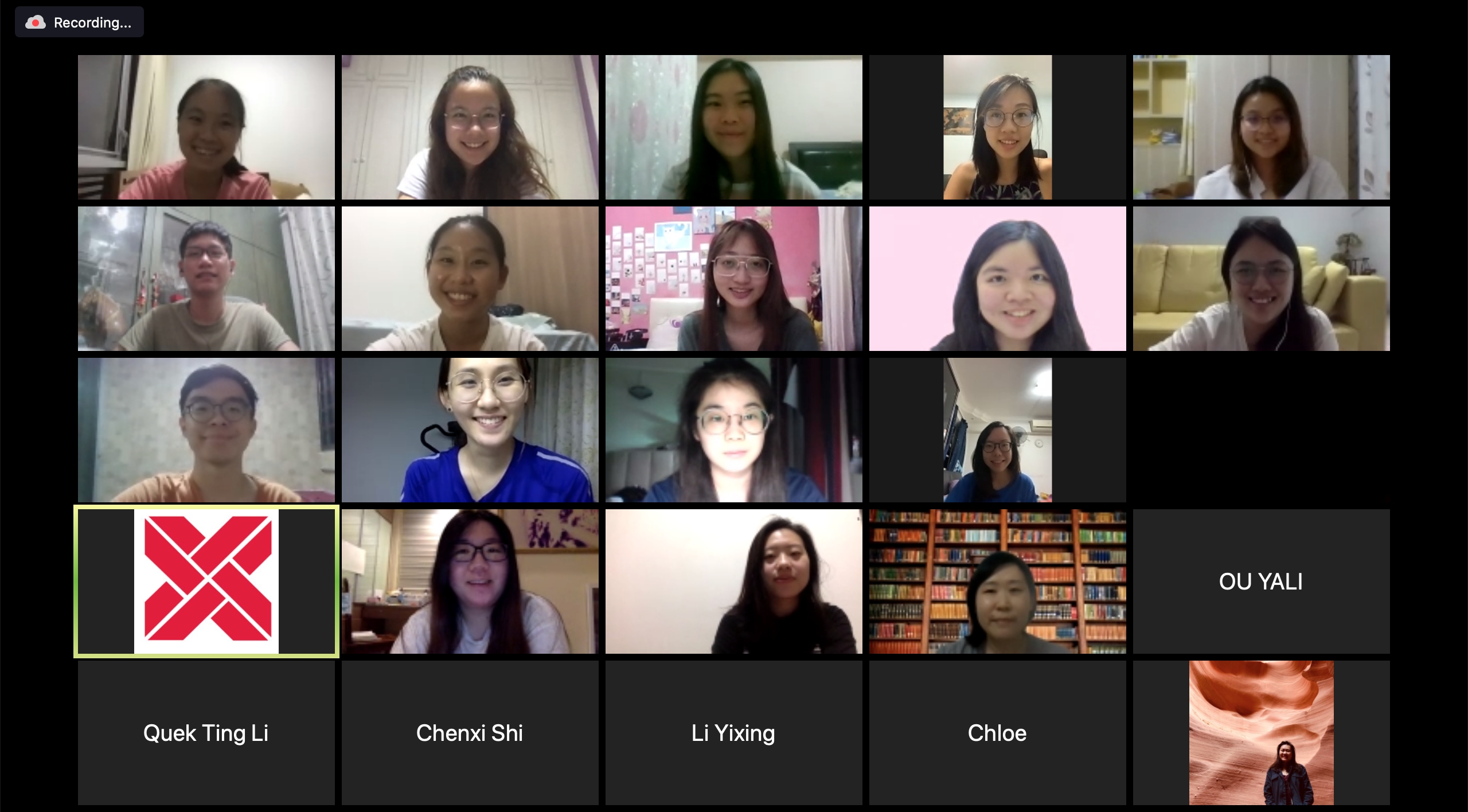 All smiles for a group photo, albeit virtually, before the gathering concluded
Introduced by SFCCA in 2011, the SFCCA Scholarship aims to nurture bilingual and bicultural talents by providing an annual grant of up to S$15,000 for every successful applicant. Into its tenth year, the scholarship programme has sponsored a total of 44 students to date, of whom 25 have graduated.