About 480 students participated in the 4th run of "Cultural Heritage Walk", exploring Bukit Pasoh and Chinatown
On 6th July 2019,  about 480 students participated in Cultural Heritage Walk 2019, jointly organised by Committee to Promote Chinese Language Learning (CPCLL) and and the Singapore Federation of Chinese Clan Associations (SFCCA). In its fourth year now, this year's walk saw participating students embark on a journey to Chinatown and Bukit Pasoh to gain a deeper understanding and appreciation of Singapore's rich history and distinctive multicultural identity. The event was graced by Senior Parliamentary Secretary for Education and CPCLL, Ms Low Yen Ling, who also flagged off the walk.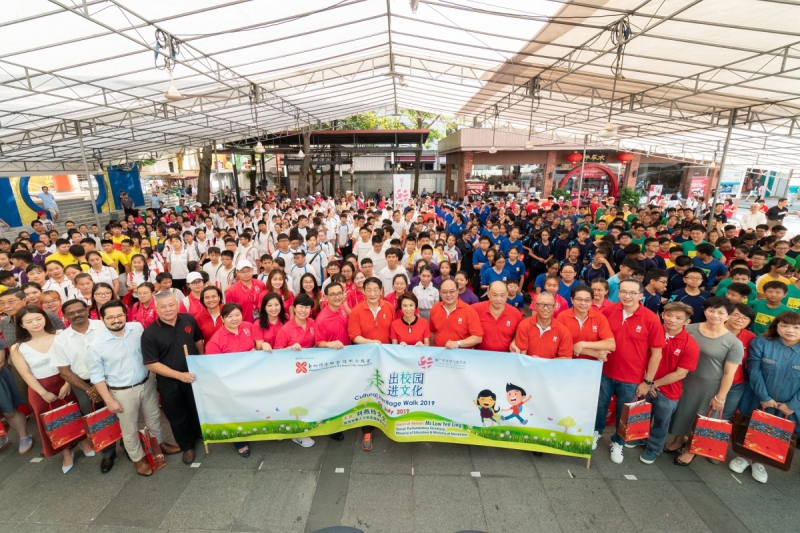 Guest-of-Honour, Ms Low Yen Ling, organisers and participants gathered for a group photo before the walk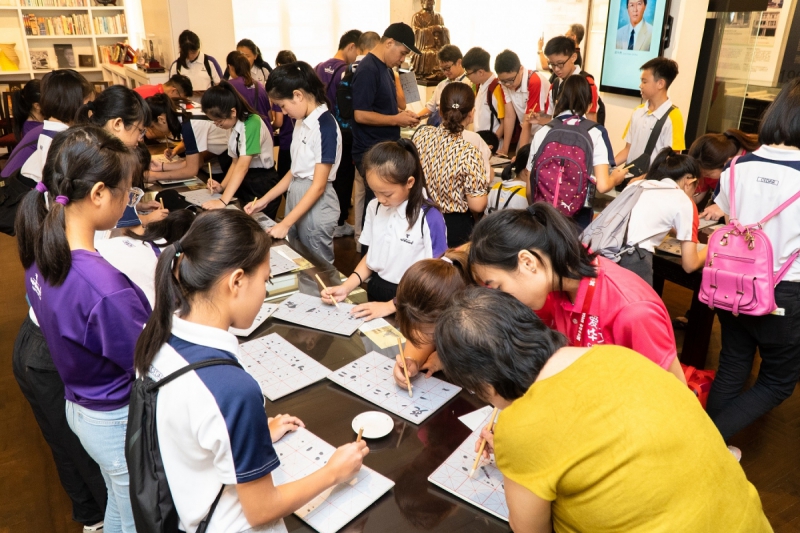 Participants learning the art of Chinese Calligraphy at Gan Clan Association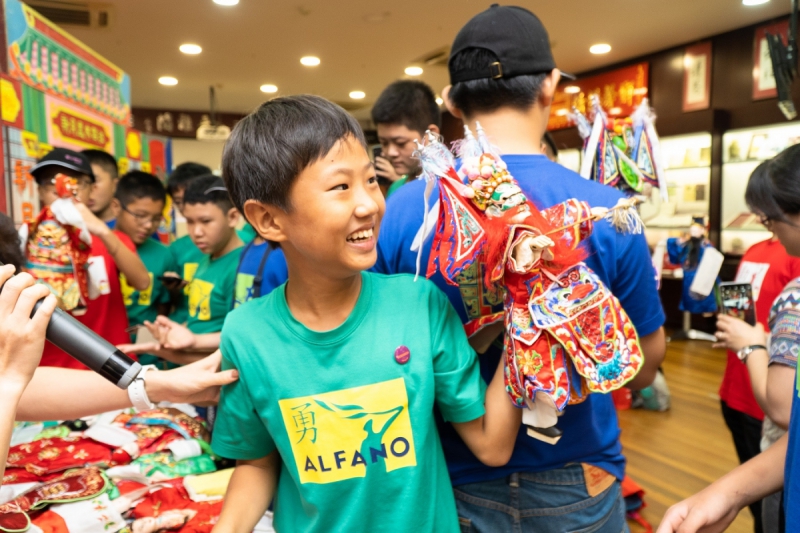 Learning through play: Singapore Chin Kang Huay Kuan engaged participants in the learning of puppet shows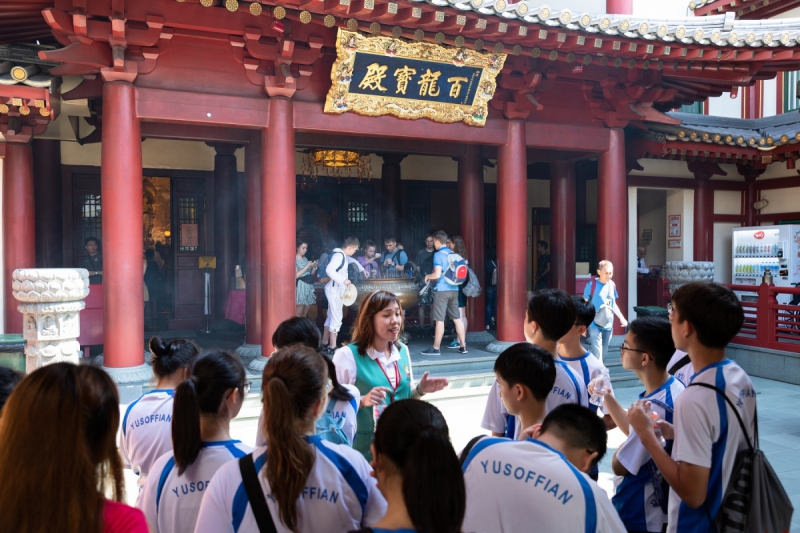 Tour guide explaining to participants the architectural structure of the Buddha Tooth Relic Temple & Museum
Since 2016, Committee to Promote Chinese Language Learning (CPCLL) and and the Singapore Federation of Chinese Clan Associations (SFCCA) have been organising "Cultural Heritage Walk" on an annual basis, bringing batches of students to explore heritage sites and to discover the wide array of cultures, races and religions in Singapore's heritage.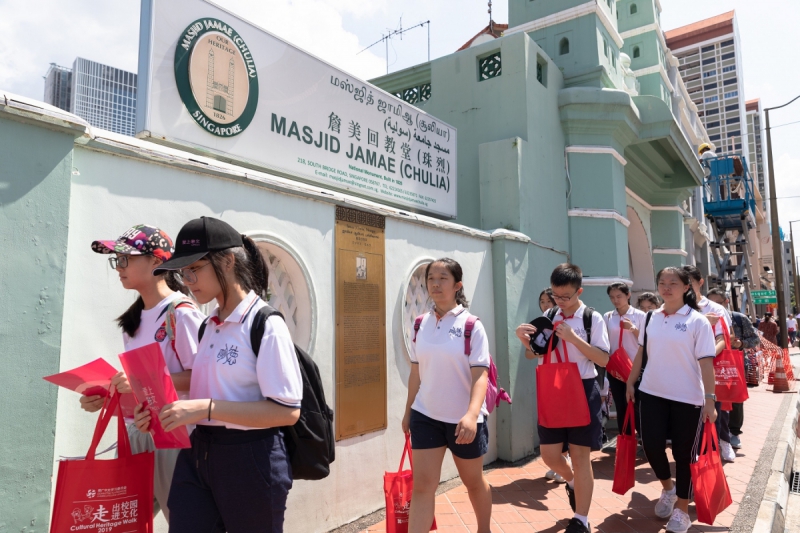 For many of the participants, it was their first time visiting the Masjid Jamae (Chulia) where they learnt more about the mosque's history and cultural aspects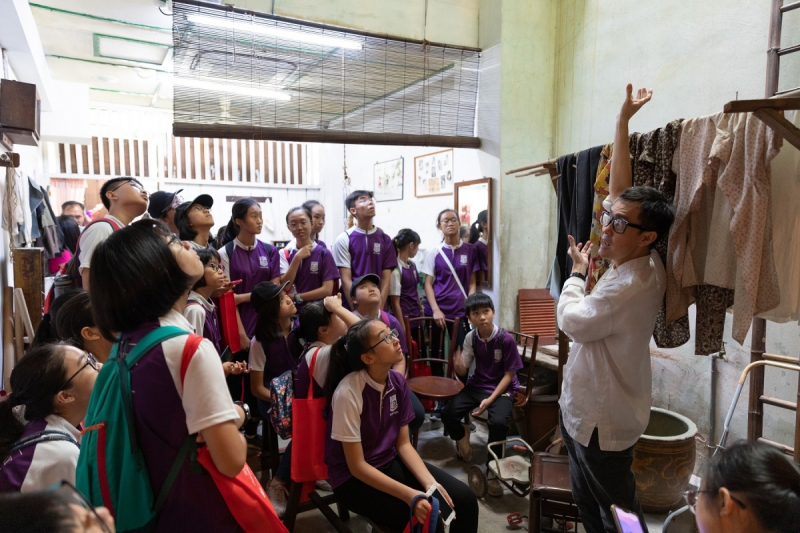 At the Chinatown Heritage Centre, participants learnt about the history of Chinatown and experience how our pioneers once lived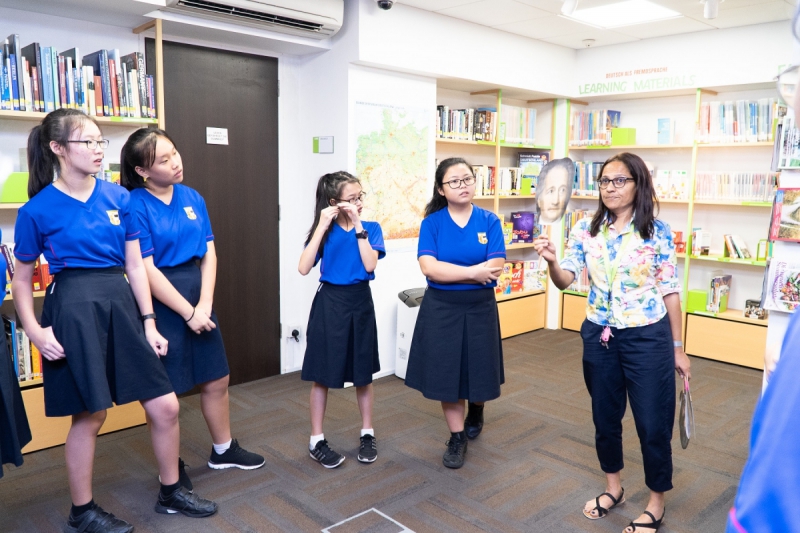 At Goethe-Institut Singapore, students completed different tasks related to Goethe-Institut's architecture, German inventors and the German language
As the walk's Chinese name suggests, participants followed the path of our pioneers and embarked on a new journey towards their future. The aim of the walk is to allow the younger generation to visit different landmarks which have been of much significance since Singapore's formative years, henceforth raising the participants' awareness about our pioneers' contributions to modern Singapore's prosperity and harmony. This walk also reminds participants to seize the present in order to build a better tomorrow. In commemoration of Singapore's Bicentennial, the organisers had set up "Singapore Bicentennial Commemoration Contest" which saw participants answering quizzes that encouraged them to learn more about the cultural organisations which they had visited.
All smiles after visiting the Pioneers' Memorial Hall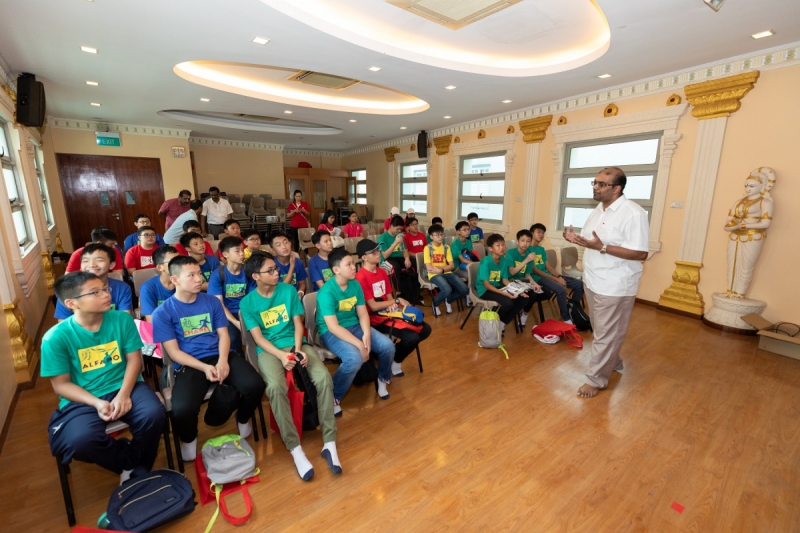 The guide at Sri Layan Sithi Vinayagar Temple conducted an informative sharing on the festivals and rituals celebrated at the temple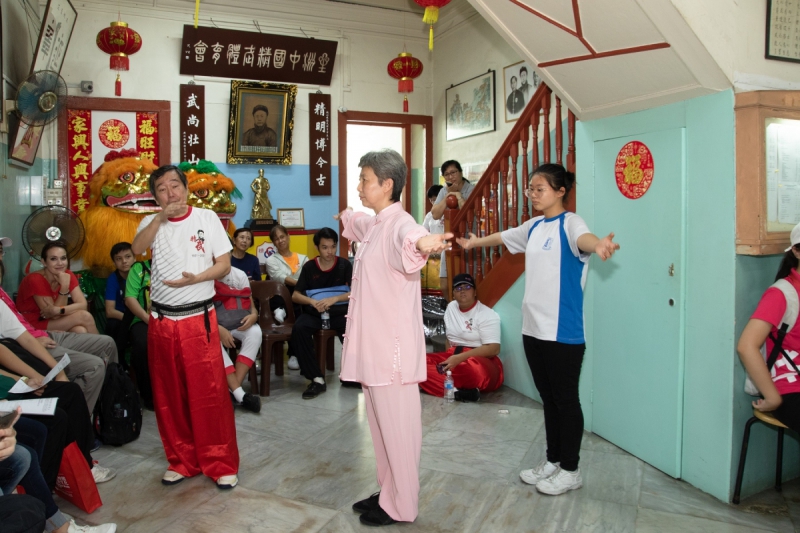 Not only did participants visit the Singapore Chin Woo Athletic Association, they also learnt some martial arts from the instructors there
From visiting clan associations and cultural groups, to touring temples and mosques, participants were treated to hands-on activities to experience the different cultural activities – such as making Hakka noodles at Singapore Eng Teng Association, putting up a Cantonese opera performance at Kong Chow Wui Koon and playing Nanyin musical instruments at Siong Leng Musical Association. With each of these culturally-significant landmarks, participants made new discoveries of our multi-cultural Singapore.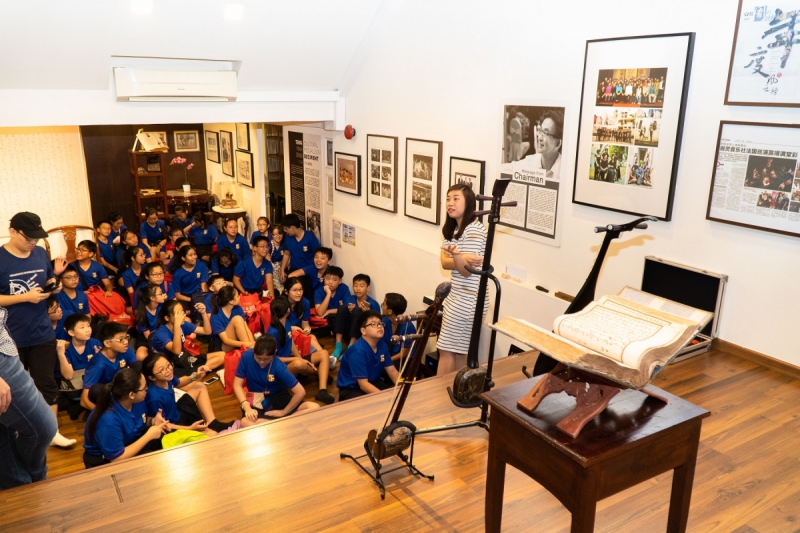 Participants were introduced to Nanyin musical instruments at the Siong Leng Musical Association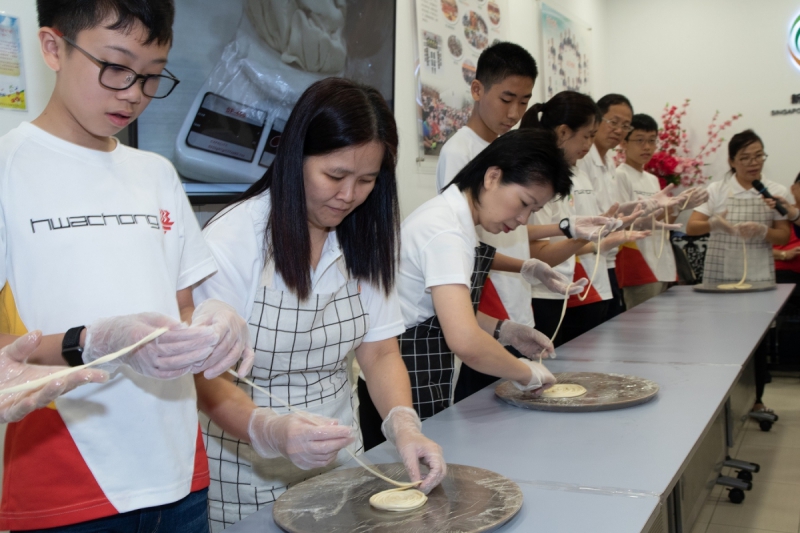 After a cooking demonstration, participants handmade Hakka noodles at Singapore Eng Teng Association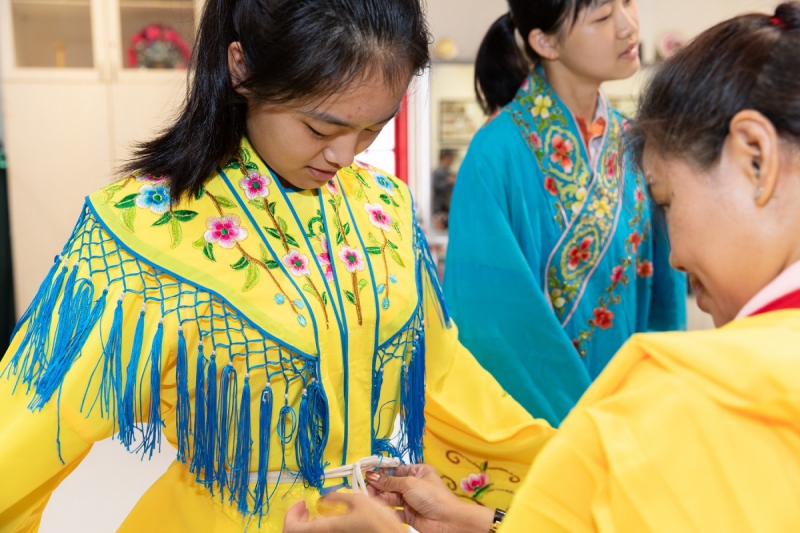 Donning the costumes, participants had a go at Cantonese Opera when they visited Kong Chow Wui Koon
The participants came from a total of 14 secondary schools. Affter visiting the 12 iconic landmarks in the Chinatown vicinity, they unanimously expressed that the activities were very interactive and had indeed deepened their understanding of the various races and cultures in Singapore. The "Cultural Heritage Walk" 2019 would not have been successful if not for the support of about 100 volunteer guides and student volunteers.
A mobile photography competition was also organised as part of "Cultural Heritage Walk" 2019,  with vouchers to be awarded for winning entries. Participants were encouraged to post on their Instagram interesting photographs which they had taken during the walk.