Project C.A.R.E 2019 – Kite-flying with the Elderly at Marina Barrage
Jointly organised by Singapore Federation of Chinese Clan Associations (SFCCA) and Chinese Development Assistance Council (CDAC), Project C.A.R.E. (Caring And Reaching out to the Elderly) 2019 took place on 14th April 2019, Sunday. A total of 620 elderly residents from 7 VWOs enjoyed themselves thoroughly, flying kites at the Marina Barrage and playing carnival games before adjourning for a lunch reception specially arranged for them by 9 Chinese clans. There were also entertaining cultural performances put up by the volunteers.
Senior Minister of State, Ministry of Trade and Industry & Ministry of Education Mr Chee Hong Tat attended the event and in his capacity as a member of the CDAC board of directors, he interacted with the elderly as he joined them in the kite-flying at Marina Barrage. Participants wrote down their dreams and wishes on the kites which were then flown high up in the sky as a symbol of good luck. Over at the Marina Barrage, there were other fringe activities – such as massage service, stage performances and savouring traditional snacks – to provide the elderly with a truly fun and unforgettable day out.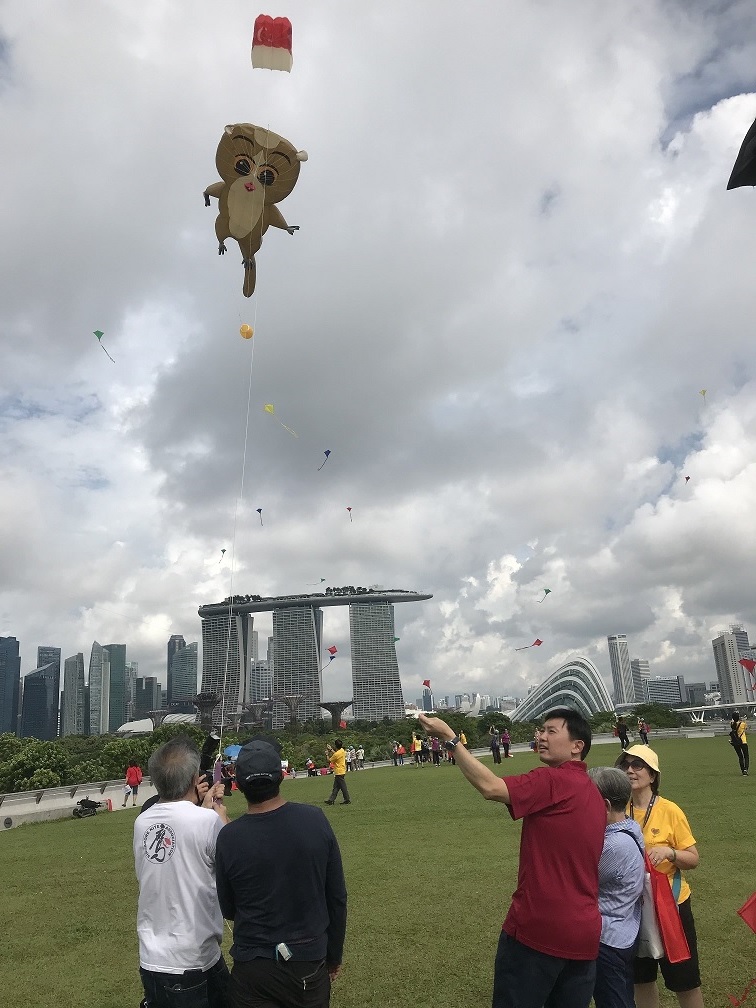 Senior Minister of State, Ministry of Trade and Industry & Ministry of Education Mr Chee Hong Tat (third from left) also experienced the joy of kite-flying
Volunteers flying kites with the senior citizens
Following which, the elderly enjoyed a sumptuous lunch reception which was hosted at nine of SFCCA's clans' premises. The nine participating clans were Singapore Hainan Hwee Kuan, Singapore Hui Ann Association, Singapore Lee Clan General Association, Singapore Chin Kang Huay Kuan, An Hai Association, Singapore Jin Hoe Lian Ghee Sia, Teochew Poit Ip Huay Kuan, Singapore Lam Ann Association and Singapore Ji Yang Cai Clan Association.
Besides recruiting a big pool of volunteers to take care of and bring joy to the elderly, each of the 9 participating clans prepared a variety of spectacular performances to entertain the elderly. The performances included belly dancing, qipao fashion show, magic show, etc.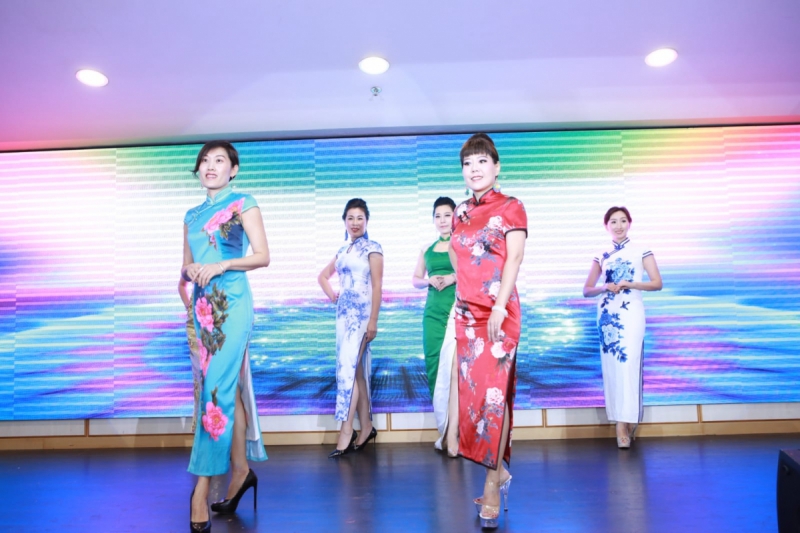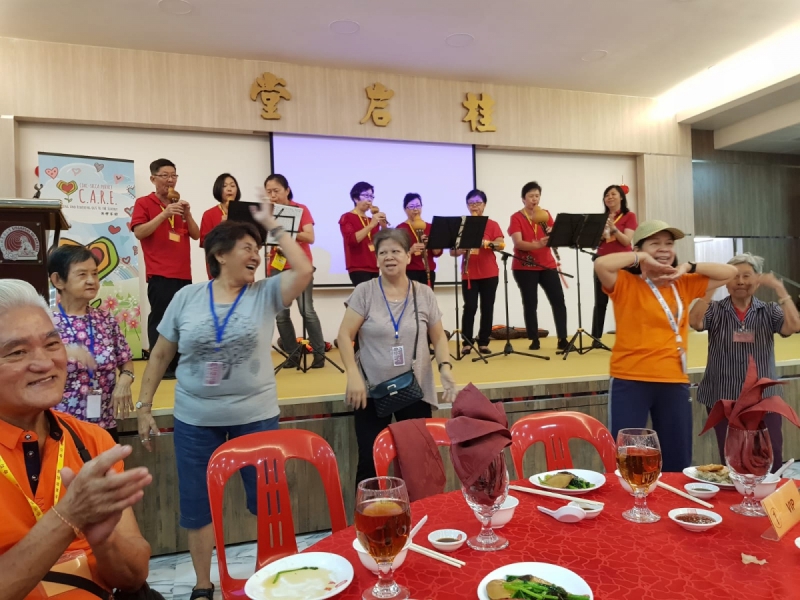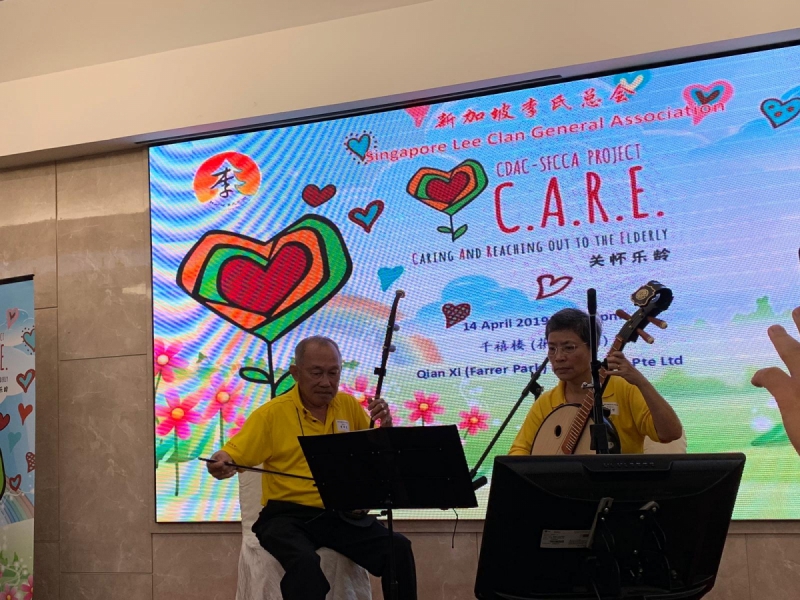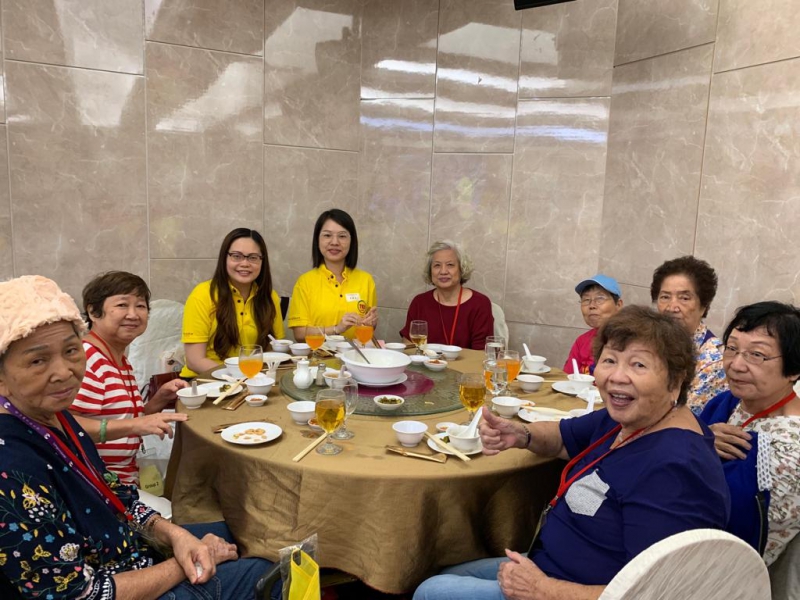 The participating clans specially arranged programmes to put a smile on the elderlies' faces on a bright, cheery Sunday
Into its seventh year now, SFCCA and CDAC have been organising Project C.A.R.E. since 2013, to benefit needy senior citizens, encourage the Chinese community to contribute back to the society and to impart to the youth the importance of showing respect towards their seniors. On an annual basis, this project has seen increase in not just the beneficiaries but also the volunteers. The organisers hope to recruit more volunteers to host the 1000 elderly which they intend to invite to next year's edition of Project C.A.R.E.