Tying in with Singapore's bicentennial year, River Hongbao 2019 is anchored in heritage but also promises to be one of the most exciting and future-centric editions of the event as it embraces a plethora of new platforms to engage more Singaporeans.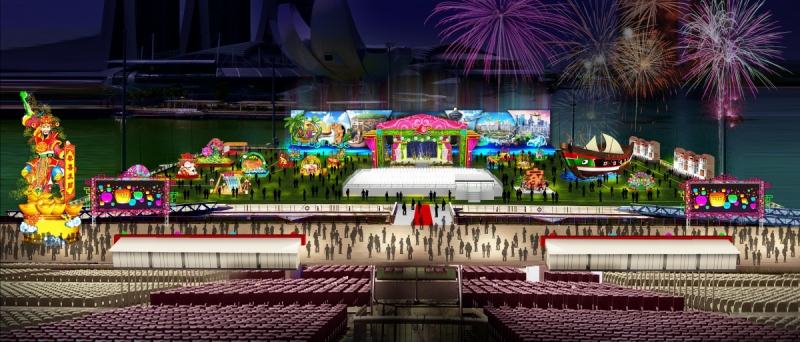 Bird's Eye View of River Hongbao 2019
This year, in commemoration of Singapore's Bicentennial year, River Hongbao 2019 has announced exciting new highlights to attract even more visitors both young and old.
As part of Singapore's Chinese New Year festivities since 1987, River Hongbao is organised by the Singapore Federation of Chinese Clan Associations, Singapore Press Holdings, the Singapore Chinese Chamber of Commerce and Industry, Singapore Tourism Board and People's Association. It will be held from 3rd February to 10th February at The Float @ Marina Bay. Entrance is free-of-charge.
For the first time, River Hongbao 2019 features spectacular fireworks choreographed by globally-acclaimed pyrotechnics experts from countries including Australia, China, USA and Italy on the 3rd, 4th, 9th and 10th February.
Mr Ang Wei Neng, Chairman of the River Hongbao organizing committee, said: "River Hongbao 2019 is the first major event of the year in Singapore and is expected to draw crowds in excess of a million. The spectacular fireworks will be a fitting start to celebrate the Spring Festival to engage, energise, and excite Singaporeans."
The bicentennial version of River Hongbao will have an exhibition that charts Singapore's history and development on the Singapore River. It is curated by the Sun Yat Sen Nanyang Memorial Hall and Singapore Bicentennial Office. The unique exhibition, which includes many interactive elements, will be showcased in a heritage ship which visitors can walk through.
Gigantic lanterns are a cultural hallmark of River Hongbao. Besides the all-time favourite Zodiac lanterns, God of Fortune and the Fountain of Wealth, there will be an "instagrammable" peacock lantern, as well as an entrance walkway with running lights, and many more. The main entrance to the River Hongbao will feature a majestic dragon forming the shape "200" as a grand arch.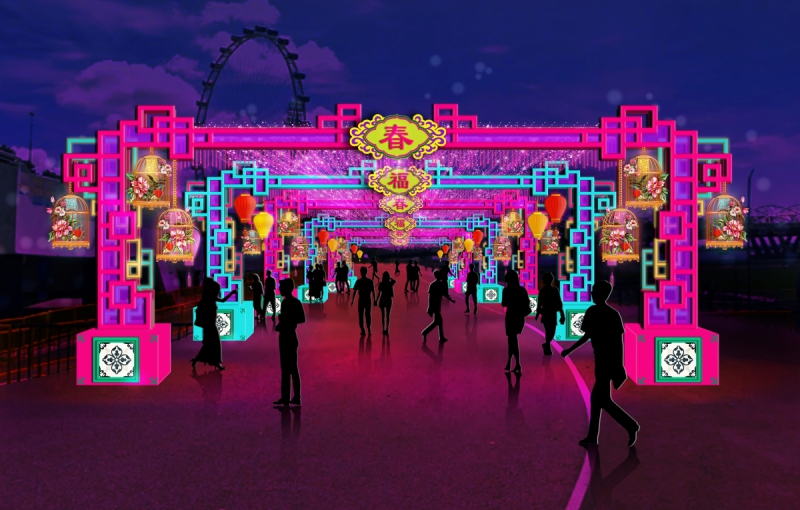 Magnificent lanterns are one of River Hongbao's signature features
What may be more exciting for youths, however, is patronizing stalls at River Hongbao which will be set up by tertiary students who have won a business competition – the River Hongbao Hackathon (RHBHacks). To recognise the importance of nurturing entrepreneurship, this is the first time that River Hongbao is engaging youths via such a competition.

It is also the first time that River Hongbao is actively engaging younger Singaporeans via social media and interactive games. They can take part in the Instagram "River Hongbao Lookbook Challenge", submit their photos to the "Moments at River Hongbao" Canon x RHB Photo Competition, or play a mini game on the website "Huat Ah! RHB" to win attractive prizes, which include a pair of Singapore Airlines Business Class return tickets to New York.
Said Mr Ang, "River Hongbao 2019 is a very special edition of this 33-year event. We have pulled out all the stops to make it a stand-out celebration, retaining all the elements which have kept people coming back every year, and introducing new elements to attract new fans."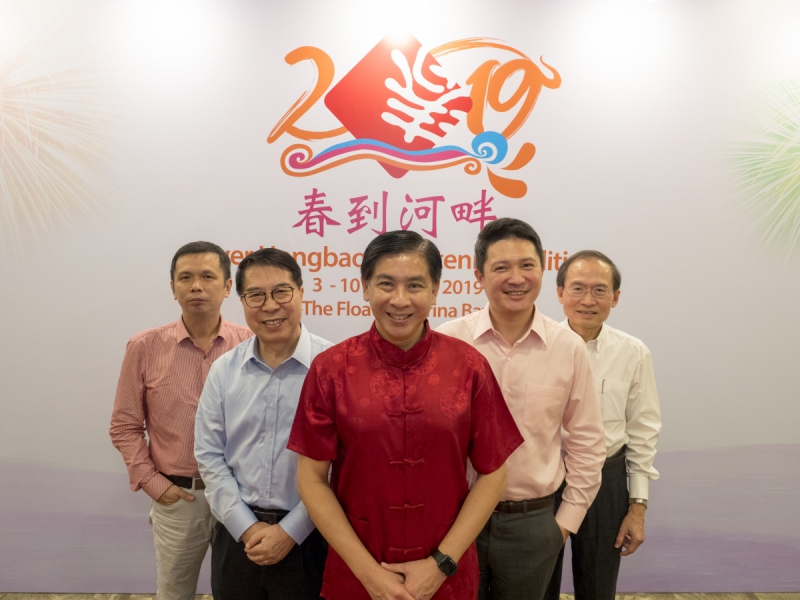 River Hongbao Chairman Mr Ang Wei Neng (Centre) and Vice-Chairman Mr Henry Kwek (Second from Right) hope to curate a stand-out celebration for all Singaporeans. Committee member Mr Lim Wee Khee (First from Left) , Programmes Director Mr Perng Peck Seng (Second from Left) and Treasurer Mr  John Teo Woon Keng  (First from Right)  hope that Singaporeans can celebrate Chinese New Year through participation of River Hongbao 2019