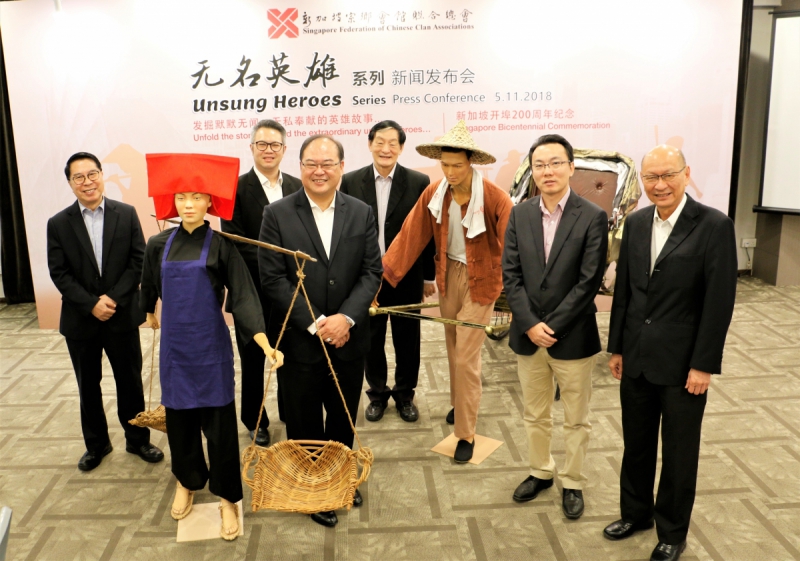 Singapore Federation of Chinese Clan Associations (SFCCA) kick off Singapore's bicentennial commemorations with its line-up of events under the "Unsung Heroes" Series. Consisting of eight projects grouped into three categories: history, humanities and special programmes, the year-long commemorative events aim to pay tribute to the forefathers of Singapore and strive to shape Singapore's youth to become the "Unsung Heroes" of tomorrow.  A press conference was held on 5 November 2018 as SFCCA made the official announcement.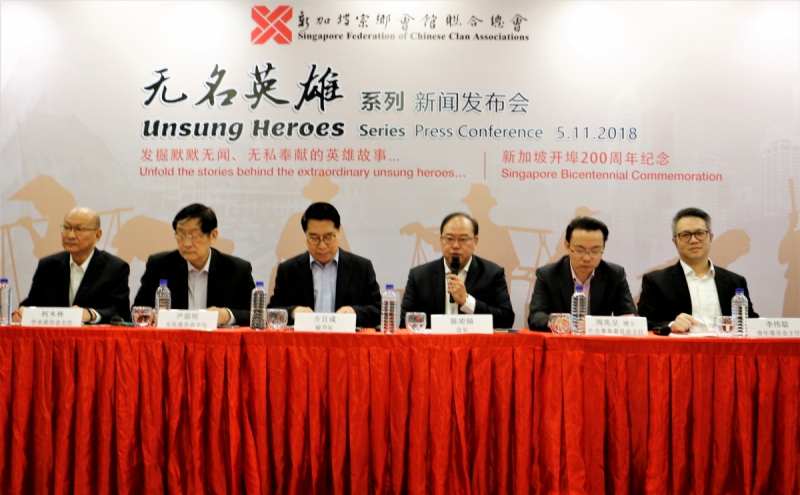 Mr Tan Aik Hock (third from right), President of SFCCA, Mr Perng Peck Seng (third from left) Secretary-General of SFCCA and various Committee chairmen at the Press Conference for "Unsung Heroes" Series that morning.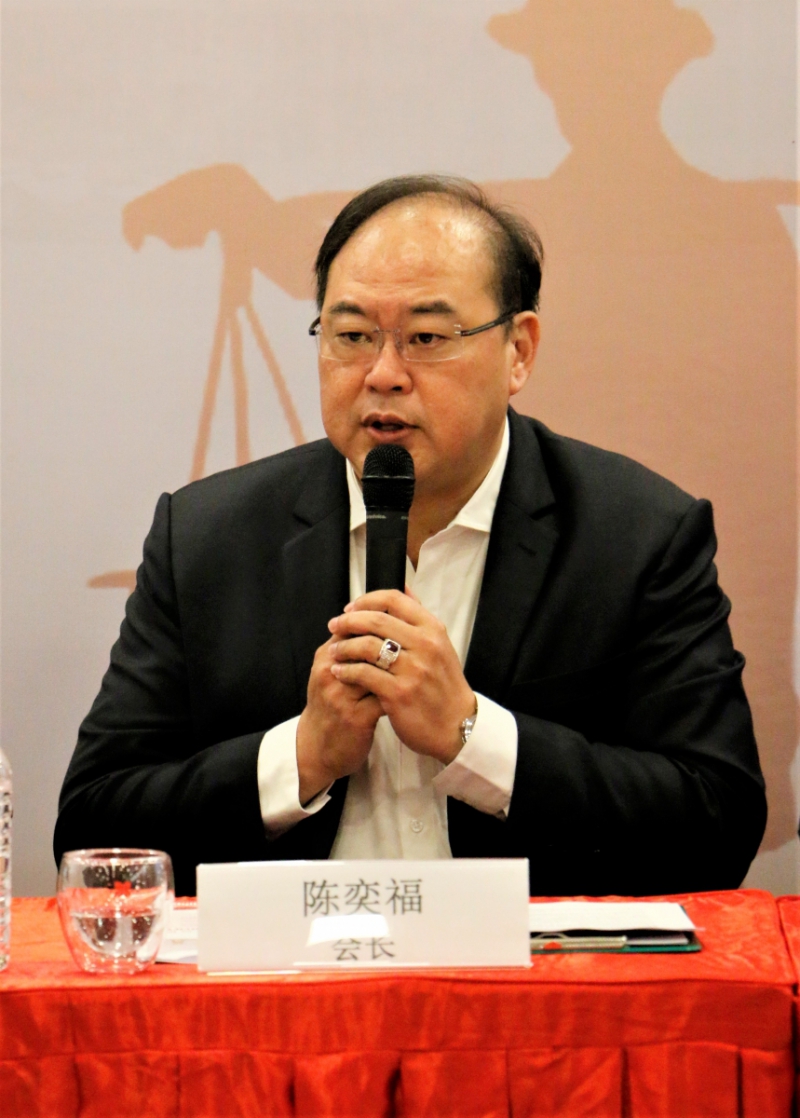 SFCCA's President Mr Tan Aik Hock addressing the event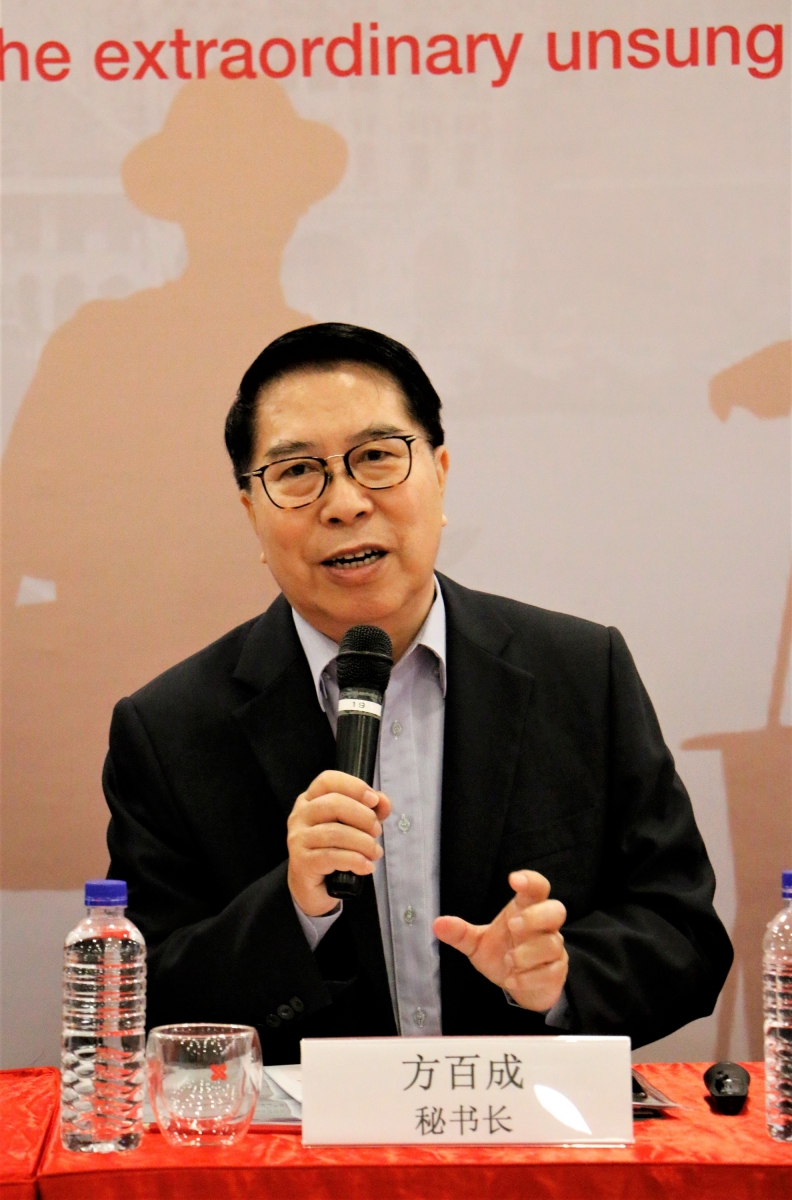 SFCCA's Secretary-General Mr Perng Peck Seng introducing the "Unsung Heroes" Series to the press
Marking the start of the "Unsung Heroes" Series is the "New World, New Life" exhibition, which details the journey of Singapore's early settlers and communities. Supported by Lee Kuan Yew Fund for Bilingualism, Singapore Chinese Cultural Centre, Committee to Promote Chinese Language Learning and Singapore Bicentennial Office, the multisensory exhibition will be showcased at Singapore Chinese Cultural Centre Level 1 Ho Bee Concourse from 19 November 2018 to 28 April 2019. Admission is free and open to the public.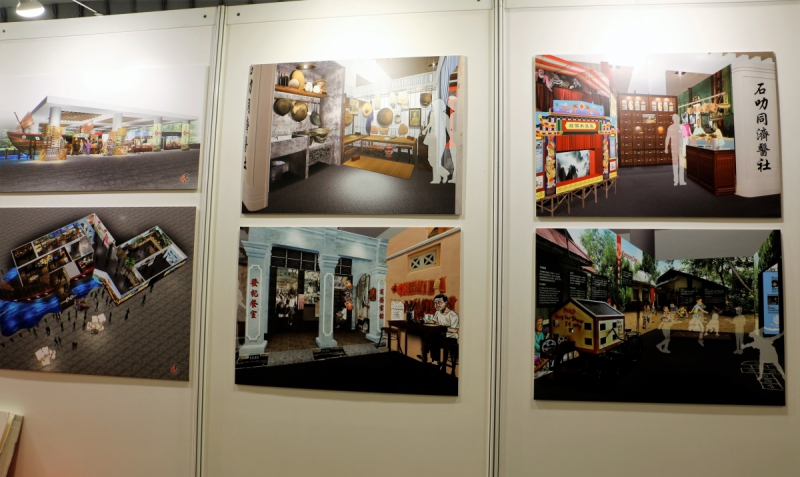 Visuals of "New World, New Life" Exhibition
Interweaved with interactive elements that appeal to the senses of sight, touch, smell and hearing, visitors will be able to embark on an experiential journey of understanding the rich immigrant history stretching back to two centuries ago. 106 trained student docents will also be offering guided tour for Secondary 1 and 2 students between January to April next year.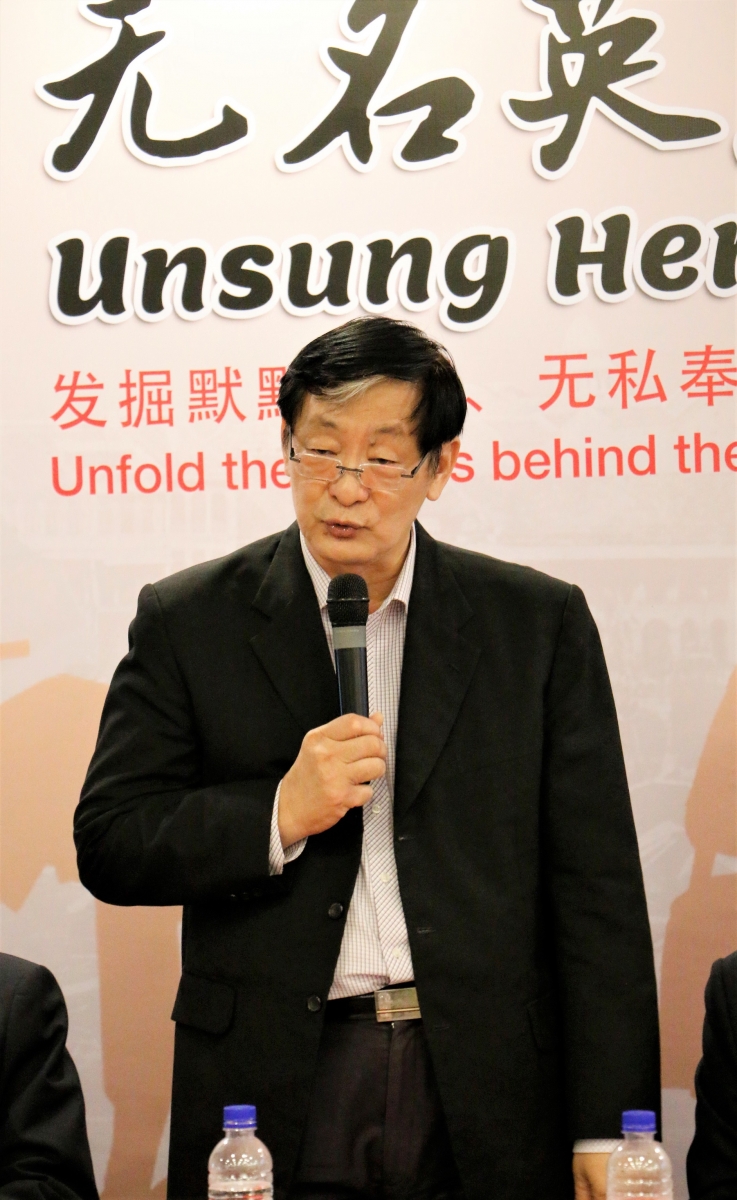 Cultural Committee Chairman Mr Wan Shung Ming introducing "New World, New Life" Exhibition
To further enrich the exhibition content, SFCCA's 2019 talks and seminars will be pertinent to "Unsung Heroes of Singapore", where subject matter experts will share on these unsung heroes in the olden days.
Heritage trails themed "Builders of Singapore" will also be launched, where participants will be guided to visit the iconic infrastructure and monuments built by the Indian Coolies and Samsui women during the 19th and 20th century. Participants can catch a glimpse of early Singapore whilst rediscover the immense contribution of these builders as they visit trail sites such as the Istana Heritage Gallery and Cavenagh Bridge. The guided visits focusing on Indian Coolies will commerce in March 2019, followed by the Samsui Woman series in October 2019.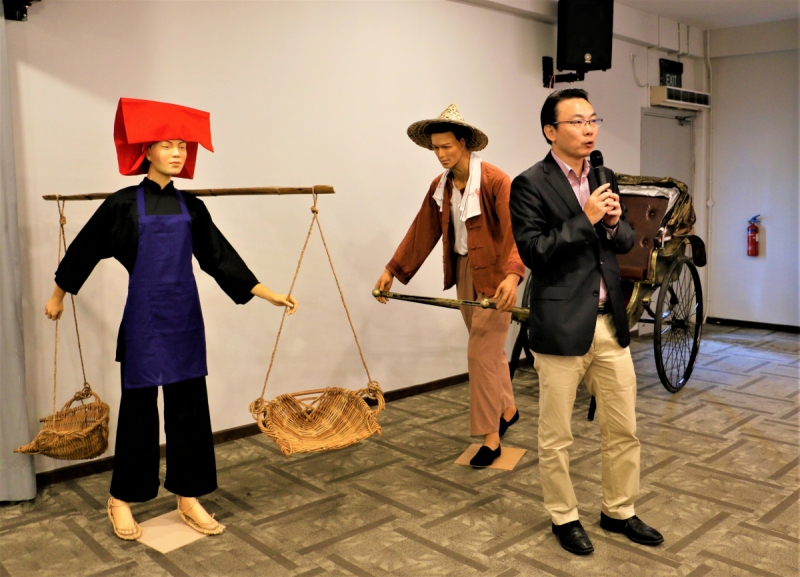 Social Affairs Committee Chairman Mr Zhou Zhaocheng's introduction on "Builders of Singapore" themed Heritage trails for the coming year.
History lovers will be excited to learn that a digital database featuring the relations and networks of prominent Chinese personalities who made significant contributions to Singapore, will be soon available. The "Singapore Biographical Database of Chinese Personalities", a joint initiative by SFCCA, Department of Chinese Studies from the National University of Singapore (NUS) and the National Library Board (NLB), is a reflective attempt to understand the full essence and complexity of the relationships between these Chinese pioneers.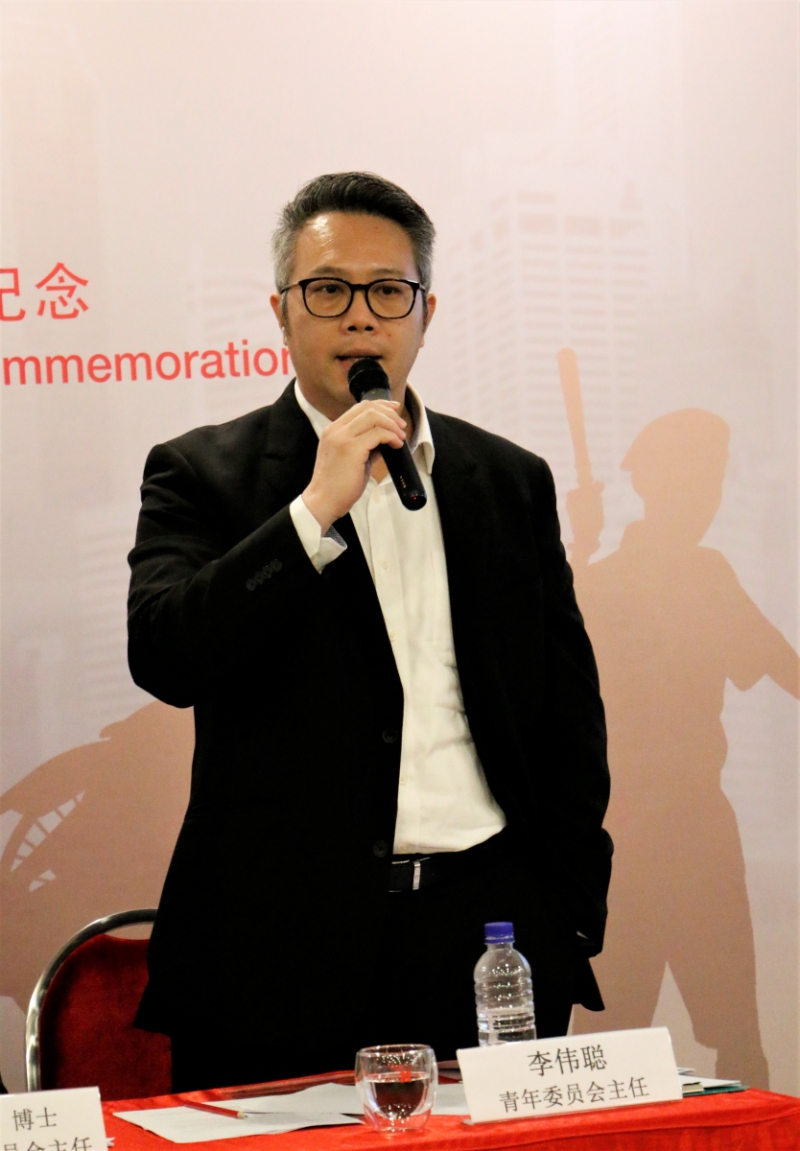 Youth Committee Chairman Mr Charlie Lee sharing the plans in relation to "Unsung Heroes" of Tomorrow at the press conference.
While the "Unsung Heroes" Series aims to pay homage to our forefathers, above all, they also hope to inspire Singapore's youth to become the "Unsung Heroes" of Tomorrow. We hope to encourage and engage more Singapore's youths to make a positive contribution to our society and to the progress of our nation. Hence, the SFCCA Youth Committee will provide support to encourage volunteerism among our youths and will be supporting youth representatives from various clans in their efforts to organise philanthropic and social events for the coming years.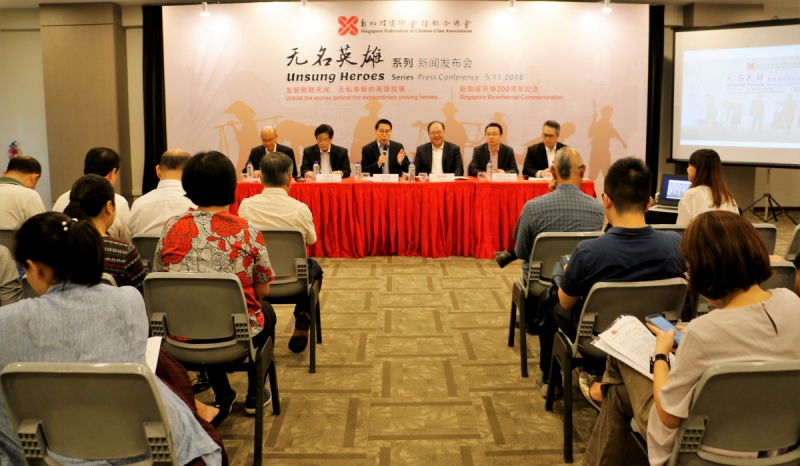 At the Press Conference
The exciting line-up of programmes featuring exhibition, heritage trails and theatrical performance is sure to maximise the reflective experience for Singaporeans throughout 2019.
For more information, please click to visit  "Unsung Heroes" Series for more details.