On 20th July 2013, the "Republic Polytechnic Basketball 3VS Tournament" organised by the Chinese Scholars and Students Association's Singapore Republic Polytechnic branch kicked off at the polytechnic. With a total of 27 teams participating, this year's tournament was the largest in scale to date. This year's tournament was jointly presented by the Chinese Scholars and Students Association in Singapore (SGCSSA) and the Singapore Federation of Chinese Clan Associations (SFCCA). We have both citizens and new immigrants participating in the event, effectively promoting camaraderie between people from both countries.
Similar to past years:
Camaraderie, hard work, unity and mutual aid have been the philosophy adopted by all teams.
Similar rules were adhered to, and a similar competition system was used. After group matches and eliminations, the champion team emerged in the afternoon. The group matches in the morning saw enthusiastic players in a series of splendid movements including running, making passes and intercepting, with audience supporting with applause constantly. 8 teams remained after the morning competitions. In the afternoon during the semi-finals and finals, they gave their all while displaying their strengths.
Different from previous years:
Since the "Republic Polytechnic Basketball 3VS Tournament" first started, it has begun with the objective of increasing its scale and to provide a fair platform for avid basketball players to interact with each other. With the increase in scale and participation of more professional players, the competition standards has increased to a whole new level. This year's prizes included cash awards as well as group trophies and individual medals. These trophies and medals were customised by both the SGCSSA and SFCCA, with both organisations' names engraved.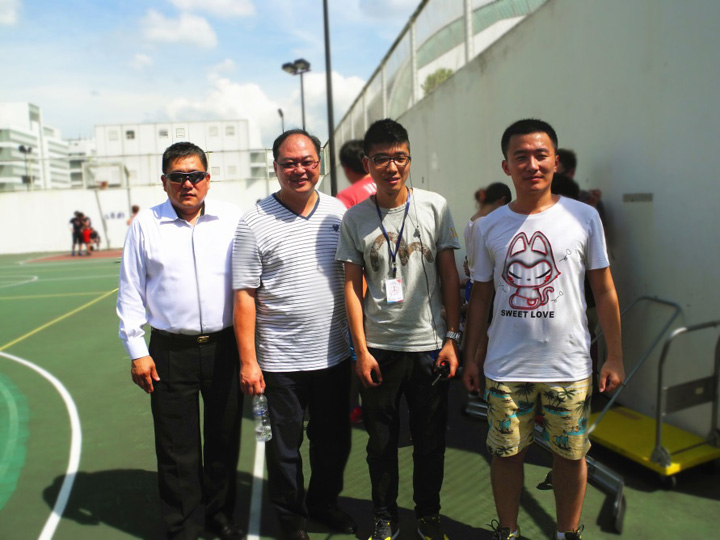 Group photo of Chairman of SFCCA Youth Affairs Committee Mr Thomas Pek, Vice-Chairman Mr Tan Aik Hock, Mr Li Muzi and Mr Buyu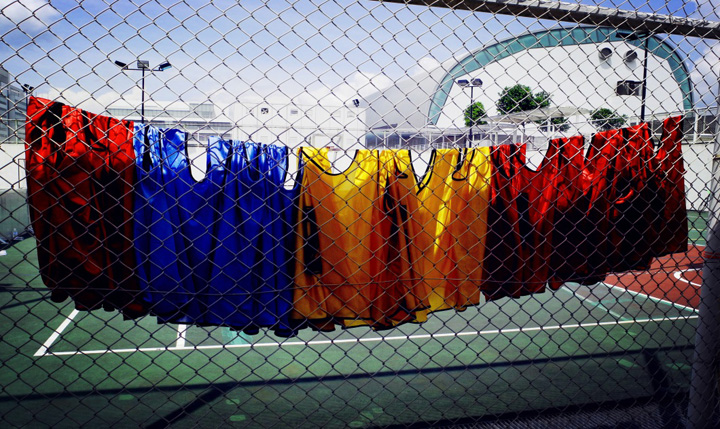 The 20 numbered jerseys customised by the organiser aided in the judging process. The referee and scorekeeper could clearly identify any offending players