More than 2000 people joined in discovering local history and culture
SFCCA Heritage Walkathon was held on 11 November 2012 (Sunday), from 7:45am to 12pm, gathering a crowd of more than 2000 people. Organised by SFCCA Youth Affairs Committee, the participants were brought on a 4 km journey rich in cultural and historical discovery which lasted about an hour as participants explored the Chinatown precinct.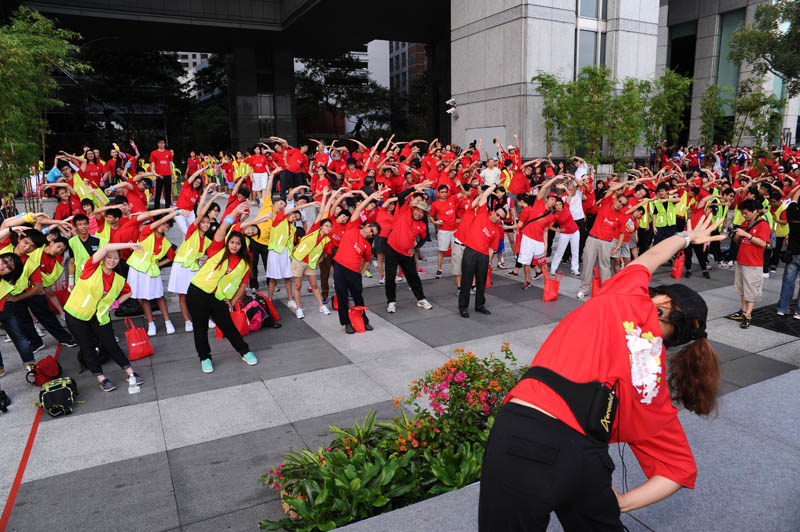 Warming up for the walk
Walkathon Participants
A first attempt for the SFCCA Youth Committee in organising a Heritage Walkathon, the overwhelming response of over 2000 participants came as a pleasant surprise to the organisers as it exceeded targeted expectations. The event was supported by the National Youth Council, Urban Redevelopment Authority, People Association, Business China, Chinese Scholars and Students Association, as well as several universities and secondary schools. Nearly 300 students volunteered while 500 more joined in the walk.
Besides members of Clan Associations, residents from various community clubs, students, friends from the Malay and Indian community, as well as new immigrants and foreigners were also present  at the Walkathon to learn more about Chinese culture.
Acting Minister for Social and Family Development, Mr Chan Chun Sing, who was the Guest-of Honour, flagged-off the participants and joined them on this exciting journey as well.
The Route
The 4km journey began at UOB Plaza Atrium with participants following the footsteps of our forefathers as they passed by clan associations, temples and preserved monuments which are truly unique to Telok Ayer, Maxwell and New Bridge Road. Highlights include the 190-year-old Ying Fo Fui Kun, the Thian Hock Keng Temple, India Islamic Cultural Heritage Center, Former traffic police headquarters, Kong Chow Wui Koon and the former Singapore Thong Chai Medical Institution. The journey revealed a  story of the past—one of strivings and struggles, filling with blood, sweat and tears in building the Singapore of today and a heart-warming spirit of mutual support and encouragement.
In collaboration with Urban Redevelopment Authority, 27 heritage buildings along the route have been identified on the route map specially produced for this event. To encourage further interaction and involvement, a quiz has also been designed for the Walkathon. Three lucky winners with the correct answers were awarded with a prize each. The list has been published on the facebook page Youth Committee's page – www.facebook.com/Youth.SFCCA.
Event Promotion
To promote the event, the organiser has created a microsite  (www.sfcca.sg/walkathon) for registration as well as featuring event details.  SFCCA Youth Committee's Facebook page (www.facebook.com/youth.sfcca) consistently uploaded highlights about this event, which resulted in a 120% increase of fans in a single month!
Free T-shirts and goodie bags were also given out to the first 1500 participants, and 30 lucky draw prizes including electronic items, hampers, air-tight lunch boxes and shopping vouchers were given out at the end of the Walkathon as well.