On 17th June, the Duan Wu Carnival 2012— jointly organised by Singapore Federation of Chinese Clan Associations and Toa Payoh Central Community Club—came to an end.
The carnival took place at the parade square in front of the Toa Payoh Public Library. That morning, attendees arrived early to celebrate the Dragon Boat Festival in advance. More than 5000 people attended the event and the audience was enthusiastic and lively.
Activities include drawing competitions for children, photography competitions, an exhibition showcasing the origin of the Dragon Boat Festival and other exciting forms of entertainment. Close to 20 dialect group associations also sold traditional Chinese snacks there.
The highlight of this year's carnival was the "Land Dragon Boat Competition". The design of the land dragon boat resembles that of the dragon boats originating from Sichuan, China. Contestants would step onto the "dragon boat" and run forward as a team.
To many, this was an interesting competition as they witnessed contestants stepping on "dragon boat". A contestant, who was drenched in sweat after the competition said, "The 'land dragon boat' not only has an interesting design, but is also very challenging to manoeuvre. Moreover, this competition improved my understanding of the Dragon Boat Festival."
Apart from the competition, performances on stage were also full of surprises. For instance, the Sichuan face-changing performance left the audience mesmerised and cheering.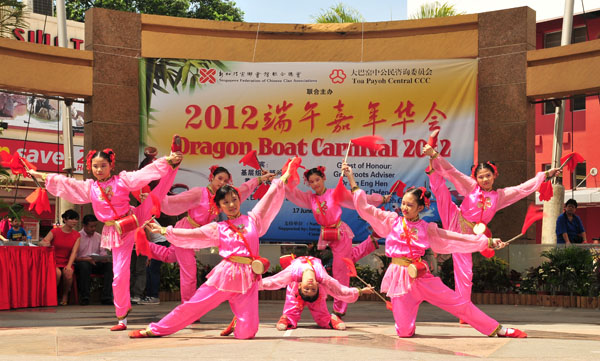 Finally, the Duan Wu Carnival 2012 came to a perfect end in a lively atmosphere of cheering and laughter. We hope to see you again next year!