As the population ages and the average lifespan increases, the need for information on healthcare services has been on the rise. Moreover, the rise in the influx of immigrants also makes it necessary for them to understand how our health care system functions.
The "New Immigrants and Singapore Society" talk series held on the afternoon of 28th April 2012 was organised by the SFCCA, co-organised by OCBC and sponsored by the National Integration Council. The focus of the talk was Singapore's health care system. Guest speakers included the CEO and Executive Director of Healthway Medical Group, Dr Lan Bing Wen, and Ms Huang Shu Yi from the National Cancer Centre.
Singapore's Healthcare System
Dr Lan first introduced Singapore's healthcare policies. He said that Singapore's national medical expenditure made up a mere 4% of our Gross Domestic Product (GDP) which is much lower as compared to the United States of America and other European countries. This is because the Singaporean government uses the principle of 'shared responsibility' such that medical expenses will be shared among three parties—the government, the employer and the patient. The subsidy will be determined according to the patient's income to prevent citizens from seeking medical help unnecessarily.
Singapore's medical system is split into three main categories—community care, hospital treatment and nursing treatment. Community care includes private clinics and polyclinics. Hospital treatment includes both public hospitals and private hospitals with public hospitals costing less due to government subsidies. On the other hand, nursing treatment can be split into middle term and long-term treatment, such as nursing homes and home medical care services, most of which are welfare agencies.
In 2012, the government rolled out the Community Health Assist Scheme (CHAS) catered to those aged 40 and above with a monthly income of $1,500 or less by providing them with medical subsidies. Dr Lan encouraged everyone to apply for CHAS to lessen their medical burden.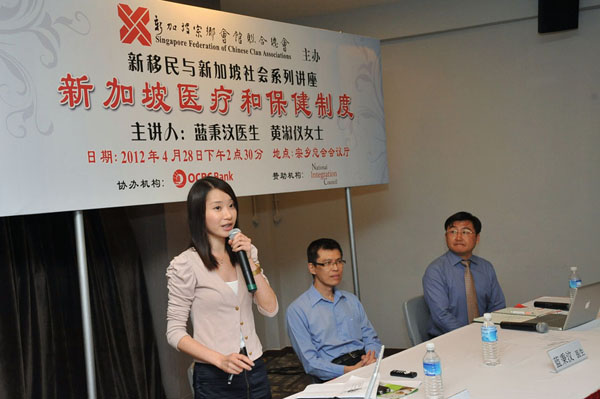 Healthcare Policies
Ms Huang Shu Yee talked about Singapore's three main healthcare policies—MediSave, MediShield and MediFund. Local citizens and Permanent Residents (PR) can enjoy privileges from both MediSave and MediShield, while MediFund is catered to local citizens only. These policies are part of the government's scheme to provide affordable healthcare services for Singaporean citizens and to offer aid to needy patients. MediSave deducts 6.5% to 9% of workers' incomes and saves it an account which is automatically set up. This money can then be used to foot the person's or the person's family's medical bills. MediSave gives out subsidies up to $450 for hospitalised patients and $300 for surgery expenses.
Next, MediShield can be used to pay long term hospitalisation bills. Patients will have to pay part of the cost first, while MediShield subsidies the remaining 80 to 90% of the medical bill. Lastly, MediFund serves as a safety net for those who are still unable to afford their medical expenses even after receiving subsidies from the government, MediSave, MediShield and ElderShield.
According to the spokesman, those unable to afford their medical expenses can seek the aid of public hospitals, medical institutions and organisations which have received approval from MediFund. The MediFund committee members will then determine the size of the subsidy the patient can receive.
More than 150 Singaporean citizens and new immigrants attended the talk and actively asked questions during the Q&A session. Some asked about the difference in medical subsidies received by Permanent Residents (PR) and Singaporean citizens. Dr Lan replied that PRs receive half as much as Singaporeans, while foreigners with work permits cannot receive these subsidies. However, foreign workers can rely on work insurance to subsidise their medical fees.
The attendees of the talk received gift packs sponsored by OCBC as well as three sets of lucky draw prizes provided by Healthway Medical Group.