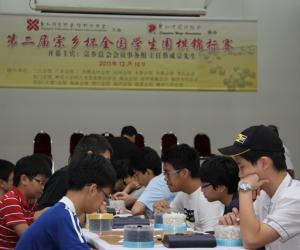 The 2nd SFCCA National Weiqi Championship, hosted by the Singapore Federation of Chinese Clan Associations (SFCCA), jointly organised by 18 clan associations and co-organised by the Singapore Weiqi Association has officially marked its conclusion on 11 December 2011. That evening, Ellen Lee, Member of Parliament for Sembawang Group Representation Constituency, arrived at the SFCCA hall and presented trophies to the award winners.
During the prize presentation ceremony, Ellen Lee pointed out that Weiqi is a broad and profound aspect of Chinese culture. It requires high attainments in gamesmanship and the right state of mind to have the upper-hand in the game. This enables Weiqi players to develop composure and discernment in face of any problems in life. Ellen Lee expresses her support and encouragement towards SFCCA for its active promotion of Chinese culture-related events over the years.
The weiqi championship is the first collaboration between the Singapore Federation of Chinese Clan Associations (SFCCA) and the Singapore Weiqi Association in many years. During the opening ceremony on 10 December, the Director of SFCCA Membership Affairs announced the plan to host annual Weiqi and Chinese Chess competitions alternately. This is to allow students to realise the charm and essence of Chinese culture, thereby effectively passing down the rich and vibrant culture whilst promoting cognitive exercises beneficial to mental and physical health.
The championship was divided into University/Open Category, Secondary School Category, Primary School Category One and Primary School Category Two. Close to 200 students contended for ten individual awards. A school-based Group Category was also specially designated. In this category, points of the top three weiqi players of each participating school were recorded. The top four schools of each category were awarded a trophy while medals were awarded to winning weiqi players.
It was a great honour to have Japanese and German weiqi players, Ms Imai Yurika and Mr Peter Marx join in the match. This highlighted the omnipresence of weiqi culture among the Chinese and the popularity of this culture among foreigners.
On the day of the competition, seven year-old Zhang Jin Jia and graduate, Xie Tang, emerged as the champion of the Primary School Category (Primary One to Three) and Open Category respectively. During the prize presentation ceremony, there were also lucky draws to ensure all participants do not leave empty-handed. Student winners received exquisite weiqi chess boards.