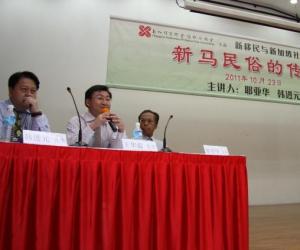 On 23rd October 2011, Singapore Federation of Chinese Clan Associations (SFCCA) held in its Multi-Purpose Hall the inaugural New Immigrants and Singapore Society Series Seminar. The guest speakers, renowned Malay language linguist Mr Jaffar Kassim and SFCCA Social Affairs Vice-chairman Mr Han Jin Yuan, spoke on the passing on the cultural practices of the Chinese and Malays in Singapore and Malaysia.
Organised by SFCCA's Social Affairs committee, the primary objective of the semimar is to provide new immigrants with useful information and knowledge with regards to living in Singapore and in turn, improve their understanding of the local culture and practices so that they can better inegrate into the Singapore society. The seminar attracted close to 100 participants – new immigrants and locals inclusive.
Mr Jaffar Kassim talked about the origins of the Malay community, its community structure and its language as well as semantics. He explained that Malays and Muslims are two different entities, and introduced the basic beliefs of Islam. On top of the dos and don'ts amongst the Malay community, he explained that the Malay community preserves its own culture and values through the different festival celebrations throughout the year.
Mr Han Jin Yuan introduced the different traditional festivals (Chinese New Year, Qing Ming Festival, Dragon Boat Festival, Hungry Ghost Festival, the Double-Seventh Day and Mid-Autumn Festival) celebrated by Chinese in Singapore and Malaysia, and highlighted the differences between those celebrated in China. Also, he mentioned how the different clan associations and community organisations have actively preserved and promoted these traditional festivals through organising celebrations.
During the Q&A session and out of curiosity, many of the attendees raised questions with regards to the Malay community and culture, and were seen diligently taking down notes. For the attendees, this seminar was a fruitful one for them, providing them with a deeper understanding of Singapore's unique culture.
This series of seminar will be held on a bi-monthly basis. Other topics to be further discussed include cultural practices, legal advice, property, marriage, medical issues, etc – with the aim of providing new immigrants with an all-rounded knowledge of Singapore.