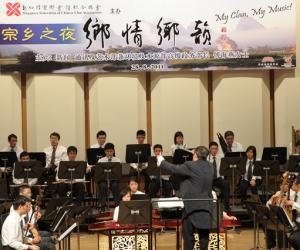 On the evening of August 28, the Singapore Federation of Chinese Clan Association (SFCCA) presented a melodious vocal concert titled "SFCCA Night: My Clan My Music" at the Singapore Chinese Orchestra Concert Hall.
Considering that clan associations are the most concentrated and comprehensive places for preserving Chinese culture, SFCCA has decided to hold a joint music concert with the Nanyang Hakka Federation Chinese Orchestra(客属总会华乐团), Ying Fo Fui Kun Chinese Orchestra(应和会馆华乐团), Singapore Hui Ann Association Chinese Orchestra(惠安公会华乐团), Singapore Ann Kway Association Guzheng Section(安溪会馆古筝组), Singapore Ann Kway Assocation Nanyin She(安溪会馆南音社) and Tong Bee Sia Nanyin She(同美社南音社).  Through this concert, SFCCA hopes to pass down the music culture of the clans, and also popularise, promote and showcase the multifarious clan culture in Singapore.
That evening, six clan associations' Chinese Orchestra teams and Nanyin She performed a series of unique clan music,  including the well-known piece "Passing on the Light" ("传灯") and "Joyous Tunes of Chinese Music"("汉乐欢歌") that teems with traditional colours. The songs provided a sensational auditory experience for the audience, taking them on a musical voyage.
This melodic journey drew to a close with the ensemble piece "Ancient Charm" ("乡韵"), performed by an orchestra comprising of participating clan associations' members, under the baton of Mr Ng Seng Hong (recipient of the Singapore Youth Cultural Medallion). This piece, enriched in clan characteristics, was composed by renowned local composer Mr Sim Boon Yew, based on classic pieces of various Chinese dialect groups, exclusively for this music concert.
The guests of honour of the night included Senior Minister of State for the Ministry of Information, Communications and the Arts, and the Ministry of the Environment and Water Resources, Grace Fu, China Embassy's Consul-General, Counsellor Gong Chunsen, Senior Parliamentary Secretary Sim Ann, Members of Parliament, Chairperson Chua Thian Poh, SFCCA directors and representatives from each clan association. Over 700 guests experienced this spectacular music journey together, affirming their support for the clan associations as well as performers for their perseverance and hard work in preserving Chinese culture.