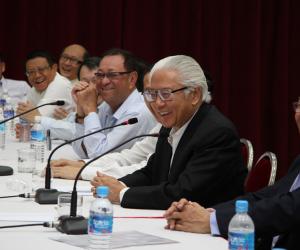 On the afternoon of 28 July 2011, Former Deputy Prime Minister Dr Tony Tan Keng Yam visited the Singapore Federation of Chinese Clan Associations (SFCCA). As one of the candidates of the 2011 Singapore Presidential Election, Dr Tan expressed his hope to hear about concerns of the clan associations during this visit and answer their queries. Mr Chua Thian Poh, SFCCA Chairman, warmly welcomed Dr Tan's arrival. With more than 50 representatives from various clan associations in attendance, participants exchanged views with Dr Tan on various important topics, covering national policies and issues concerning the Chinese community.
Dr Tan shared that he resigned from his position at the Singapore Press Holdings (SPH) for the presidency, partly because he was concerned about the social polarisation emerging in Singapore. From the recent General Elections (GE), he observed the anger and resentment from the community towards the government. While the government is responsible for mending ties with the public, Dr Tan believed that if elected as President, his close relationship with the government would allow him to have some influencer on policy-making.
When asked if he would frequently attend events organised by clan associations after assuming the presidency, Dr Tan expressed that community events, such as those organised by the clan associations, play a crucial role in bringing Singaporeans together. He acknowledge the importance of SFCCA in this aspect and mentioned that he looks forward to more opportunities to interact with the Chinese community and clan associations.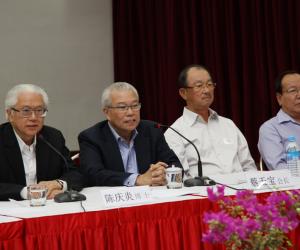 With regards to the Mother Tongue education policy, Dr Tan stressed the importance of our Mother Tongue languages. During his tenure as the Minister of Education, he placed significant emphasis on bilingual education and highlighted the importance of mother tongue education. He is also heartened that the Ministry of Education (MOE) continues to encourage the learning of Mother Tongue languages in school. In his many years at SPH, Dr Tan had also published a litany of reading materials for primary and secondary school students, encouraging children to read Mandarin.
On the topic of Singapore's immigration policy, Dr Tan believes that Singapore's low birth rate necessitates the influx of foreign talent to enhance productivity. However, this should be done gradually, as our society is unable to accommodate such a high influx in short order.
When asked about the disclosure of investment projects by the Government of Singapore Investment Corporation's (GIC), Dr Tan explained that the level of disclosure is decided by the Ministry of Finance and the Cabinet, instead of the President. Also, investment projects from our national reserves are not disclosed so as to avoid financial attacks on Singapore. Having served as the Chief Executive Officer (CEO) of GIC, he believed that this matter is complex, and once disclosed, there would be no turning back. Furthermore, the Singapore government has gradually adjusted its reporting cycles from a 20-year period to medium and long-term cycles of 5 years and 10 years.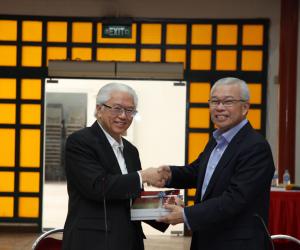 Mr Chua Thian Poh, SFCCA Chairman, presenting a token of appreciation to Dr Tan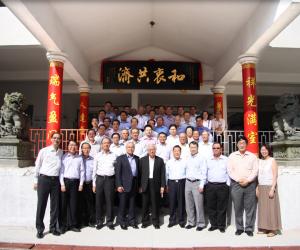 Post-event photo of all attendees with Dr Tan