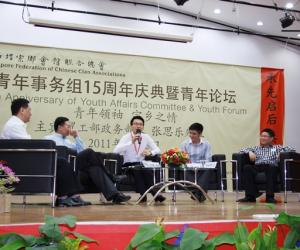 The Singapore Federation of Chinese Clan Associations (SFCCA) Youth Committee held the "15th Anniversary Celebration and Youth Forum" at 10:30am on 25th June 2011, hoping to take this opportunity to reposition itself and create a new image. Guest of honour Minister of Trade and Industry Mr Teo Ser Luck and Senior Parliamentary Secretary at the Ministry of Education and the Ministry of Law Sim Ann attended the event. Close to 400 people gathered at the SFCCA Multi-purpose Hall, with many young people in attendance.
This event was the first in a series of events that the Youth Committee has planned, in a multi-faceted attempt to attract more young people to participate in clan association events. Apart from inviting SFCCA member association representatives and members of youth committees, SFCCA also hopes to tap on the network of SCCI's Youth Entrepreneur Network, Business China, the Chinese Scholars and Students Association in Singapore and the Chinese High School Alumni in Singapore Association, to get them to support events by sending their members to attend. It is hoped that this platform can provide more opportunities for new immigrants and local, old immigrants and young Singaporeans to interact with one another and get to know each other.
15th Anniversary Celebration: Continue the work of the past and create the future together

In his speech, SFCCA Chairman Chua Thian Poh pointed out that 15 years has been a development process. While reflecting on past achievements, we must also look to the future. Youth are the pillar of the country and the hope for the future development of clan associations. They are both successors and inheritors of Chinese culture and values. Through various channels, SFCCA will organise activities suitable for young people, so that they will have more opportunities to come into contact with clan associations, understand clan associations, and join clan associations, so that clan associations will be live on.
Minister of Trade and Industry Mr Teo Ser Luck said that he has come across many young people during his time at the Ministry for Community Development, Youth and Sports. He claims that they were enthusiastic, curious, energetic and innovative. They make good use of new media, an essential part of their lives, which are inseparable from the Internet, Facebook, Twitter, etc. He believes that the SFCCA Youth Committee's work is a good start. Using new media will make it easier to promote and share information young people, helping them to understand clan associations.
At the same time, he also called on clan associations to encourage young people to contribute by doing what they are good at, with a more open mind. He also believes that clan associations will be able to attract young people, and bring in more new blood.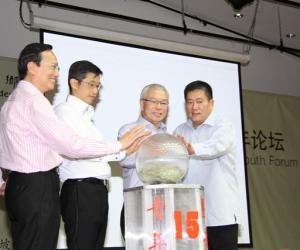 In conjunction with the 15th Anniversary celebration, the SFCCA Youth Affairs Team conveyed their vision of a new image, with the slogan "continue the work of the past and create the future together". In order to create a new, creative and professional image, the Youth Committee launched its website and Facebook page at the ceremony, which was initiated by Minister Teo Ser Luck, SFCCA President Chua Thian Poh, SFCCA Secretary-General Patrick Lee Kwok Kie and SFCCA Youth Committee Chairman Mr Thomas Pek.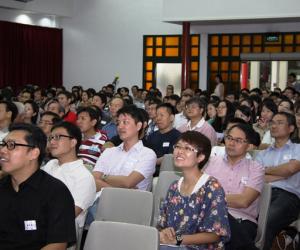 Youth Leaders, Clan Associations

Subsequently, the main event of the day, the Youth Forum, commenced. Based on the theme "Youth Leaders, Clan Associations" four outstanding youths were invited to talk and share about how they joined clan associations, the development of clan associations, what they saw, learned, heard, and felt during their time in clan associations, and how they balance their careers, families and work at clan associations. The forum aims to combine young people and clan associations, showing that there is still value for young people to participate in clan associations.
Dr Chua Tianrong from Hokkien Huay Kuan, currently the deputy director of the Education Department, is responsible for assisting with affairs related to the 6 schools under Hokkien Huay Kuan and to let children enter clan associations to learn Chinese and Chinese culture. Lawyer Liu Daowei from Lam Ann Association is only 28 years old, but has participated in clan association activities for almost 20 years. Thus, he sees people at the clan associations as his friends, and clan association activities are like gatherings with friends for him. Neo Guoquan got to know about the Kong Chow Wui Koon through wushu and lion dance. After participating in clan activities for around 30 years, the clan has already become a platform for him to develop his martial arts skills, and he is now the deputy director of the lion dance group. Ke Hongjing is a successful entrepreneur who immigrated to Singapore more than 10 years ago. He started by establishing the Fujian Student Organisation, through which he joined the Chin Kang Huay Kuan, and organised activities with the youth committee. He is now the vice president of the clan and president of the youth committee.
The wonderful sharing by the four youths allowed guests to have a better understanding of clan associations and the youth of clan associations. The guests actively asked questions, and some shared their own ideas about content discussed. In the subsequent buffet lunch, the clan association leaders, young people and young new immigrants interacted and got to know each other. The event ended on a lively note.