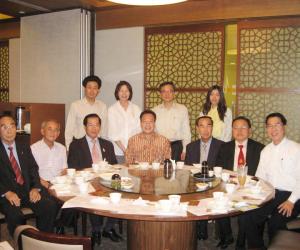 The 6-member representative group, led by Mr Huang Han Liang, Chairman of The United Chinese Clans Association of Thailand, arrived in Singapore on 24th March 2010. They were welcomed by Mr Lim Fang Hua, Secretary-General of SFFCA, and four other representatives at the airport where they hosted a banquet.
On 23rd March 2010, the representative group had flown to Jakarta, Indonesia, to enquire and learn more about the progress and details of the conference from the Indonesian organisers regarding the 4th ASEAN Chinese Clan Associations Conference which will be held this year. The purpose of the stopover in Singapore was to report on the interview results and progress of the conference to SFCCA and to have a discussion on how to build bridges between young entrepreneurs of the two countries to promote cooperation and common development.
Chairman Huang Han Liang mentioned that the conference has been scheduled to be held in Jakarta from 17th to 20th October 2010. The Secretary-General of ASEAN will be invited to attend the conference and they would also seek to invite Indonesian President Susilo Bambang Yudhoyono. In addition to a networking session, the conference will also introduce the development of clan associations in different countries as well as local topics on culture, tourism, and economy. He also revealed that he would propose a switch to having the conference biennially during the conference this time round.