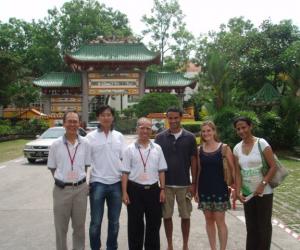 On 11th October 2009, four representatives from SFCCA's Youth Committee headed to the Singapore Kwong Wai Siew Peck San Theng to participate in the "Bishan Cultural Tour". The organisers of the event invited more than 100 participants including the residents from the neighbourhood, students as well as members from 16 clan associations under the Peck San Theng umbrella. Lim Hwee Hua, Minister in the Prime Minister's Office, was also invited for the opening ceremony of the event.
Cen Kang Sheng (岑康生), Chairman of the Singapore Kwong Wai Siew Peck San Theng, mentioned at the opening ceremony that the main objective of organising the "Bishan Cultural Tour" is to further promote the history and cultural heritage of Peck San Theng and to develop the place into an attraction for tourism and historical research.
Singapore Kwong Wai Siew Peck San Theng is no longer just a columbarium. In recent years, it has been renovated whilst having its original style preserved, with the addition of Shiwan glazed pottery decoration to further consolidate and beautify the original buildings and making the overall appearance more elegant and aesthetic. Many related artefacts and historical photographs are also displayed there.
Peck San Theng also proposed a decade-long plan to continuously improve the architectural and landscape environment under the motto of "Be prudent in remembering one's ancestors through generations (慎终追远、源远流长)". It is hoped that in the long run, more visitors will take interest in exploring and visiting the area.
At the same time, Peck San Theng has launched a CD on its rich culture and the significance of filial piety and rituals. Earlier on, they also launched a booklet "Bishan Cultural Journey" in English featuring 10 attractions in the Bishan neighbourhood, including the Harmony Centre @ An-Nahdhah Mosque, Bishan HDB flats, Kong Meng San Phor Kark See Monastery, Singapore Kwong Wai Siew Peck San Theng and others.
After the tour, SFCCA's Youth Committee members had a friendly exchange session with the youth group from Peck San Theng, discussing the possibility of sharing resources and collaborating on youth activities.