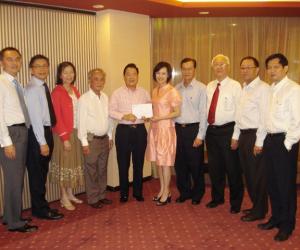 SFCCA Vice-President Ho Kiau Seng (fourth from right), Treasurer Ho Kwok Choi, and several council members handed over donation cheque to representative Vanessa Shih (sixth from left)
On 8th August 2009, the most severe flooding in more than half a century occurred in Taiwan, resulting in a great loss of lives and properties. To help the victims reconstruct their homes and resume their daily lives, SFCCA immediately rallied its member associations to donate generously to help the victims tide over the difficult times, displaying SFCCA's long-held spirit of helping those in distress and showing solidarity and mutual help.
A total of 31 member associations and four individuals donated a total of S$43,000 to SFCCA. The amount was then handed over to Vanessa Shih, representative of the Taipei Representative Office in Singapore on 7th October 2009  by SFCCA Vice-President Ho Kiau Seng, Treasurer Ho Kwok Choi, and several other council members.
Other than donating through SFCCA, member associations such as Tung Ann District Guild and Kim Mui Hoey Kuan also donated directly to the Taipei Representative Office.
The Taipei Representative Office in Singapore would like to express their gratitude to SFCCA and all member associations for their generous donations, and further declared that all donations would be hand over to the Ministry of Interior of Taipei for the distribution of materials, relief, and other purposes in the disaster-hit areas.
List of clan associations which had donated generously:
Singapore Hokkien Huay Kuan, Singapore Ann Kway Association, Chin Kang Huay Kuan, Singapore Futsing Association, Singapore Foochow Association, Singapore Lam Ann Association, Long Tee Kong Whee, Tong Bee Sia, Singapore Leong Khay Huay Kuan, Ying Fo Fui Kun, Singapore Kwangtung Hui Kuan, Foong Shoon Fui Kuan, Nanyang Sim Clan Association, Peh Clan Association, Lau Clan General Association, Nanyang Fang Shee Association, Tai Guan Ong See Association, Nanyang Hwu Clan General Association, Eng Choon Hway Kuan Singapore, Ching Yoon Wooi Kwoon, Huang Clan Chichang Association, Teo Chew Kang Hay T'ng, Boey Ni Lam Hong, Eng Teng Association, Tanglin Heng Jow Tang Yeo Wee, Siow's Clan Guild Association, Nanyang Phua Clan Association, Canton Wong Clan Association Singapore, Guangxi and Gaozhou Association, Singapore Loo Clan Association, Kar Yeng Five Districts General Association, and Singapore Khoh Clan Association.