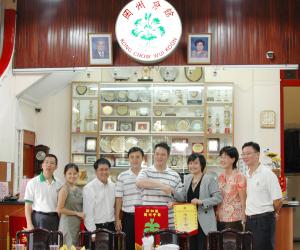 SFCCA Youth Affairs Committee and Kong Chow Wui Koon representatives interact and exchange banners
On the afternoon of 14th June 2009, 5 members from the Singapore Federation of Chinese Clan Associations (SFCCA) Youth Affairs Committee went to Chinatown to visit the Kong Chow Wui Koon and Singapore Hok San Association, and interact with the youth committees there.
The purpose of the meeting was to understand how the clan associations were operating, and to learn about the current status and activities of the youth committees. SFCCA Youth Affairs Committee Director Lee Wee Chung Charlie expressed that he hoped to use this opportunity to better understand other clan associations, build an interactive platform, learn from one another, work together and explore the possibility of cooperation.
Kong Chow Wui Koon plays to its strengths by being open and inclusive
The Kong Chow Wui Koon, established in 1840, has a long history and just celebrated its 169th anniversary in early June. Leong Kwok Khuen, deputy head of the youth committee and deputy director of the lion dance troupe, said at the meeting that young people at the clan association started being in charge of some events last year, and 9 were then selected to form the youth committee. The youth committee also set up a blog to promote its events.
The Kong Chow Wui Koon is unique, because it has been open to members of different dialect group and race since 1973. Such members can even become directors or deputy directors. President Lo Hock Ling said that there have been Caucasians and people from other ethnic groups who have participated in the association's lion dance or musical performances, and that there are also people from other dialect groups holding directorial positions.
Members of the junior lion dance troupe, established in 2003, are all recruited thanks to clan members, who encourage their children to join the association by learning wushu or lion dance. Members who were recruited since young have a stronger sense of belonging to the association, and are poised to become important members of the association in the future.
Kong Chow Wui Koon allows young people to engage in activities that they are interested in. The association believes in letting young people play to their strengths, as they will have more motivation doing those activities. Such a mentality has helped maintained its vitality.