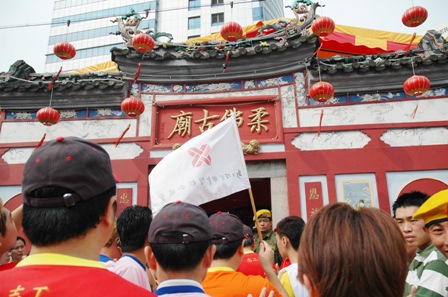 SFCCA's Youth Committee members entering The Old Temple of Johor Bahru
On 14th February 2009, 14 members from SFCCA's Youth Committee participated in the Johor Chingay parade at the invitation from Persekutuan Tiong-Hua Johor Bahru's youth group. The group departed at 7.30am and arrived at the Tiong-Hua Johor Bahru building at 9am for an exchange meeting. After the meeting, the group participated in the Johor Chingay parade, a live fossil in Johor Culture.
A beginning. Not an end.
During the exchange meeting, SFCCA's representative – Chairman of Youth Committee Mr Lee Wee Chung Charles exchanged gifts with Tiong-Hua Johor Bahru youth group's leader. He thanked Tiong-Hua Johor Bahru for their warm invitation and stressed that this exchange is a beginning for more cooperations between the two organisations.
During the meeting, Tiong-Hua Johor Bahru's secretary introduced the history of Tiong-Hua Johor Bahru and the Johor Chingay Parade. In the past, most immigrants were teochew. Soon, more people from the other descents came to Johor. The Chingay Parade originated from the Teochew tradition of 'parading the deity'. When the Ghee Hin Kong Si (predecessor of Tiong-Hua Johor Bahru) led the Chinese community, every descent worshipped the same five deities in the Old Temple of Johor Bahru, shared the same burial ground and contributed to the development of Foon Yew Schools. There were no splitting based on descent, forming a united Chinese Community. This tradition of 'five clans together' has continued to live on in Johor's Chinese Community today.
The Old Temple of Johor Bahru was established 135 years ago by the five clans. Tiong-Hua Johor Bahru acted as a coordinator in its establishment. The five clans are Teochew, Hokkien, Hakka, Cantonese and Hainan, also known as the 'Five Clans'. Traditionally, the Chingay parade was held to thank the deity for their protection and wish for a prosperous year ahead. Today, it is not an important yearly celebration for the people of Johor.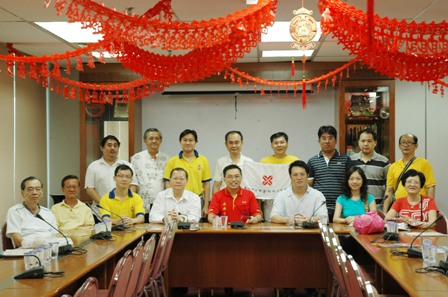 Group photo with Tiong-Hua Johor Bahru's youth group