Singapore Federation of Chinese Clan Associations (SFCCA) and Singapore Xiangqi General Association held the 5th National Zong Xiang Cup Chinese Competition on 22nd November at SFCCA Multi-Purpose Hall @ Level 1. The competition was co-organised by 26 clan associations and attracted more than 300 competitors who pitted their wits against each other to see who would emerge victorious.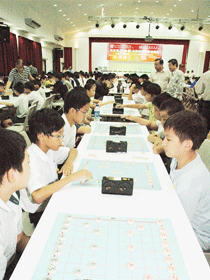 This year's competition attracted students from 40 different tertiary institutions as well as students from primary and secondary school, including 3 students from other races. To allow more people to understand the culture of Chinese Chess, the organising committee has opened up 2 more categories: Tertiary category and youth category, for youths aged below 28 years old.
The competition drew to a close in the evening on 23rd November. Member of Parliament for Tanjong Pagar GRC, Mr Tan Chin Siong was invited to host the award ceremony. In his speech, he encouraged the participants to continue their hard work and promote Chinese Culture.
The Zong Xiang Cup National Chinese Chess competition has grown in size. This year, it received the support of 26 clan associations and was widely advertised on Capital 95.8FM radio station.
In the interview, Mr Yong Ah Seng said that more schools are treating the Zong Xiang Cup as an important competition to test the Chinese Chess skills of their students. He hopes that the Zong Xiang Cup National Chinese Chess competition can grow in size to attract more student and youth participation.