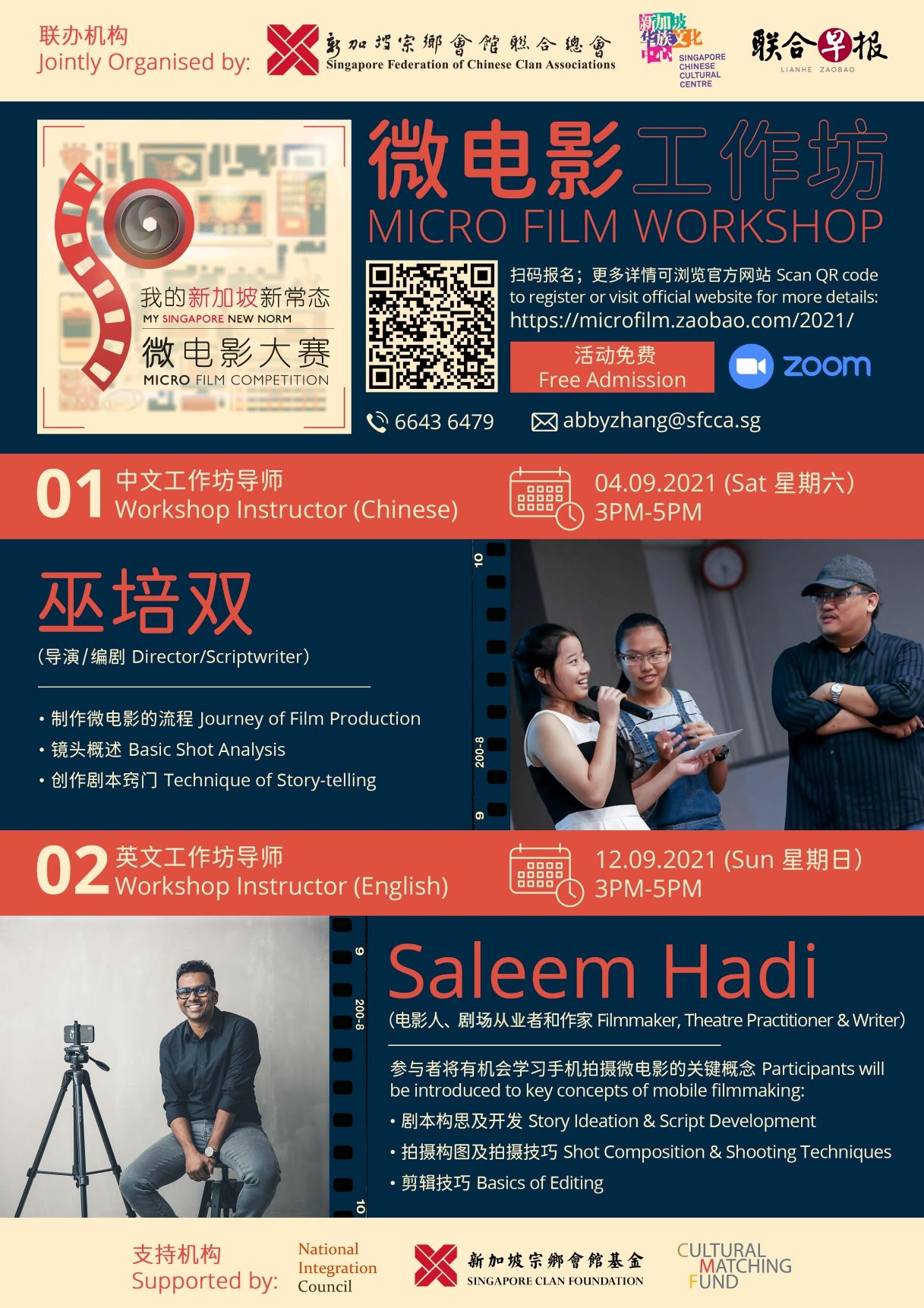 "My Singapore New Norm" Micro Film Competition – Workshops
"My Singapore Style" Micro Film Competition is now open for submissions! 🎬
Following the "My Singapore Story", "My Singapore Future" and "My Singapore Style" themes in 2014 , 2016 and 2018 respectively, participants are invited to work on the theme, "My Singapore New Norm" for this round, to express their newfound observations, understanding and perspectives through lenses. Micro Film Competition is jointly organised by SFCCA, Singapore Chinese Cultural Centre and Chinese Daily Lianhe Zaobao.
Registration closes on 20th December 2021, while submission of works closes on 1st February 2022, a total close of $30,000 cash prizes awaits to be won! 😍
🎥 In a bid to encourage novices to participate and to equip them with the necessary skills, a series of workshops on micro film production will be conducted in Mandarin and English respectively, from September to October 2021. Participants will have the opportunity to learn from veteran filmmaker Boris Boo on the essentials of micro film production. The first workshop will be conducted in Mandarin. Also, don't miss the mobile filmmaking workshop conducted in English, by award-winning filmmaker Saleem Hadi, on the essentials of mobile film-making production!
💥 𝗪𝗢𝗥𝗞𝗦𝗛𝗢𝗣 𝗗𝗘𝗧𝗔𝗜𝗟𝗦 💥
First Workshop Date: 4th September 2021 (Sat)
Second Workshop Date: 12th September 2021 (Sun)
🕒 Time: 3pm – 5pm
📍 Platform: Zoom
💬 Online Registration: tinyurl.com/microfilmworkshop
🔗 Official Website: microfilm.zaobao.com/2021
📞 Phone Enquiries: 6354 4078 (Abby)
📧 Email Enquiries: abbyzhang@sfcca.sg