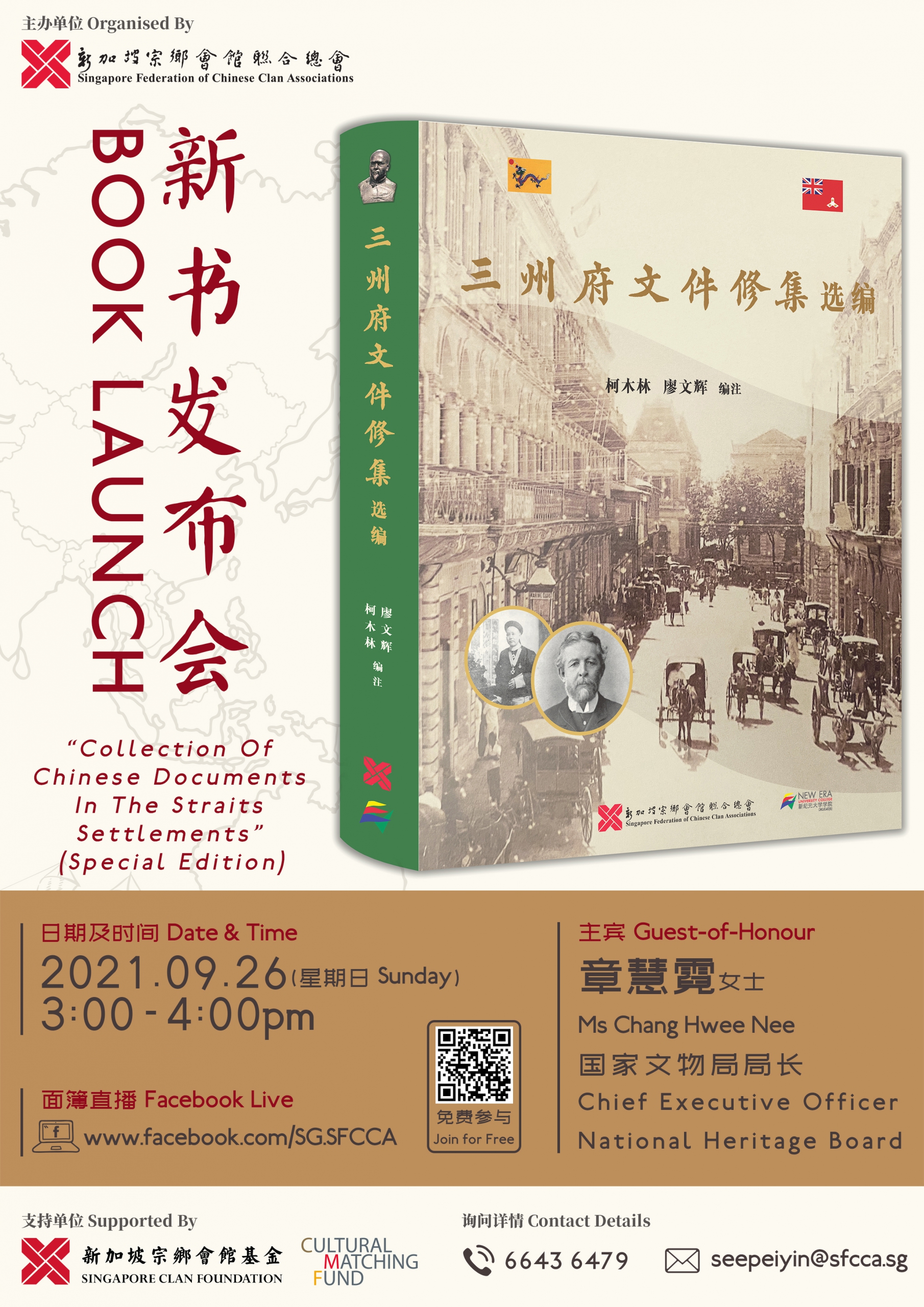 Book Launch: "𝐂𝐨𝐥𝐥𝐞𝐜𝐭𝐢𝐨𝐧 𝐨𝐟 𝐂𝐡𝐢𝐧𝐞𝐬𝐞 𝐃𝐨𝐜𝐮𝐦𝐞𝐧𝐭𝐬 𝐢𝐧 𝐭𝐡𝐞 𝐒𝐭𝐫𝐚𝐢𝐭𝐬 𝐒𝐞𝐭𝐭𝐥𝐞𝐦𝐞𝐧𝐭𝐬" (𝐒𝐩𝐞𝐜𝐢𝐚𝐥 𝐄𝐝𝐢𝐭𝐢𝐨𝐧)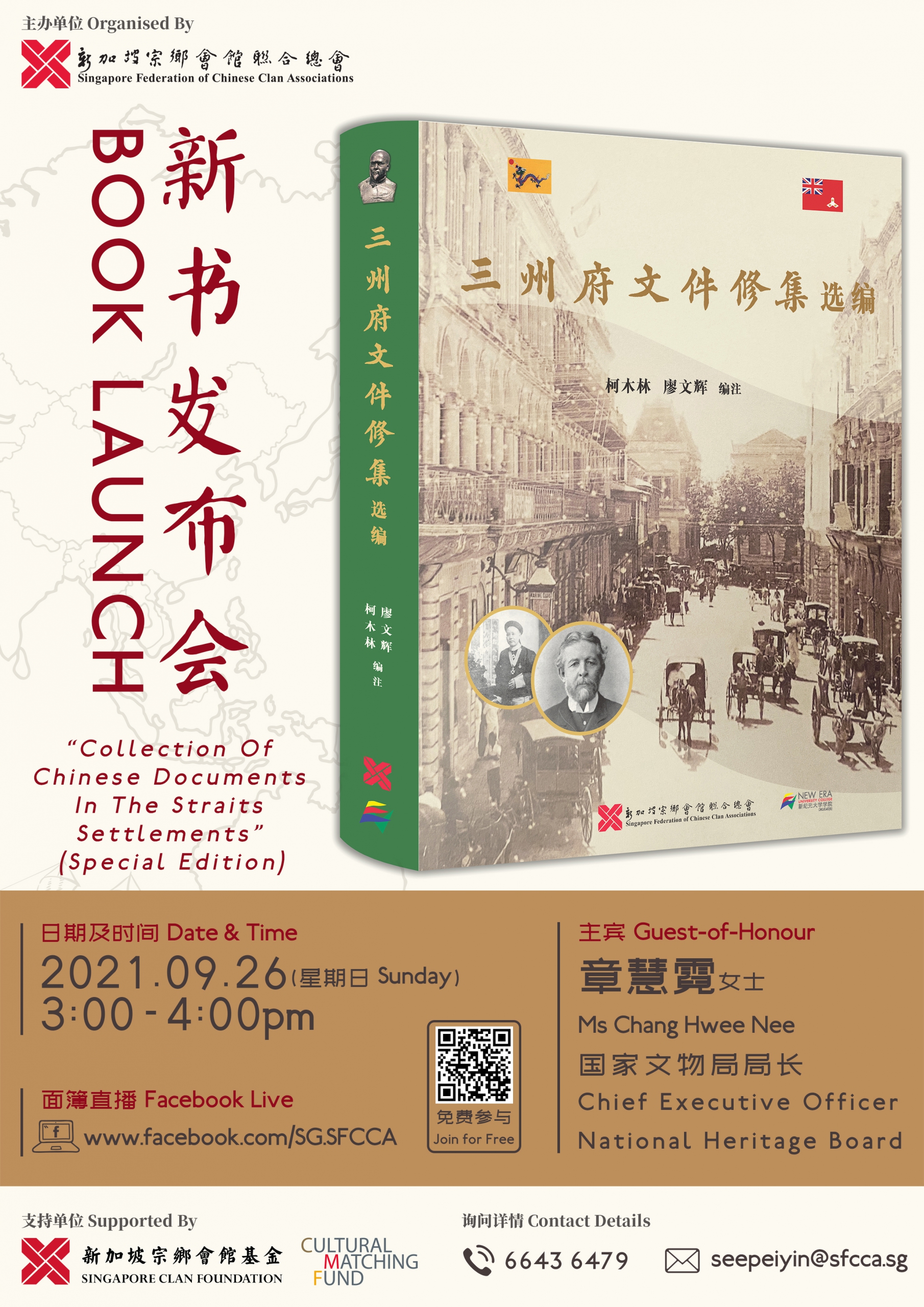 In conjunction with SFCCA's 35th anniversary celebration, SFCCA and Malaysia New Era University College have jointly published the "𝐂𝐨𝐥𝐥𝐞𝐜𝐭𝐢𝐨𝐧 𝐨𝐟 𝐂𝐡𝐢𝐧𝐞𝐬𝐞 𝐃𝐨𝐜𝐮𝐦𝐞𝐧𝐭𝐬 𝐢𝐧 𝐭𝐡𝐞 𝐒𝐭𝐫𝐚𝐢𝐭𝐬 𝐒𝐞𝐭𝐭𝐥𝐞𝐦𝐞𝐧𝐭𝐬" (𝐒𝐩𝐞𝐜𝐢𝐚𝐥 𝐄𝐝𝐢𝐭𝐢𝐨𝐧)! 🎉 The book launch will be happening on 26th September 2021 (Sunday), through Facebook Live on our Facebook page (www.facebook.com/SG.SFCCA).
📓 To learn more about or to purchase the "𝐂𝐨𝐥𝐥𝐞𝐜𝐭𝐢𝐨𝐧 𝐨𝐟 𝐂𝐡𝐢𝐧𝐞𝐬𝐞 𝐃𝐨𝐜𝐮𝐦𝐞𝐧𝐭𝐬 𝐢𝐧 𝐭𝐡𝐞 𝐒𝐭𝐫𝐚𝐢𝐭𝐬 𝐒𝐞𝐭𝐭𝐥𝐞𝐦𝐞𝐧𝐭𝐬" (𝐒𝐩𝐞𝐜𝐢𝐚𝐥 𝐄𝐝𝐢𝐭𝐢𝐨𝐧), please visit 🔗 sfcca.sg/en/sanzhoufu.
‎ ‎ ‎ ‎ ‎📅 Date: 26th September 2021 (Sunday),
‎ ‎ ‎ ‎ 🕒  Time: 3pm – 3.40pm
‎‎ ‎ ‎ ‎ ✨ Guest-of-Honour: Ms Chang Hwee Nee, CEO, National Heritage Board