‎‎
‎
Duan Wu Carnival, jointly organised by Singapore Federation of Chinese Clan Associations, Singapore Chinese Cultural Centre and Toa Payoh Central Community Club, is going digital this year! A series of online activities has been specially planned for you and your loved ones to immerse in the virtual Duan Wu Festival celebrations from the comfort of your homes!
‎
The activities include:
Youth art contest
Online game
Learning about the Duan Wu Festival's history
Learning about the different Duan Wu traditions
Learning how to make rice dumplings unique to different dialect groups
Travelling around the world to see different countries' rice dumplings
To find out more, please click

HERE

.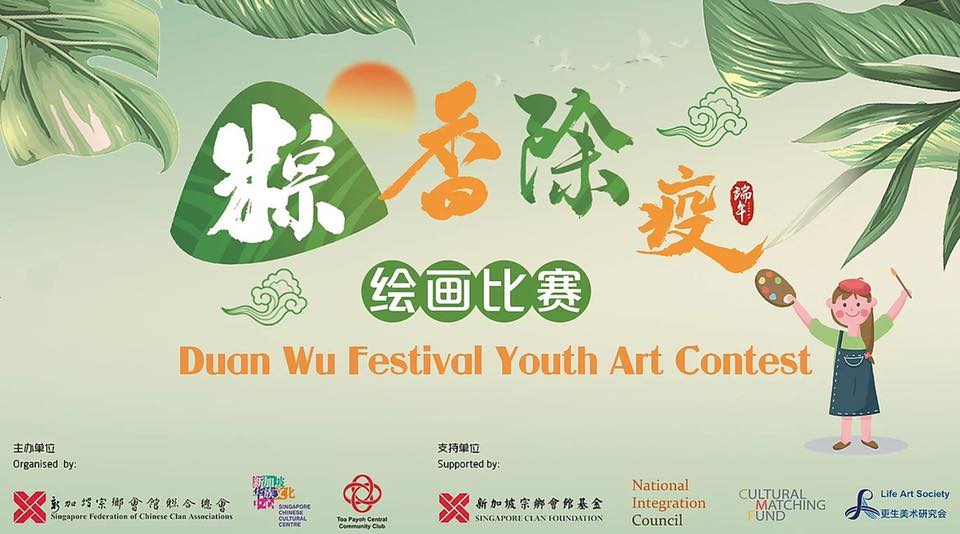 The "𝐃𝐮𝐚𝐧 𝐖𝐮 𝐅𝐞𝐬𝐭𝐢𝐯𝐚𝐥 𝐘𝐨𝐮𝐭𝐡 𝐀𝐫𝐭 𝐂𝐨𝐧𝐭𝐞𝐬𝐭" has ended on the 30 June with a total of 146 entries! 🥳🎨
⬇️ Click on the URLs above to vote for your favourite artworks now!
‎ ‎ ‎ ‎ ‎ ‎ ‎ ‎ ‎ ‎ ‎ ‎ ‎ 👨‍🎨  Children Category:
‎ ‎ ‎ ‎ ‎ ‎ ‎ ‎ ‎ ‎ ‎ ‎ ‎ ‎ https://tinyurl.com/duanwudrawingsCC
‎ ‎ ‎ ‎ ‎ ‎ ‎ ‎ ‎ ‎ ‎‎ ‎ 👩‍🎨 Youth Category:
‎ ‎ ‎ ‎ ‎ ‎ ‎ ‎ ‎ ‎ ‎ ‎‎ ‎ https://tinyurl.com/duanwudrawingsYC