Spectacular fireworks, dazzling lanterns, delectable food delicacies, as well as amusement rides and games stalls are among some of the highlights for the upcoming River Hongbao 2020 (RHB2020) not to be missed. Held annually and with an exciting line-up of programmes, RHB2020 will be back this year, from 23rd January (Thursday) to 1st February (Saturday) at The Float @ Marina Bay. Admission is free.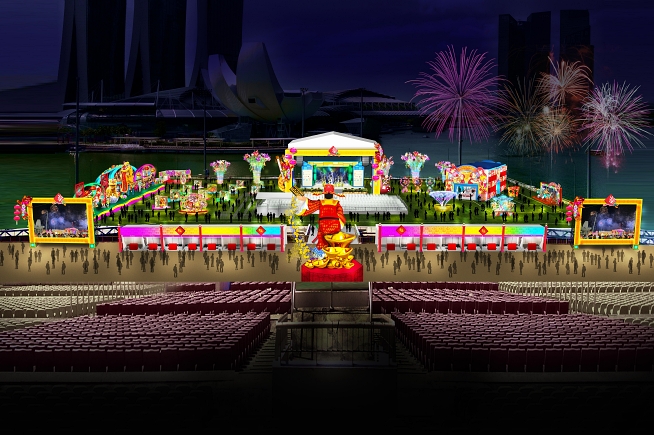 Aerial View of RHB2020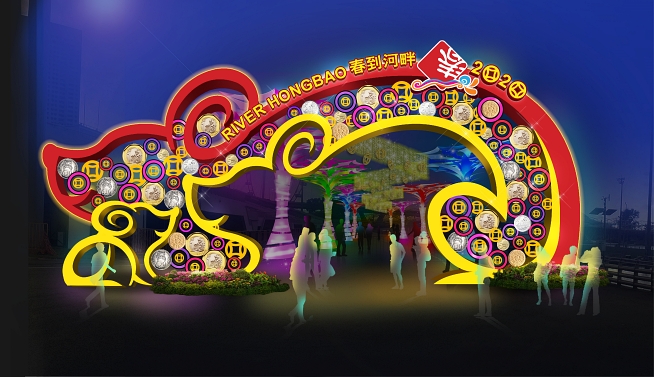 Since it is the Year of the Rat, the design of the Main Entrance Arch features a distinctive shape of an adoring Rat

RHB2020's largest lantern set, measuring 50m long and 12m tall, features how we celebrate Chinese New Year in our own Singaporean style, based on the theme "Harmonious Family, Happy New Year! (过年了! 合家欢乐)".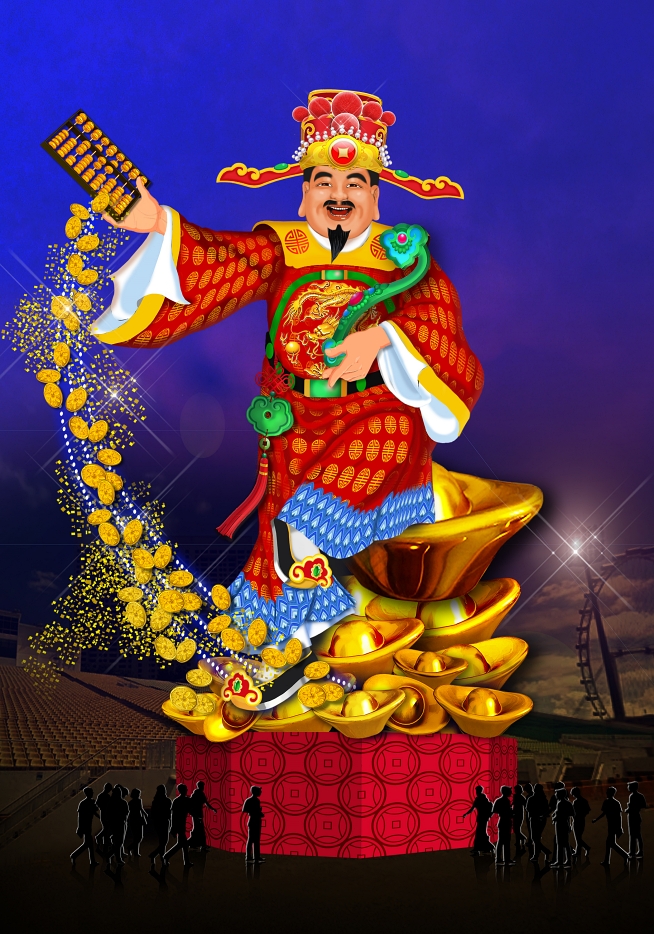 The 18m tall God of Fortune has on one hand, a Ruyi sceptre, and on the other, an abacus (symbolising "count" which share the same Chinese pronunciation as the zodiac animal "Rat")
President of Singapore Federation of Chinese Clan Associations (SFCCA) and Chairman of RHB2020 Organising Committee Mr Tan Aik Hock shared during the press conference on 17th December 2019 that the event has come a long way since the 1980s and has since evolved into a Spring Festival celebration unique to Singaporeans. He is confident that with the strong support of local businesses and clan associations, the upcoming edition of River Hongbao will continue to bring to Singaporeans and overseas visitors, both the young and old, an unforgettable Spring Festival celebration.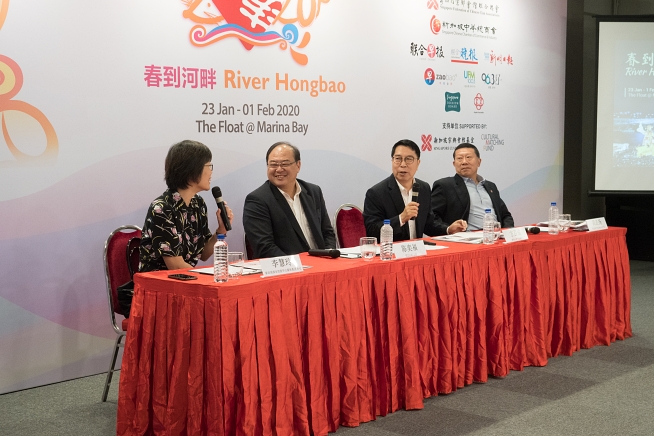 Press conference panellists include (L-R): Ms Lee Huay Leng (Head of Singapore Press Holdings' Chinese Media Group and Member of the RHB2020 Organising Committee), Mr Tan Aik Hock (President of SFCCA and Chairman of RHB2020 Organising Committee), Mr Perng Peck Seng (Secretary-General of SFCCA  and Programme Chairman of RHB2020 Organising Committee), and Mr Lu Cheng Yang (Secretary-General of Singapore Chinese Chamber of Commerce & Industry)
The RHB2020 visitors can expected to see nightly fireworks against the Marina Bay skyline, ranging from three minutes to six minutes long. On the last two days of RHB2020, visitors can look forward to the dazzling Chingay floats which will make their way to The Float @ Marina Bay. The fireworks schedule is as follows:
23rd January: 9pm
24th January: 12am
25th to 28th January: 9pm
29th and 30th January: 10pm
31st January and 1st February: 9:30pm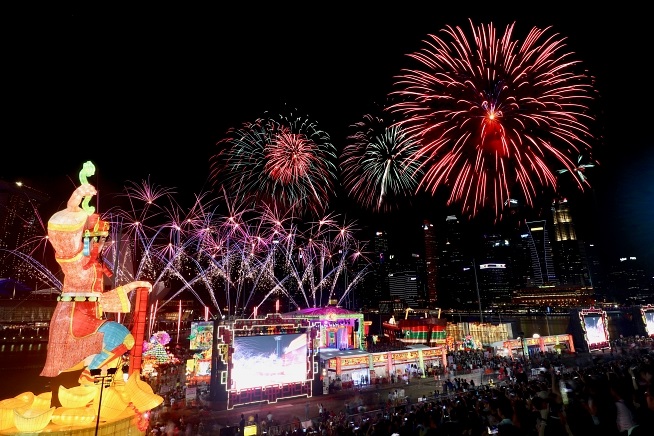 For ten nights in total, expect to see fireworks with the greatest span of firing points in River Hongbao's history
Another highlight of RHB2020 is the exhibition titled "Prosperity in Packets, Hongbao in Chinese Culture". Co-curated by the Sun Yat Sen Nanyang Memorial Hall, students from the Singapore Chinese Girls' School and the Lianhe Zaobao Student Correspondents' Club, the exhibition not only traces the origins and evolution of the Lunar New Year tradition of hongbao or red packet gifting, it showcases how hongbaos are also given in other countries including Korea, Japan and Vietnam. The highlight of the exhibition is a showcase of over 400 hongbaos which include valuable collector's items and beautiful designs with interesting stories behind them. About 80 students from eight secondary schools will conduct guided tours during the exhibition.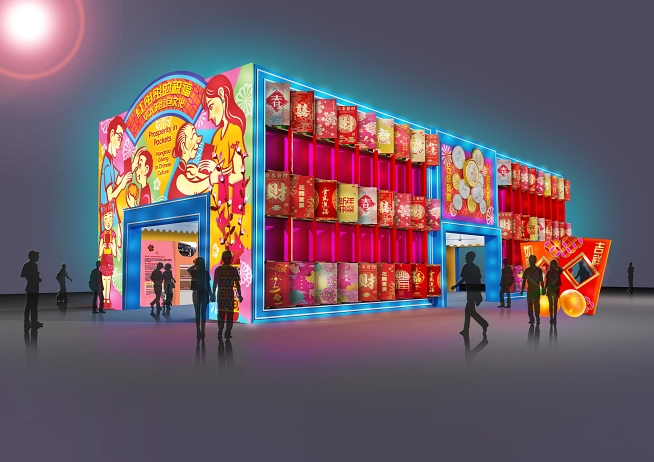 "Prosperity in Packets: Hongbao Giving in Chinese Culture" Exhibition
River Hongbao will feature over 40 stalls selling various food and beverage items. On 29th and 30th January 2020, clan associations will be setting up stalls to sell traditional delicacies by their respective dialect groups. Visitors can look forward to trying out unique and instagrammable mocktails specially curated for River Hongbao by Fraser and Neave (F&N). The flavours include "Tropical Mermaid", "Butterfly Lovers" and "Pink Lagoon".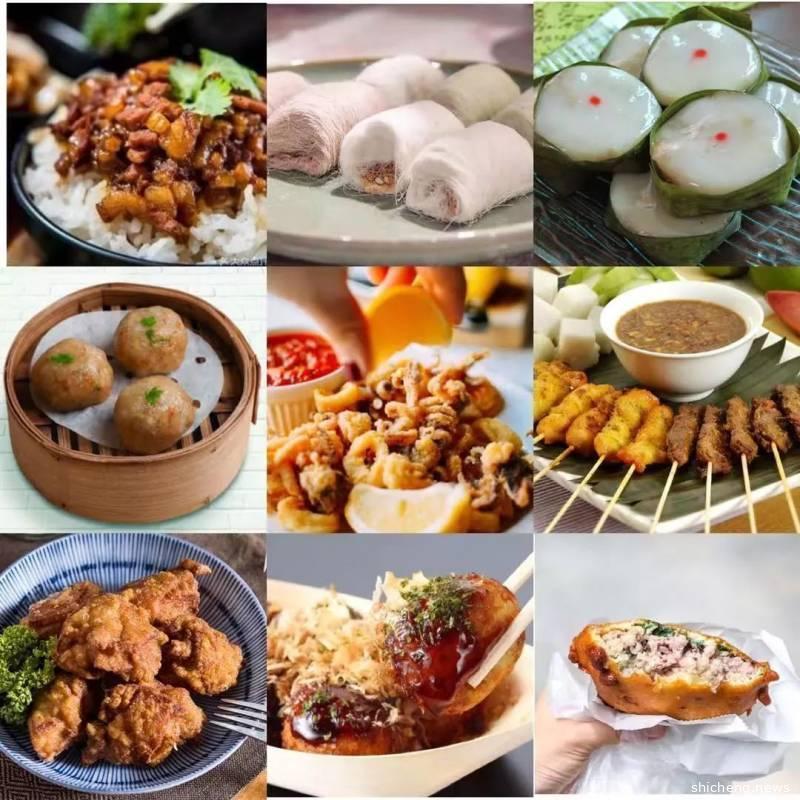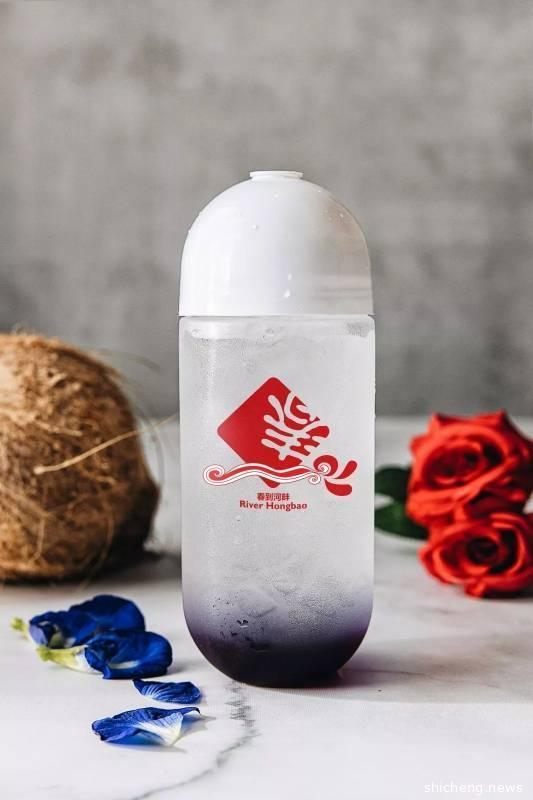 To engage more young Singaporeans to participate in this festive celebration, RHB2020 key sponsor POSB is introducing #HuntYourZodiac, a virtual game specially designed for RHB2020. #HuntYourZodiac integrates elements of augmented reality to build an immersive virtual experience where players can search for, hunt and encounter the zodiac animals via their mobile screens while walking around The Float @ Marina Bay.
The Instagram Lookbook Competition which was first introduced in 2019 received overwhelming response from the public, with over 4,000 submissions. Besides nightly prizes to be won, the grand prize is a pair of return business class tickets from Singapore to Seattle, sponsored by Singapore AIrlines.
Stage programmes are not to be missed. On the first four evenings of RHB2020, Shandong Song & Dance Theatre and University of Taipei's Department of Dance will be taking the stage amongst other intriguing performances. Each evening follows a different theme dedicated towards honouring Singapore's multi-cultural harmony and talents. Get ready to be dazzled by local artistes like Zoe Tay, Desmond Tan, Romeo Tan, Mark Lee, Dennis Chew, Guo Liang, Kym Ng, Paige Chua, He Ying Ying, Chantelle Ng, vocal band Micapaella, singer Nathan Hartono, and more.
RHB2020 is jointly organised by the Singapore Federation of Chinese Clan Associations, Singapore Chinese Chamber of Commerce and Industry, Singapore Press Holdings' Chinese Media Group, Singapore Tourism Board and People's Association. Since its inception in 1987, River Hongbao has become the largest and most talked-about Lunar New Year celebratory event in Singapore.
For more information, please visit RHB2020's official website http://riverhongbao.sg.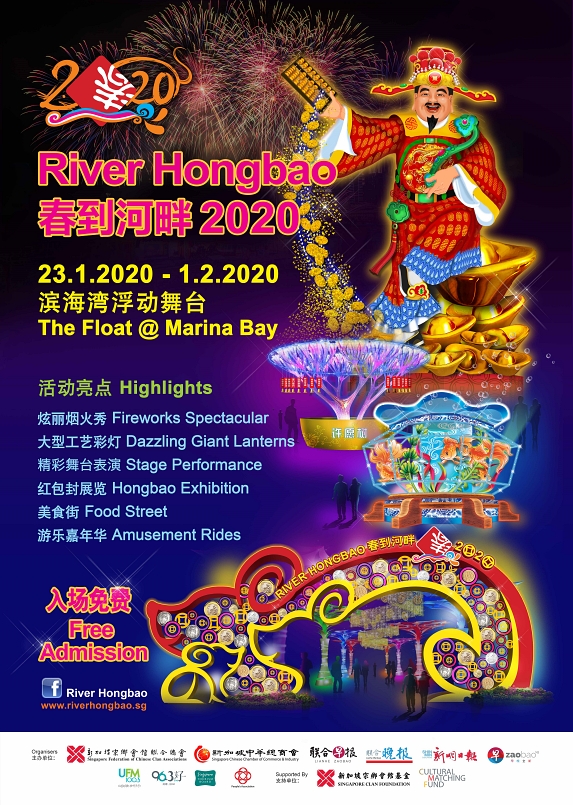 Read More:
– https://www.straitstimes.com/singapore/mps-not-at-the-helm-of-organising-river-hongbao-for-the-first-time-in-34-years
– https://www.zaobao.com.sg/special/report/singapore/chinese-new-year-2020/entertainment/story20191218-1014090
– https://www.tnp.sg/news/singapore/chinese-community-lead-and-run-river-hongbao-2020-instead-mps
– https://www.channelnewsasia.com/news/singapore/river-hongbao-more-fireworks-larger-lanterns-bicentennial-11083604
– https://www.mothership.sg/2019/12/river-hongbao-2020/
– https://www.asiaone.com/lifestyle/river-hongbao-2020-fireworks-illuminating-lights-carnival-and-more-you-can-expect