Singapore Federation of Chinese Clan Association (SFCCA)'s 34th Annual General Meeting (AGM) was held on Saturday, 14th September 2019 at the SFCCA Auditorium Hall, to encapsulate SFCCA's achievements for the past year. Over 170 representatives and members from 83 clan associations attended the AGM. This is also the first plenary session led by the SFCCA President, Mr Tan Aik Hock, who took over the reins of SFCCA since last October.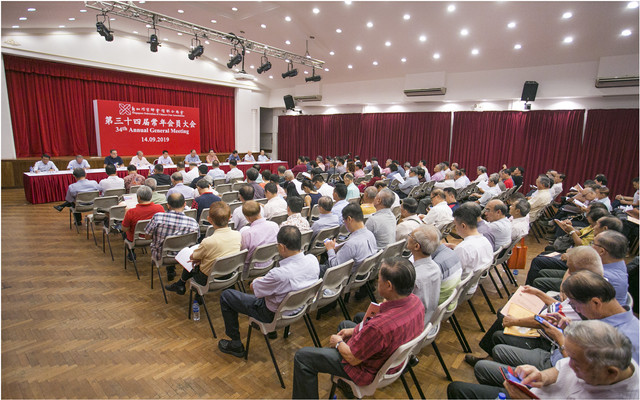 Over 170 representatives and members from 83 clan associations attended the AGM
SFCCA President Mr Tan Aik Hock highlighted that in the past year, whilst still focusing on cultural inheritance, SFCCA has been exploring opportunities to spark the younger generation's interest in the Chinese culture in this day and age. This is in hopes that the younger generation will be more motivated to contribute to the Chinese community here in Singapore.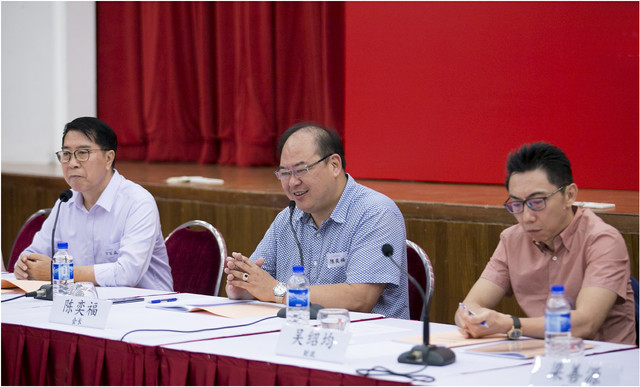 SFCCA President Mr Tan Aik Hock (centre) at the AGM sharing SFCCA's performance in different areas in the past year
He said, "To commemorate Singapore's bicentennial, SFCCA has launched a series of activities entitled 'Unsung Heroes' to pay tribute to the forefathers of Singapore and to strive to shape the younger generation to become the 'Unsung Heroes' of tomorrow. In the programme line-up was the multisensory and interactive "New World, New Life" Exhibition which detailed the journey of Singapore's early settlers and communities. A team of student docents had also undergone training and offered guided tours to visitors. The 5-month long exhibition attracted over 20,000 visitors, and received overwhelming response from the public."
This year, the SFCCA had also launched the Singapore Biographical Database which makes use of technology to allow members of the public to learn more about our forefathers, the Chinese community and its indispensable contributions to the society. Also, to further detail the beginnings of the Chinese community in Singapore, the English edition of "A General History of the Chinese in Singapore" was published and launched in June.
Mr Tan also pointed out that the SFCCA will be celebrating its 35th anniversary next year. Aligned to the theme of "温故·传承·创新", a series of activities will be organised alongside the 35th anniversary fundraising gala dinner.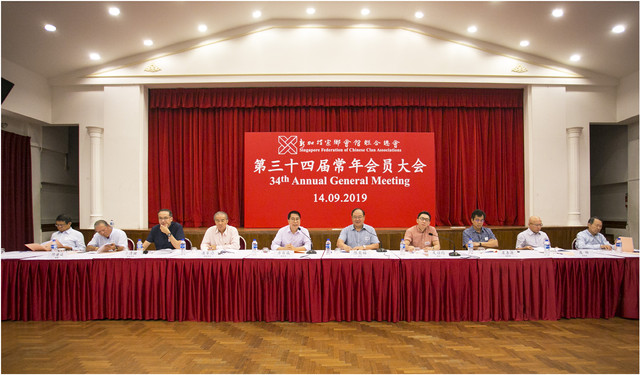 SFCCA 16th Council Members at the panel. From left: Lee Peng Shu, Ho Khiam Seng, Pok Cheng Chong, Francis Phua Kiah Mai, Perng Peck Seng, President Tan Aik Hock, Ng Siew Quan, William Leong Sin Yuen, Pang Lim and Hong Poh Hin
Secretary-General Mr Perng Peck Seng shared that as listed in the AGM report, SFCCA's members have increased to a total of 238 this year. Of which, 226 are Ordinary Members and 12 are Associate Members.
---
Report by Lianhe Zaobao: https://www.zaobao.com.sg/news/singapore/story20190915-989139
Report by Mediacorp: https://www.8world.com/news/singapore/article/sfcca-921626