On the 3rd day of the Lunar New Year, Singapore Federation of Chinese Clan Associations (SFCCA) and Singapore Chinese Cultural Centre (SCCC) jointly organised the "2019 Spring Reception". Approximately 1000 invited guests showed up for the occasion, which was graced by Guest-of-Honour Mdm. President Halimah Yacob.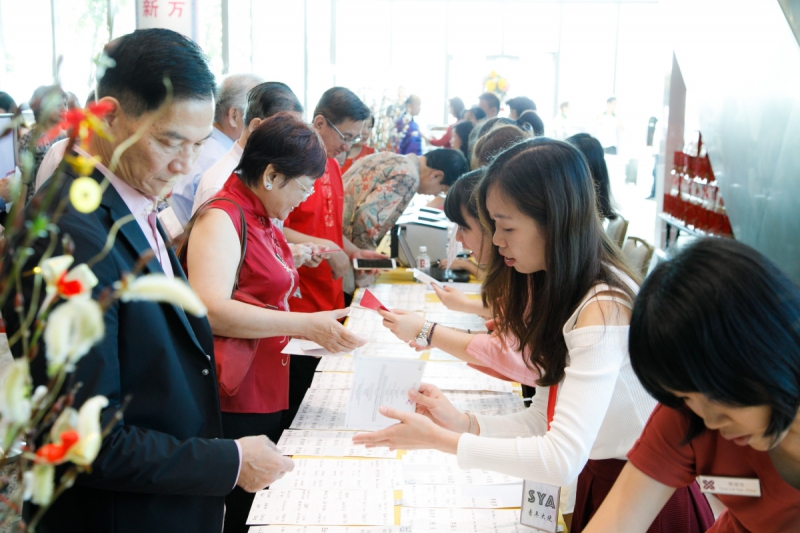 Guests arriving for registration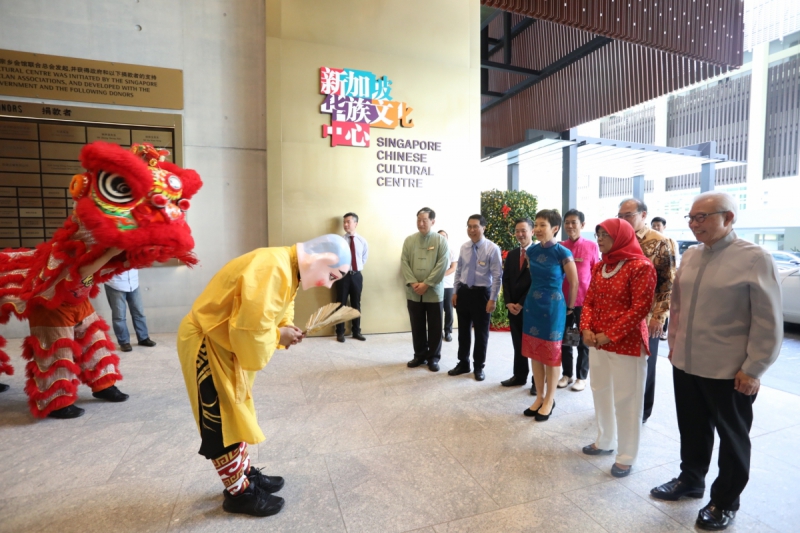 The lion dance troupe and "big-head doll" mascot paid their New Year greetings to President Halimah
Front row from right: SFCCA Honorary President & Chairman of the Singapore Chinese Cultural Centre, Chua Thian Poh, President Halimah Yacob, Minister Grace Fu, Secretary-General of SFCCA, Perng Peck Seng, Cultural Committee Chairman of SFCCA, Wan Shung Ming
Back row from right: President of SFCCA, Tan Aik Hock, and Vice Presidents of SFCCA, George Quek Meng Tong and Zhong Sheng Jian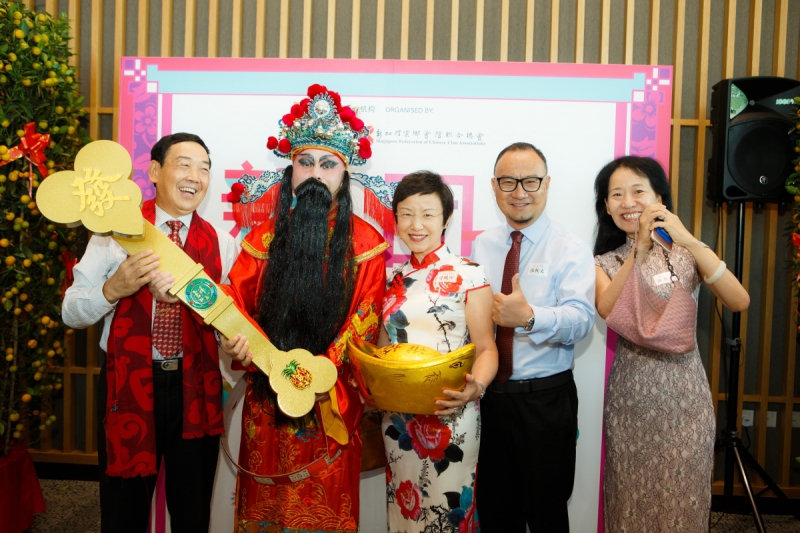 The God of Fortune, carrying his gold ingot and auspicious jade, was popular with the crowd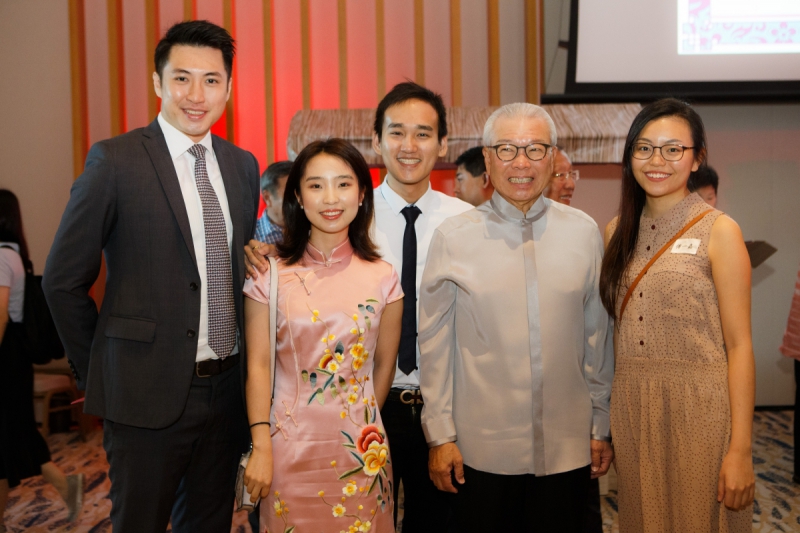 Former SFCCA scholarship recipients with Chairman of the Scholarship Management Committee,
Mr Chua Thian Poh (second from right)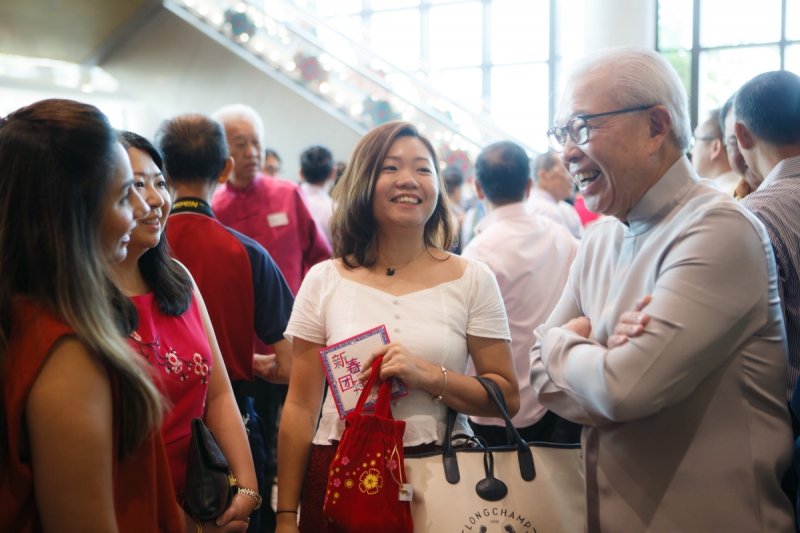 Guests greeted each other with blessings for the New Year and chatted happily
Political leaders who were present at the Reception include Minister Grace Fu, Minister Chan Chun Sing, Minister Ng Chee Meng, Minister Ong Ye Kung, Minister Josephine Teo, Senior Minister of State Sim Ann, Senior Minister of State Janil Puthucheary, Senior Minister of State Koh Poh Koon, Minister of State Sam Tan, Mayor Denise Phua, Mayor and Senior Parliamentary Secretary Low Yen Ling and Senior Parliamentary Secretary Baey Yam Keng. Other distinguished guests include various members of parliament, members of the diplomatic corps, representatives from the local Chinese arts and cultural scene, members of different ethnic communities as well as student representatives from local tertiary institutions.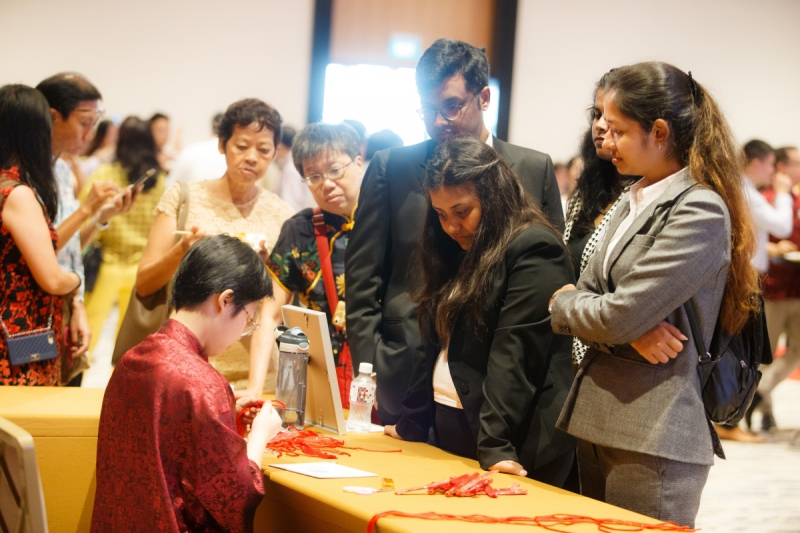 Fellow Singaporeans from different ethnic communities observed a live demonstration of the traditional Chinese paper-cutting folk art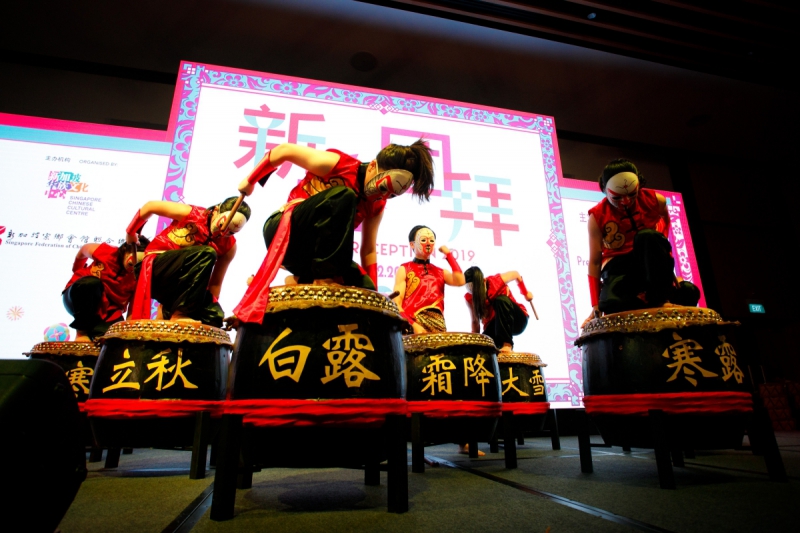 Students from Temasek Polytechnic put on a grand opening performance — "24 Festive Drums"
After an exciting opening performance, President Halimah, SFCCA Honorary President & Chairman of SCCC, Mr Chua Thian Poh, as well as President of SFCCA, Mr Tan Aik Hock, gave speeches respectively. In her speech, President Halimah emphasized the importance of culture in Singapore, which serves as a cohesive agent in bringing together people from all walks of life in this multi-cultural society. She also raised the point of how the local Singaporean culture is influenced by each ethnic group and expressed through innovative means, which helps to foster understanding between different ethnic groups.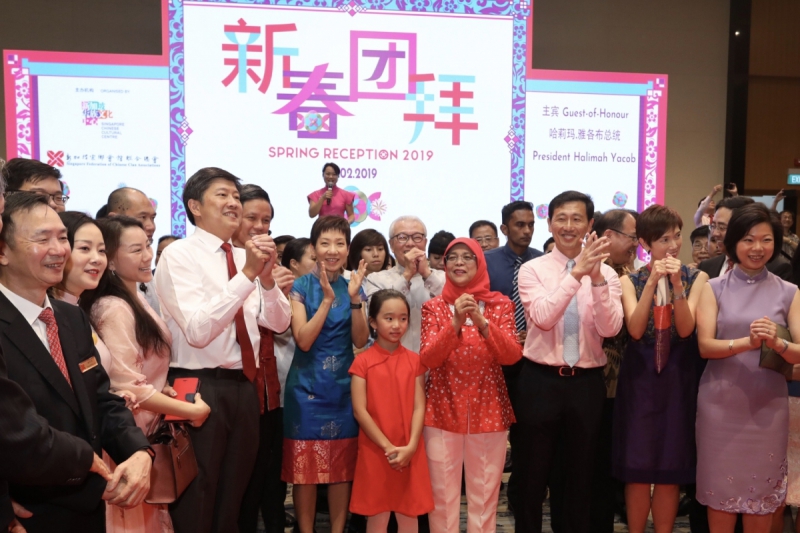 Guests gathered together to exchange New Year greetings in the harmonious setting.Front row from left: Vice-President of SFCCA, Zhong Sheng Jian, Minister in Prime Minister's Office,Ng Chee Meng, Minister for Trade and Industry, Chan Chun Sing, Minister for Culture, Community and Youth,Grace Fu, SFCCA Honorary President & Chairman of SCCC, Chua Thian Poh, President Halimah, Minister for Education, Ong Ye Kung,Minister for Manpower and Second Minister for Home Affairs, Josephine Teo, and Senior Minister of State, Sim Ann
Guests enjoyed performances put up by members of local institutions and performing arts groups in the joyous atmosphere.They also took part in a flash mob and sing-along segment of Chinese New Year songs.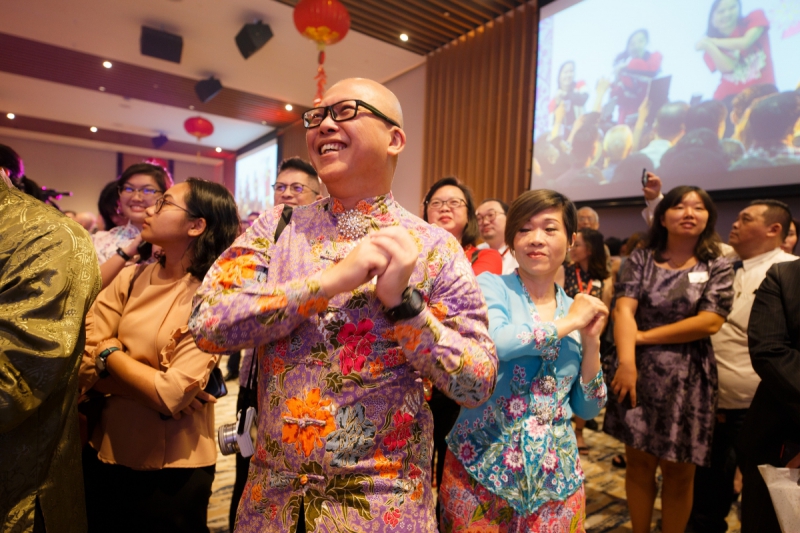 During the flash mob segment, audiences started to dance along with dancers on stage
President Halimah also toured the ongoing exhibitions at the Singapore Chinese Cultural Centre, namely the "So Much Fun" — An Ah Guo Special Exhibition, as well as the "New World, New Life" exhibition, which is organised by SFCCA.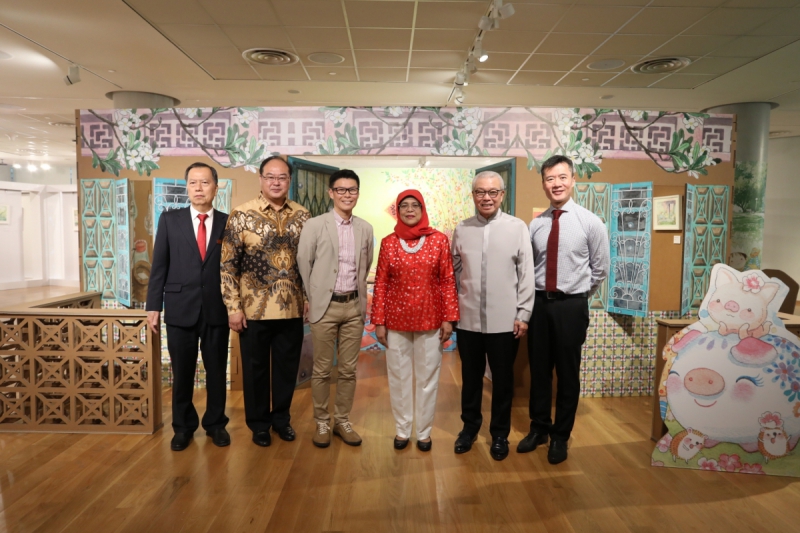 President Halimah (third from right) and distinguished guests visiting the "So Much Fun" —An Ah Guo Special Exhibition by local artist and illustrator Ah Guo. From left: SFCCA Council Member Chua Kee Teang, President of SFCCA Tan Aik Hock, local artist Lee Kow Fong (Ah Guo), SFCCA Honorary President & Chairman of SCCC Chua Thian Poh and Chief Executive Officer of SCCC Low Sze Wee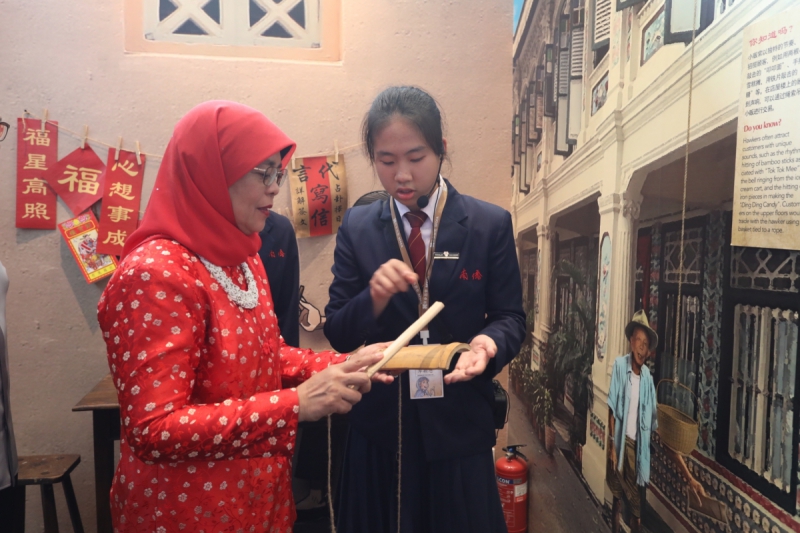 A student docent introducing exhibition content to President Halimah at the "New World, New Life" exhibition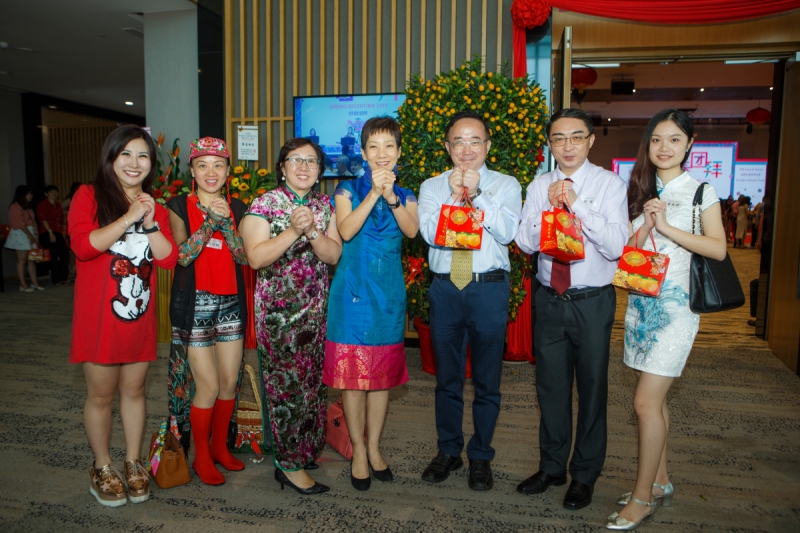 As the event came to an end, all guests at the Reception received and left with a lucky bag filled with mandarin oranges and blessings from the organisers.Fourth from left in picture: Minister for Culture, Community and Youth, Ms Grace Fu