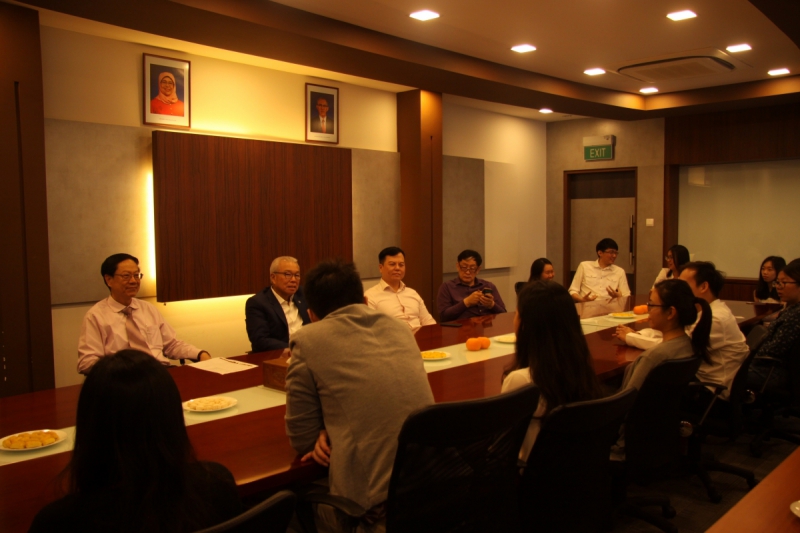 As the steps of the Lunar New Year draw near, more and more citizens who study abroad or work overseas return to Singapore to celebrate new year with their families and friends. Taking this opportunity, SFCCA organised a lunch gathering among the scholars and the scholarship management committee on 13 February.
Those who attended the lunch include the President of SFCCA,  Mr Chua Thian Poh and the scholarship management committee members, Mr Ang Wee Hiong, Mr Pek Nam Chuan and Mr Wan Shung Ming, as well as 18 scholars. Everyone shared their experience about studying in China or their work life after they graduated. Each stage portrays different vision, but the scholars improve and mature without fail.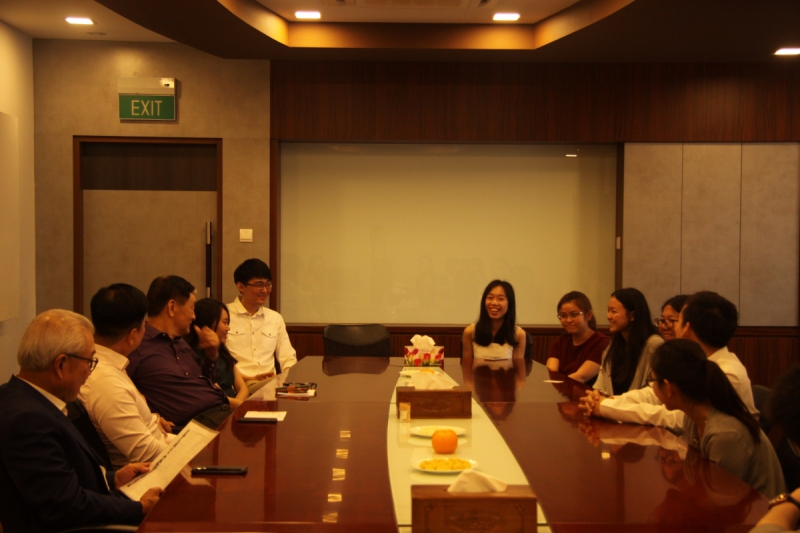 SFCCA scholars shared about their past experiences, and the nifty words made everyone laugh

The graduated scholars have always been the focal point of attention. After graduating from her major in Archaeology of Peking University, Yi Jia went to further her studies in the Department of Anthropology of Chinese University Hong Kong. Apart from her studies, she gained much from the trivial parts in her life. For instance, during a taxi ride to the airport, the driver complained to her about how recently Hong Kong is flooded by mainland Chinese. When he heard that Yi Jia is returning to Singapore for the Spring Festival, he asked, "Do you celebrate the Lunar New Year like us, the Chinese?" The inadvertent usage of the word "Chinese" in different contexts reflected the complex identity of the Hongkongers and revealed their cultural and political contradictions.
On the other hand, the perfect couple Hong Sheng and Ting Zhi also went to Hong Kong after graduating from Tsinghua University, both currently engaged in the financial industry. Hong Sheng noticed that, compared to the Singaporean graduated from China Universities, Hong Kong enterprises tend to recruit Chinese students studying in European countries or in United States of America. Although both are bilingual, but the latter has a more profound understanding of China cultural contexts and has more social networks. Fortunately, Tsinghua University's degree is widely recognised in Hong Kong. The couple expressed their longings to return, hoping to find a chance to work in Singapore.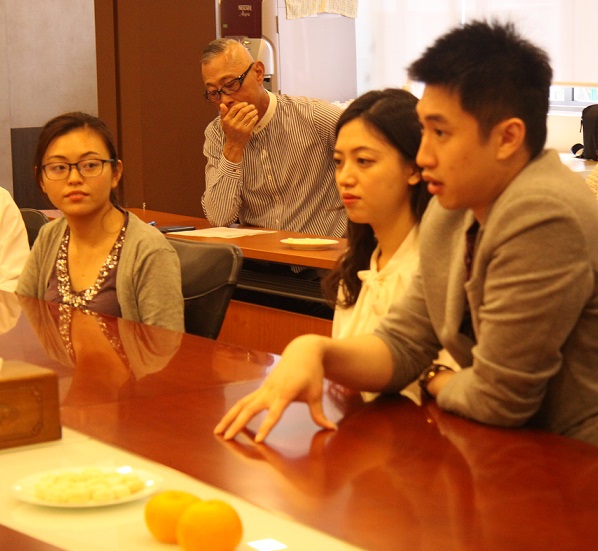 Graduated scholars Yi Jia, Ting Zhi and Hong Sheng (from left to right) share their work or study experience in Hong Kong
The "Big Boss" Alan also graduated from Tsinghua University. He went on to complete his master degree in the School of Finance in the same University, while running his own business. He and his partner already have 7 wholly-owned stores and 8 franchisees. The first branch in Nanjing will open after the Spring Festival. According to him, Beijing is paying more and more attention to food hygiene and food safety recently. He is optimistic about his food chain business as they are more professional in terms of handling food, which gives them an edge over the other delivery services.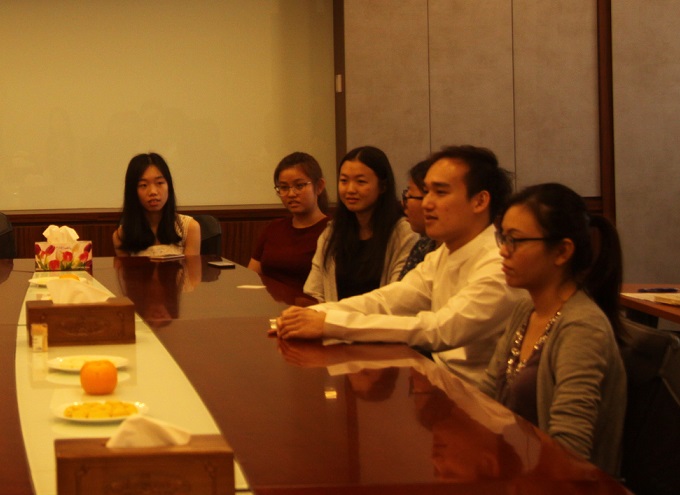 Alan finds challenges and opportunities in his food delivery business
Among the undergraduate students, after participating in the "Chinese Poetry Contest", Yixing (Year 4) is invited to various occasions to share about her interest in Chinese poetry. These make her life more enriching. The other year 4 seniors are working hard in their majors as well, interning in companies or institutions of their own interest.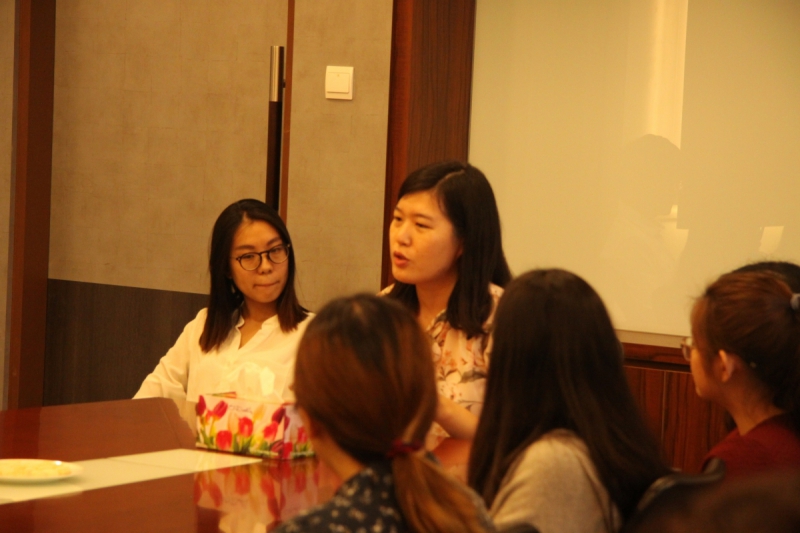 After taking part in the "China Poetry Contest" last year, which was a popular cultural program screened on CCTV, Yixing became famous and was invited for various occasions

Last but not least, most of the year 1 to 3 scholars still mainly focus on their studies and other non-curriculum activities. Simin (Year 3) shared about her take on whether there is a gap between them and the China students in terms of academic studies. She thinks that the familiarity of expressing in Chinese has restricted the Singaporean students from scoring high marks but they are catching up. Adeline (Year 2) said she make more Chinese friends as compared to last year. As for the freshman, their time in China is relatively short, but they are adapting well.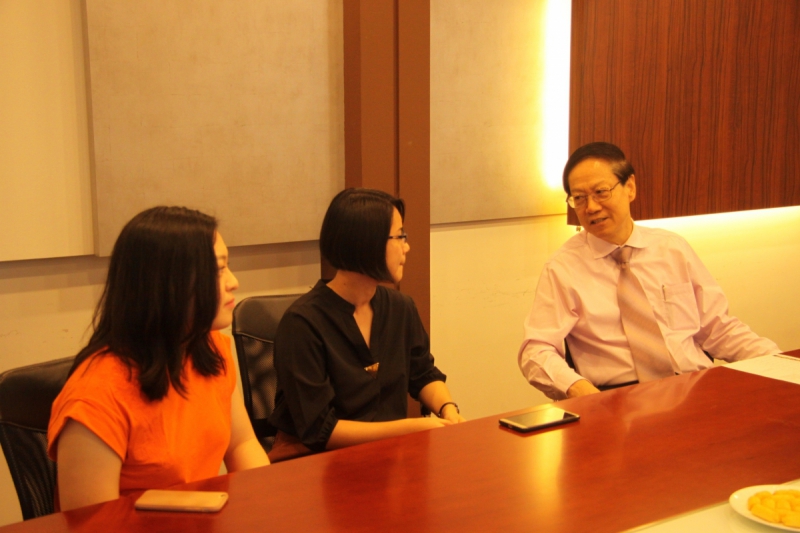 Khaw Faye and Simin are communicating with Scholarship Management Committee member Mr Ang Wee Hiong
Over the meal, topics of the gathering range from the atmosphere in Hong Kong to the current work or study life of the scholars. President Mr Chua concluded with satisfaction, "The sharing among students is of paramount importance during every gathering. Everyone is growing and at the same time, providing advice to each other. We also hope that we can have more opportunities to communicate with the students, understand their situations and their study goals. It's a relief to see that everyone has learnt to apply their knowledge in daily life."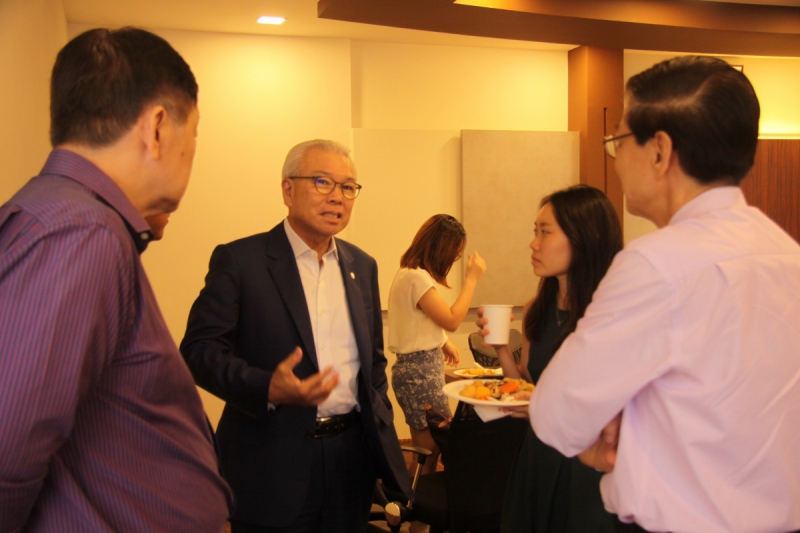 President Chua Thian Poh had a smooth and enriching talk with the scholars