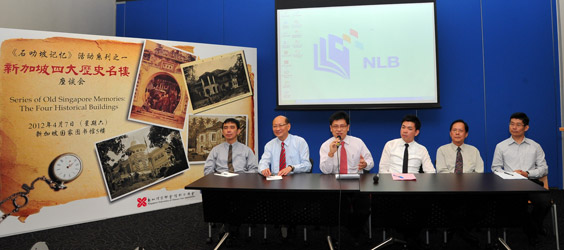 Four speakers telling stories of the history of the four famous buildings. From the left, Mr Wu Qing Hui, Mr Kua Bak Lim, Mr Li Yeming (Chairman of the session), Mr Pan Xuan Hui, Mr Chen Ji Lian and Mr Chen Ding Hui (intepreter)
Singapore is a legendary island-nation. Our ancestors had braved through a life of hard work and sufferings before they could finally settle down here. When tracing back to our famous ancestors, we would realise that they all have a common habit—buying property after gaining fame and fortune. The architectural styles of these buildings are all unique with ingenious décor that clearly showcases the owner's taste.
"Singapore Memories" was jointly organised by Singapore Federation of Chinese Clan Association and National Library of Singapore on 7th April. The talks were on the topic of four famous historical buildings in Singapore. Four guest speakers, Mr Kua Bak Lim, Mr Wu Qing Hui, Mr Pan Xuan Hui and Mr Chen Ji Lian spoke about the Whampoa Gardens, Mandalay Villa, Wan Qing Yuan and the Golden Bell Mansion respectively.
The Vanishing of the Whampoa Gardens and Mandalay Villa
The first historical building to make an entrance was Whampoa Gardens. According to Mr Kua Bak Lim's conjecture, HDB Block 34 along Bendemeer Road is where Whampoa Gardens had been originally situated. Whampoa Gardens was a huge garden with man-made mountains, ponds, a fruit garden, rare animals and bids and a wide variety of flora and fauna. It was owned by Mr Hoo Ah Kay, commonly referred to as "Mr Whampoa", who was a successful businessman in charge of providing potable water and coal for British naval vessels that had originated from Guangzhou. On top of this, he was also a consul for China, Japan and Russia in Singapore—a true expert in diplomacy. After making rapid advances in his career, Mr Hoo bought a bungalow in Serangoon and named it "Whampoa Garden".
Whampoa Garden fell under the ownership of Mr Seah Liang Seah who renamed it Bendemeer House, following the death of Mr Hoo in 1880 and his son seven years later. After Mr Seah passed away, Whampoa Gardens fell into disrepair and was eventually razed to the ground.
The second building talked about was Mandalay Villa. Mr Wu Qing Hui, a researcher at the National Museum of Singapore, said that Singapore has two Mandalay Villas, the Magenta Cottage and the Mandala Villa. Built in 1882, the Magenta Cottage had been the former residence of a wealthy merchant, Mr Lee Qing Yuan. The Magenta Cottage, which was once famous, used to belong to Prince Manqing and the Beiyang Fleet. Mandalay Villa, located along East Coast Park, was once Mr Lee Choon Guan's residence too. Mr Lee was a renowned leader of overseas Chinese in Singapore, while his wife, Mdm Tan Teck Neo, was also a distinguished personage in Singapore who dedicated her life to charity work.
The Current Wan Qing Yuan and Golden Bell Mansion
Wan Qing Yuan located at Balestier is a building known by many. Mr Pan Xuan Hui, the curator of Wan Qing Yuan, shared both the building's history and what he had learnt from his research. Originally named Bin Chan House, Wan Qing Yuan's first owner was a Guangdong merchant called Mr Mei Quan Bao. He was an avid horse-lover and even built a stable beside the house. In 1902, the Bin Chan House was sold to a member of Johor's Ghee Hin Kongsi, Mr Lin Ya Xiang. Mr Lin Ya Xiang did not own the house for long, as the house was soon sold to Mr Zhang Yongfu.
Because Mr Sun Yat Sen had lived in Wan Qing Yuan numerous times in the 20th century and organised various revolutionary activities together with his allies in Singapore, Wan Qing Yuan soon became affiliated with the modern Chinese Revolution and the founding of the Republic of China. In October 2011, Wan Qing Yuan underwent renovation and opened its doors in celebration of the 100th anniversary of the Xinhai Revolution.
Last but not least, Mr Chen Ji Lian spoke about the history of the Golden Bell Mansion. Completed in 1910, the Golden Bell Mansion had been built by Mr Tan Boo Liat, Mr Tan Tock Seng's descendant. The mansion's architectural style is a neo-classical one, with elements of Peranakan architecture as well as a mixture of Eastern and Western styles, making it an impressive sight.
This mansion once hosted numerous important figures, one of them being Mr Sun Yat Sen. When he had arrived in Singapore in 1911, he was arranged to stay at the Golden Bell Mansion—situated at a relatively secretive location—by his supporters due to a rumour that someone was going to attempt to assassinate him. Mr Tan also had close ties with Thai kings.
With almost 200 attendees, the symposium had received warm support and responses from the public. The audience spoke highly of the symposium, some even requesting for the speakers to extend their talks. In September, the SFCCA will be jointly organising the second event in the "Singapore Memories" series with National Library of Singapore to display valuable information and artefacts such as Chinese immigrants' letters.