In a bid to unite the clan associations, the Singapore Federation of Chinese Clan Associations (SFCCA) organised the 1st Zong Xiang Challenge Trophy Golf Tournament on 23rd September 2011. The primary aim of this tournament is to create a platform suited for interaction among clan associations.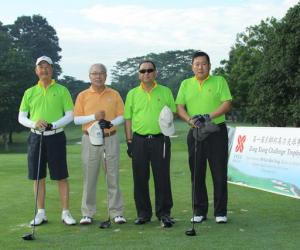 The tournament received overwhelming support from the clan associations, with more than 60 teams and 200 participants. The match today, which was held at Singapore Island Country Club (SICC), was split into two sessions.
That night, SFCCA hosted a banquet for the competitors with Guest-of-Honour, Minister for Health Mr Gan Kim Yong. SFCCA Chairman Mr Chua Thian Poh said that SFCCA is both encouraged and heartened by the enthusiastic response of the clan associations. Hence, SFCCA has decided to make the golf tournament an annual event. He also expressed his thanks to the organising committee for its contributions, the generous sponsors and the clan associations which had participated in the event zealously.
Chia General Association emerged as the champion of the tournament and the trophy was presented to a representative by Mr Gan. A lucky draw event was also organised during the banquet to hype up the atmosphere.