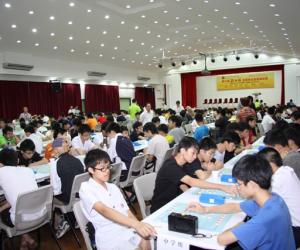 To promote traditional Chinese culture and Chinese chess while enhancing students' understanding and involvement in clan associations, the Singapore Federation of Chinese Clan Associations (SFCCA) organised the 6th National Zong Xiang Cup Chinese Chess Competition on 4 and 5 December 2010.  Held at Toa Payoh Clubhouse, this competition was supported by 21 clan associations and co-organised by the Singapore Xiangqi General Association.
This was the sixth edition of the competition organised by SFCCA, and over the years, it has received much support from the various clan associations. Other than the junior college, secondary school and primary school categories, the original tertiary category has been expanded to the "tertiary and open" category. All current university students, as well as Singapore citizens and permanent residents aged 45 and below, are eligible to participate in this competition, as long as they do not bear any chess master title.  The total cash prize has also increased to more than $5,000, and the top 15 winners in each category will also receive a trophy. The competition has attracted over 300 competitors and they spar with fellow chess lovers.
Dr Lee Peng Shu, a SFCCA council member, hosted the opening ceremony of the competition on 4th December. "Every step we take is like playing chess, they are decisions and trade-offs we have to make in life. You will win if you made the right move, and lose if you did not. The most important thing is not how much the prize is or how big the trophy is, but how you learn to make better choices. By participating in more chess competitions, it will help to hone your ability in decision-making," said Dr Lee while delivering his speech.
Mr Sam Tan Chin Siong, Senior Parliamentary Secretary for the Ministry of Trade and Industry and the Ministry of Information, Communications and the Arts was the guest-of-honour at the award ceremony on 5th December. Other distinguished guests present included Mr Patrick Lee Kwok Kie, SFCCA secretary-general, Mr Ong Sin Lam, vice-president of the Singapore Xiangqi General Association, and representatives of various clan associations.
In his speech, Mr Sam Tan highlighted that Chinese chess is a game which is subtle and requires intelligence.  It trains one in strategising his every move, while improving his ability to think calmly, in addition to cultivating patience and graceful behaviours.
Furthermore, he also commended SFCCA for its continuous efforts to promote Chinese culture through various competitions in Chinese calligraphy, table tennis and Chinese chess,  as well as to foster the development of values and cultivate good conduct and behaviours of students. Mr Tan also expressed his hope for clan associations to continue to pass on valuable traditions to the next generation, so that our youths can understand the essence of Chinese culture.
More than 300 students and members of the public engaged in an intense competition over the two days, where they sparred in wits and strategising. While wins and losses are inevitable, what was more important were the friendships forged from the competitions. Notably, Chen Jing Xuan, a 10-year-old girl from Pasir Ris Primary School, stood out from this male- dominated competition to emerge as the champion in the primary school category. Her performance was impressive and received thunderous applause from the attendees.
The 21 clan associations which co-organised the competition were Nanyang Hakka Federation, Singapore Kwangtung Hui Kuan, Guangxi and Gaozhou Association, Sam Kiang Huay Kwan, Kong Chow Wui Koon, Nanyang Fang Shee Association, Eng Choon Hway Kuan, Singapore Ann Kway Association, Ying Fo Fui Kuan, Kim Mui Hoey Kuan, Jiu Long Tang, Singapore Lam Ann Association, Char Yong (Dabu) Association, Chin Kang Huay Kuan, Singapore Hainan Hwee Kuan, Hai Lu Feng Association Singapore, Ang Shee General Association, Singapore Foochow Association, Singapore Hokkien Huay Kuan, Teochew Poit Ip Huay Kuan, Teo Ann Huay Kuan.