11th SFCCA Youth Sports Festival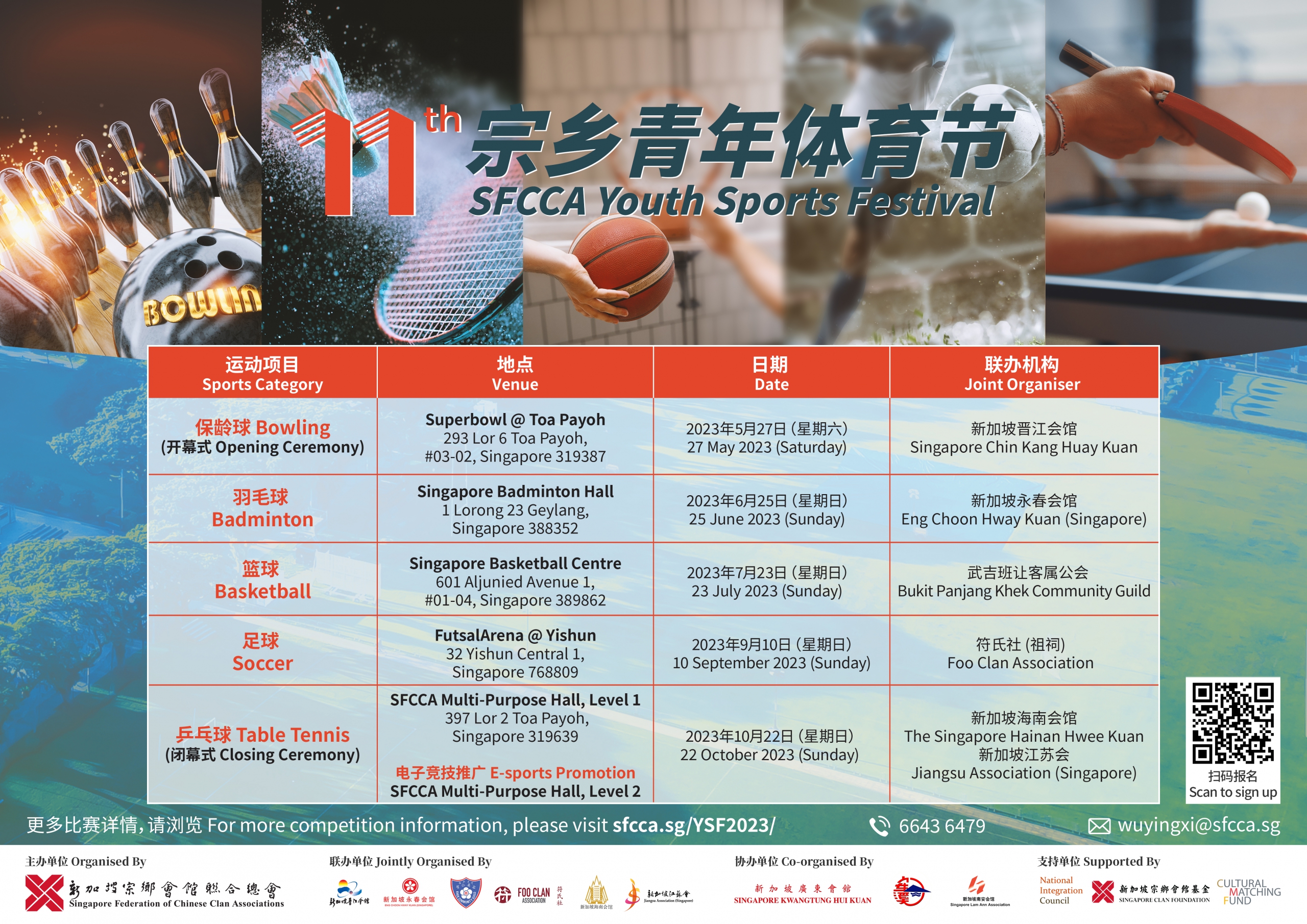 The Youth Sports Festival is set to return for the eleventh year, with a range of exciting sports including bowling, badminton, basketball, table tennis, and soccer. Organised by Singapore Federation of Chinese Clan Associations, jointly organised by Singapore Chin Kang Huay Kuan, Eng Choon Hway Kuan (Singapore), Bukit Panjang Khek Community Guild, Foo Clan Association, The Singapore Hainan Hwee Kuan and Jiangsu Association (Singapore); co-organised by Singapore Kwangtung Hui Kuan, Singapore Ann Kway Association and Singapore Lam Ann Association; with the support from National Integration Council, Singapore Clan Foundation and Cultural Matching Fund. Running from 27 May to 22 October 2023, the festival's primary aim is to create a platform and opportunity for youths from various community organisations to come together, interact, build relationships, and showcase their athletic skills and abilities.
The competition is open to youth aged between 16 to 45. For more details, please refer to the following registration links!
✨ Sports Category ✨
🏸Badminton         : https://forms.gle/SpbCqpp8Fx8KKJGQ8
🏀Basketball           : https://forms.gle/ExR3MchzW5twajUPA
⚽️Soccer                  : Registration will open later
🏓Table Tennis      : Registration will open later
For further queries, please contact Ms Wu Yingxi
☎ 6643 6479  ✉ wuyingxi@sfcca.sg